Crystal Lake Hike

On Sunday, July 7th, (Happy Birthday Steve) 2013, Suzy and I left the Lawn Lake trailhead at 6:15 AM, with nothing specific in mind, and ended up hiking the full eight miles up to Crystal Lake, roughly a mile and a half above Lawn Lake. Since we put up a page for our Lawn Lake Hike last summer, I'll skip anything already cover there. About 45 or 50 minutes up the trail, we stopped for the view, and photos, of Mount Chiquita and Ypsilon Mountain.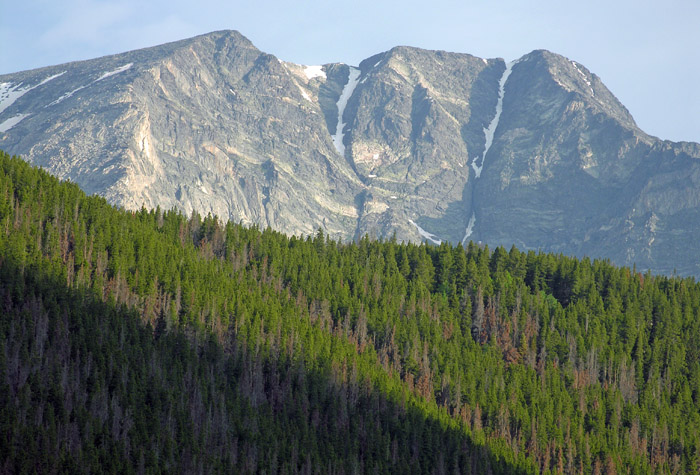 ---
Four hours up the trail, Lawn Lake finally came into view. Just right of the trail, though, was this Snowshoe Hare with most of its winter coat shed. It was actually the second hare we had seen that morning, but the first ran off before I could get a shot.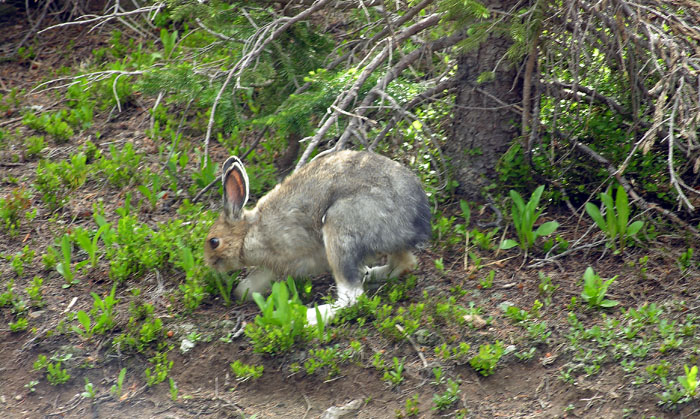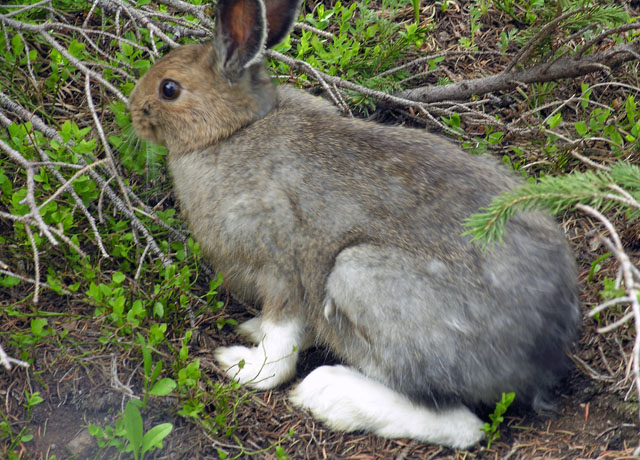 ---
Above Lawn Lake now, and on our way up to Crystal Lake, we saw this huge bull Elk enjoying a beautiful lazy morning. While you can usually see herds of elk down around Estes Park, it's much more impressive seeing them in the wild; although, this one didn't look all that wild at the moment.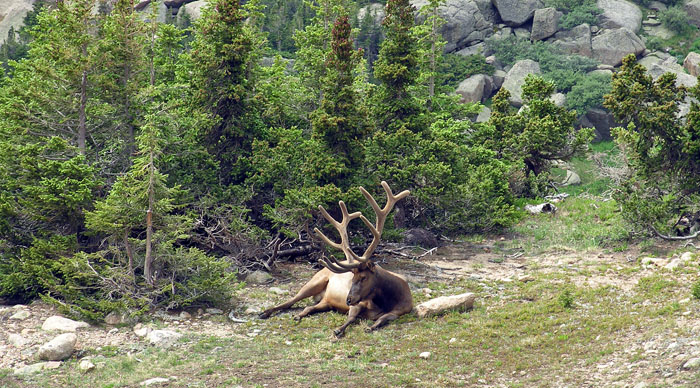 ---
Not far up the trail from the elk, I took this shot of Fairchild Mountain. I looked over at this peak last year from the summit of Ypsilon and wanted to cross over to it, but I didn't have enough time left in the day.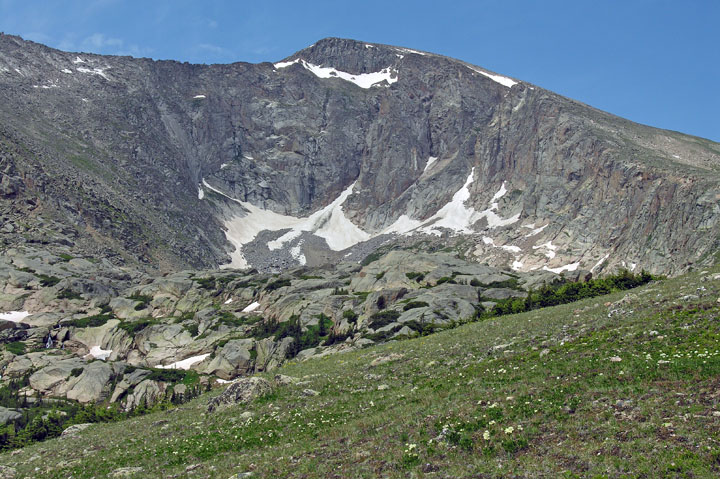 ---
Ok, we finally arrived at Crystal Lake, and following the trail to the exit stream, we were surprised to see dozens of huge Cutthroat Trout in the shallow running water. They appeared to range from 12 to 16 inches in length.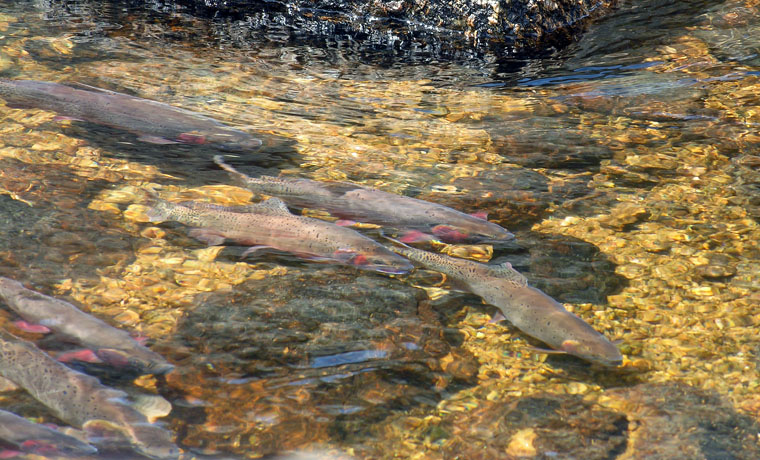 ---
I took this shot of Suzy who was rock hopping down the stream checking out all the trout. She really enjoyed seeing them up close like this and spent 30 to 45 minutes just watching them while I wandered along the lake for a while.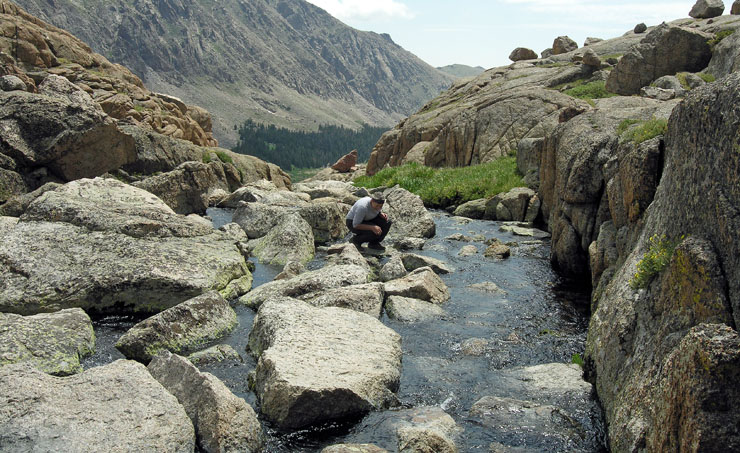 ---
Standing on rock a good twenty feet or so above the lake, I took one more trout shot looking down at some of the big ones closer to the deeper waters of the lake itself.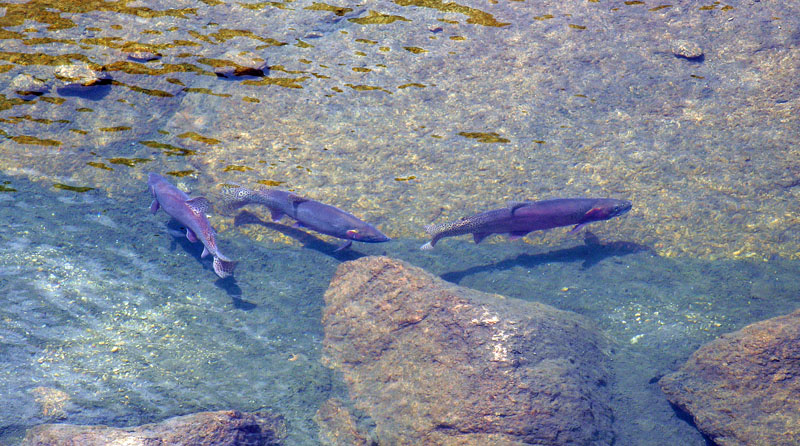 ---
One last shot, showing Crystal Lake below the east face of Fairchild Mountain, before heading back down. Per the GPS, our 10-hour hike covered 16.56 miles, reached an elevation of 11,563 feet, and our total elevation gain was 3,383 feet.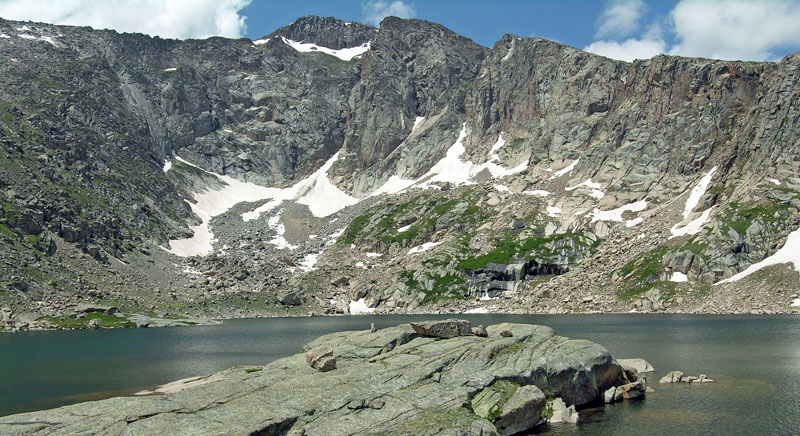 ---
I am as far from a botanist as they come, but when posting photos of the wildflowers we come across during our hikes, I feel the need to at least attempt to identify them. If any of these are misidentified, I wouldn't be too upset if anyone felt the need to set me straight. Click the thumbnails for a closer view and my best guess as to their identity.
---
---
RMNP Links
National Park Service - Climbing and Mountaineering in Rocky Mountain National Park

Rocky Mountain National Park: The High Peaks

U.S. National Parks Net - Rocky Mountain National Park Hiking Guide
---