Wall Street

Wall Street, along with being great quality Wingate Sandstone climbing, will spoil you to no end with its approach; you could belay right out of your car window if you wanted to. Plus, it's located only 5 minutes out of Moab. The wall faces east, so it's shaded during the heat of the day. There is no better way to relax and warm-up to desert sandstone climbing than to spend your first day at Moab here.
Breaking away from climbing for a minute, this is a picture of some Indian rock art located on the south end of Wall Street's main climbing area. I hope everyone realizes that climbing access everywhere depends on how we respect these historical landmarks.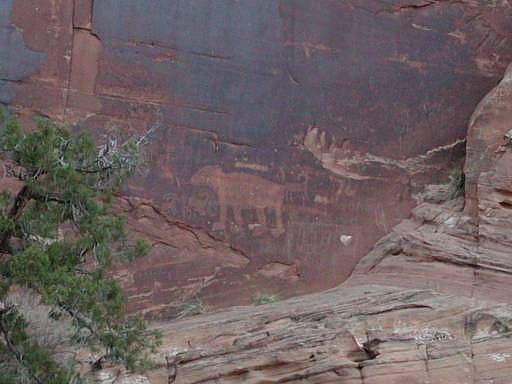 ---
Ok, back to climbing. This next picture is myself in front of 30 Seconds Over Potash at Wall Street. This is a great 5.8 classic. If you're not used to sandstone though, the crux is going to feel a little harder than it's rating. In fact, the ground below it feels pretty hard to. The crux is about eight feet up, and I learned the hard way how important an opposing anchor is to have as your first piece of protection. My only piece (a ballnut) broke as I slipped at the crux and weighted it, taking the fall to the ground on my butt. It was a couple months before I could walk comfortably again, and it pretty much put an end to my climbing for the rest of that trip.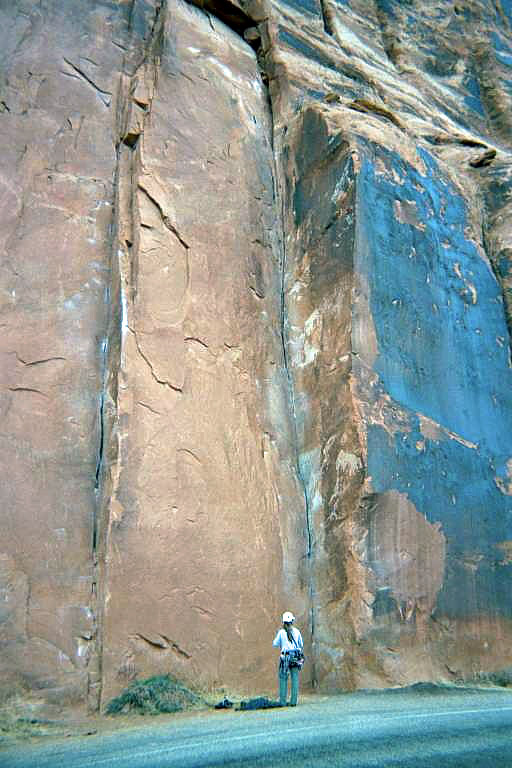 ---
This is Seibernetics: a 5.8 corner crack that's a great introduction to the sandstone, and Seibernetics Direct, up the face at 5.10. This is not bolted however, and can only be toproped after climbing Seibernetics. Sandstone face climbing is quite a challenge!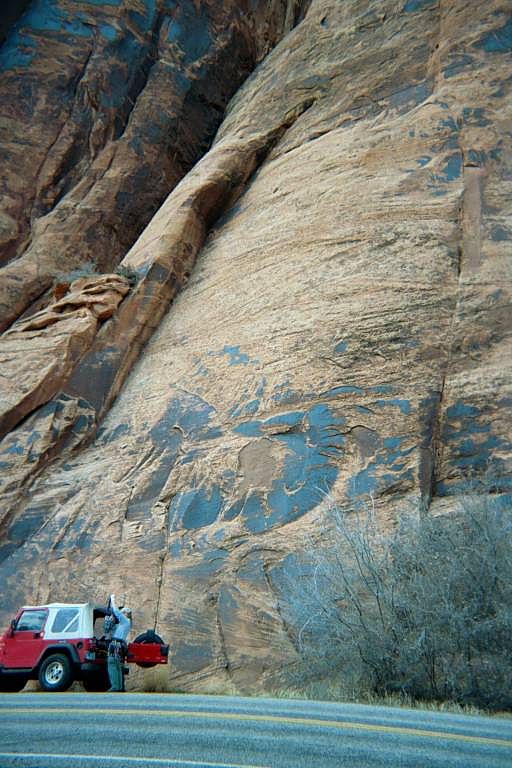 ---
John Langston leads the first pitch of Astro Lad-Astro Champ (5.11a), with a difficult move left around the corner, and then back into the dihedral to get around a five foot section where the crack is too thin to climb free.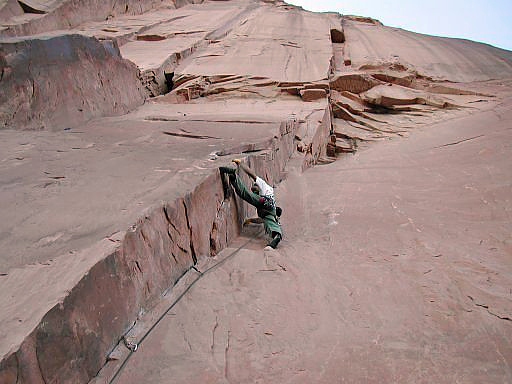 ---
Another one of my wish-list items is Jug Handle Arch: located at the far south end of Wall Street.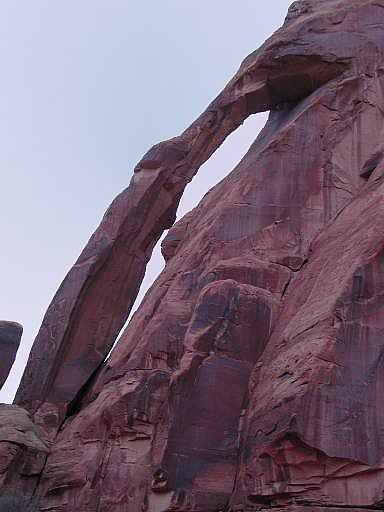 ---
Area Guide Books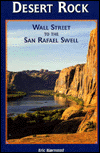 Desert Rock II: Wall Street to the San Rafael Swell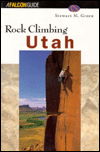 Rock Climbng Utah
---