Uncompahgre Peak

Saturday, August 30th 2003, Suzy and I woke up at 6am, to a cold drizzle and a nasty looking cold front. We were camped at the Matterhorn Creek Trailhead, and had hoped to ascend Wetterhorn, Matterhorn (a 13er) and Uncompahgre Peaks during the course of the holiday weekend. However, with the weather looking the way it did, we knew we weren't going to reach any peaks this day, so we took off down the trail thinking any hike was better than none, and we would go as far as we could before turning back.
As we came into view of Matterhorn and Wetterhorn, peaks, only a couple miles up the trail, we saw low clouds working around the peaks and knew we wouldn't get much further. While approaching the pass southeast of Matterhorn Peak, a cloud descended down from the west side of Wetterhorn, as seen in this first picture. Suspecting it was time to turn back, what we had five minutes later was even worse than expected.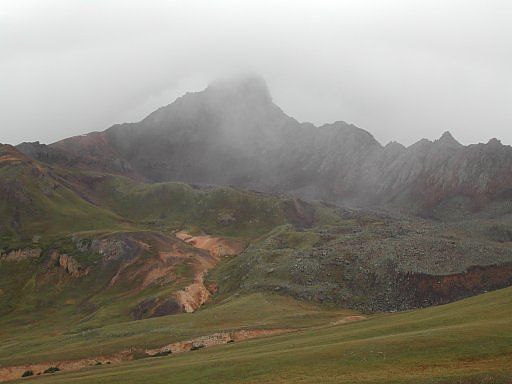 ---
As the bad weather hit us, Suzy took this shot of me digging desperately for warmer - dryer clothing, with Uncompahgre in the background disappearing into the storm. Hit with rain, snow, sleet and wind, we turned back fast and spent the rest of the day at camp drying out and shaking off a cold shiver that just wouldn't go away.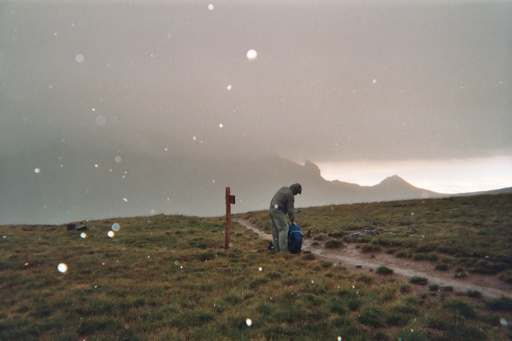 ---
Down below treeline, and nearly back to camp, I turned around to see this winter like view of the area we had just descended from. Technically, it's still summer, but realistically, winter is just around the corner in the mountains. While I was prepared for bad weather, the temperature drop was more than I expected, and I'll have to make a couple adjustments with my gear before the next trip.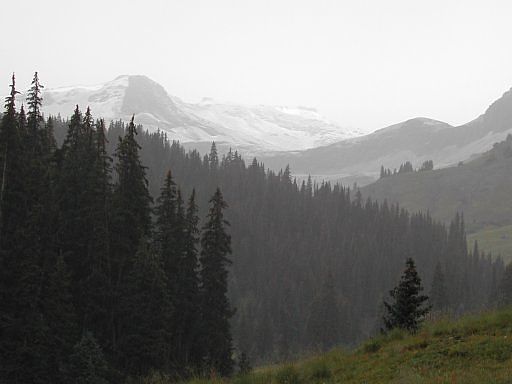 ---
Expecting similar weather the next day, we slept a couple hours later before peaking out to see how things looked. Surprisingly, it looked pretty good with scattered but breaking clouds and lots of sky and sunshine. We were wasting time, so we quickly grabbed our gear and hit the trail. While this next shot shows the awesome view of the southwest side of Uncompahgre Peak as you see it coming over the pass southeast of Matterhorn Peak, the shot was actually taken on our way back to get some sun over it.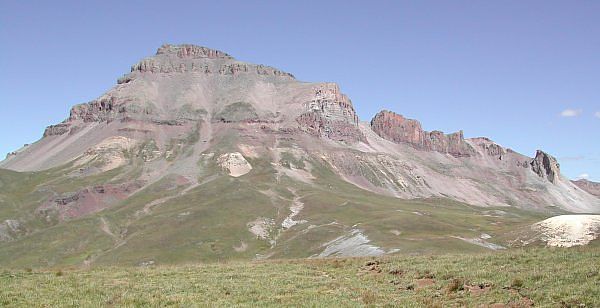 ---
Only about 15 minutes short of Uncompahgre's summit now, Suzy starts up the only section of this ascent resembling a climb. You actually have to grab a few rocks up this steeper loose section to keep from slipping, but over all, this is just a nice long scenic hike.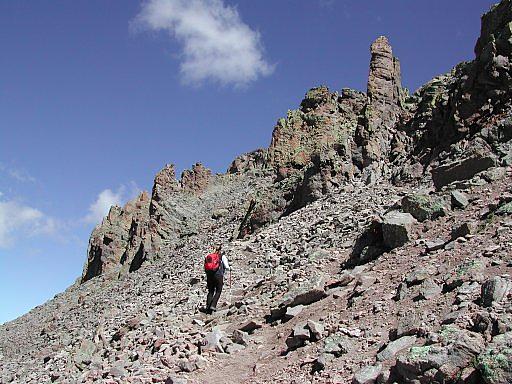 ---
On the summit by noon, only four hours after leaving Matterhorn Creek Trailhead seven miles back, I got a couple more shots: this one looking west and a bit south, at Wetterhorn (back left) and Matterhorn Peaks. With Uncompahgre rated as the sixth highest peak in Colorado, it's easy so see the 300 foot difference between it and Wetterhorn Peak. The trail from Matterhorn Creek Trailhead passes just south of these peaks making it possible to hit all three in one long day; however, with our late start, we chose to save them for a later attempt.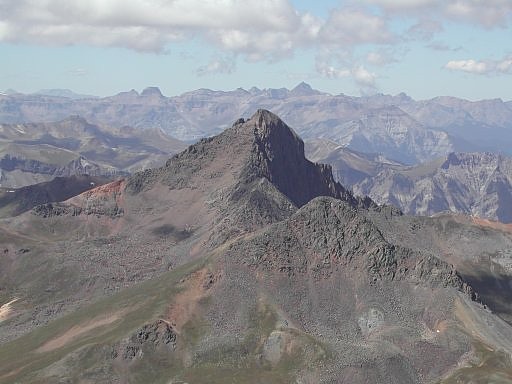 ---
I wasn't sure what these two peaks were at the time, looking west and slightly north of Uncompahgre, but once I got back home to a good map, I discovered them to be Coxcomb and Redcliff, two more Colorado 13,000 foot peaks.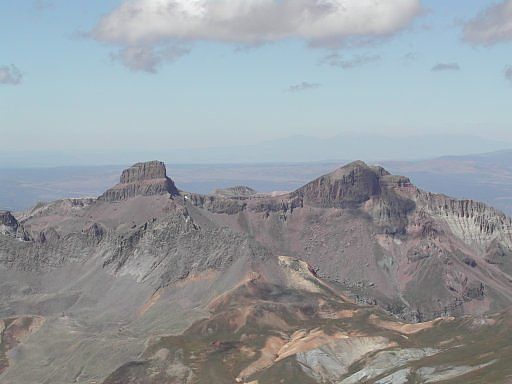 ---
After our third and final night camped above 10,000 feet, I took this early morning picture of the Henson townsite, one of Colorado's many historic ghost towns, on our way out. We made one last stop though, at Lake City before hitting the road, to enjoy our first good breakfast in four days: egg burritos smothered in green chili.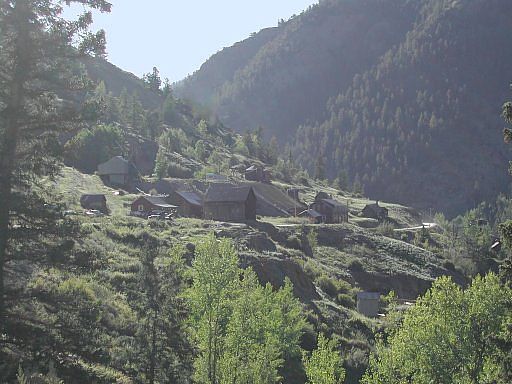 ---
---
Area Guide Books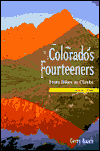 Colorado's Fourteeners: From Hikes to Climbs




Colorado's Fourteeners: Companion Map Package with Cdrom and Map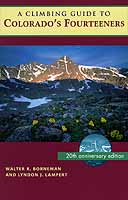 A Climbing Guide to Colorado's Fourteeners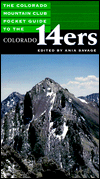 The Colorado Mountain Club Pocket Guide to the Colorado 14ers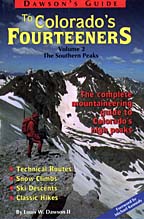 Dawson's Guide To Colorado's Fourteeners - Vol 2


---