Storm Peak Ascent

13,326 feet / 4,062 meters Elevation
It was Monday, August 15th, 2016, and I had chosen Storm Peak as my 2nd 13er summit attempt for the season. I thought the view from the north ridge, looking down into the Glacier Gorge, might be worth a few photos, and the North Ridge Route seemed more challenging than the east slopes route, which is just a relatively quick scramble up from the Longs Peak Boulder Field.
I wasn't feeling like my usual four-something AM start though, with one or two hours of hiking by headlamp, so I slept in and started out at the Glacier Gorge Trailhead at 6:00 AM. I took the North Longs Peak Trail up to Boulder Brook and then cut up into the forest (south), staying a good 50 yards or so east of the brook to avoid the flood debris from the rains of September 2013. Note: Boulder Brook actually has two headwater tributaries that come together down at about 9,960 feet elevation. The western trib starts just east of Storm Peak's North Ridge, and the eastern trib starts just below the Longs Peak Keyhole; although, I think it's just a trickle under the boulders at that point.
After some strenuous bushwacking and marsh-hopping up to dry terrain above timberline, I took my first picture, at 8:32 AM, looking roughly in the direction I was headed, towards the lower north ridge of Storm Peak. The peak was still out of sight to the left (south).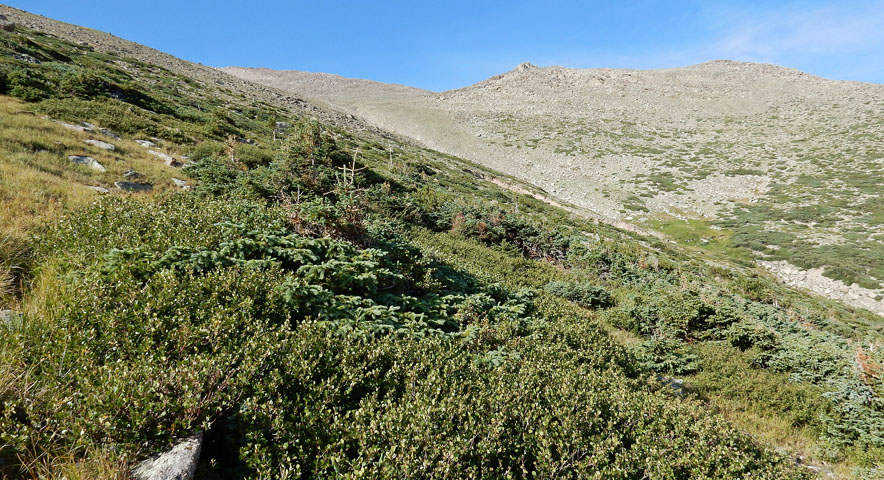 ---
My traverse over to Storm Peak's North Ridge was slow, and finding the path of least resistance took a lot of work. At 9:07 AM, I stopped for a break and photo as I passed over the western head of Boulder Brook. I would hate to be caught up here in a storm powerful enough to erode the slope like this. I'm sure the September rains of 2013, that caused so much flood damage in Colorado, had a big part in creating this, but I don't know what it looked like before, so who knows.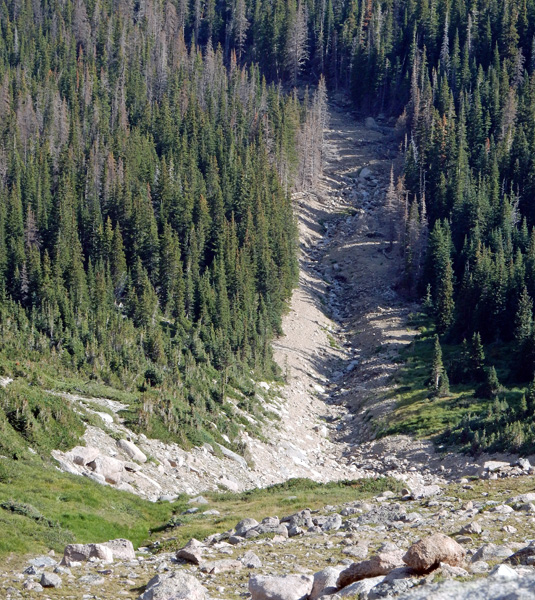 ---
It was 10:00 AM when I made it up to the ridge, at roughly 12,100 feet in elevation with over 1,000 vertical feet to go. I looked down into the Glacier Gorge and immediately saw Chiefs Head Peak with Spearhead in front of it. Spearhead looked so small from this angle. Knowing I probably wouldn't be on this ridge again, I took my time and absorbed as much of the view as I could.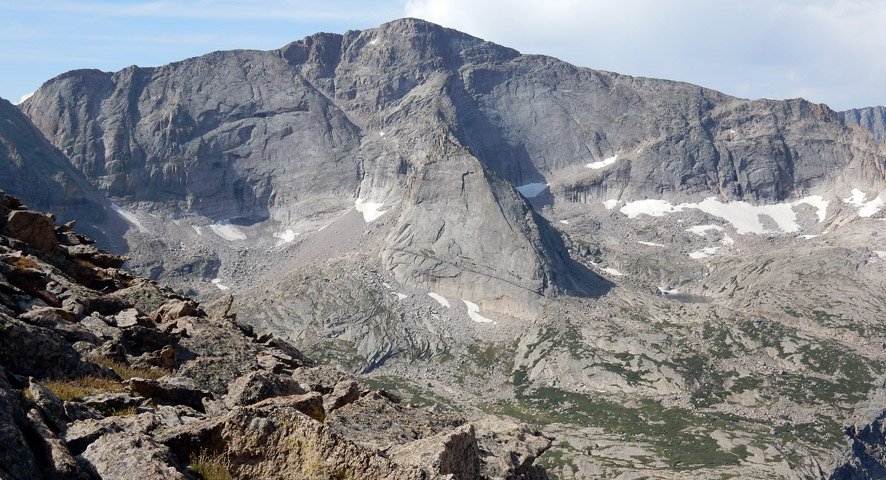 ---
This shot looks down at Black Lake. Many hikers going up into the gorge head back down from here, which is one reason why I love the upper gorge area so much. Years ago, my wife, Suzy, and I watched some elk, east of Spearhead in the upper gorge, chasing a coyote which we assumed had attempted to snag one of the calves.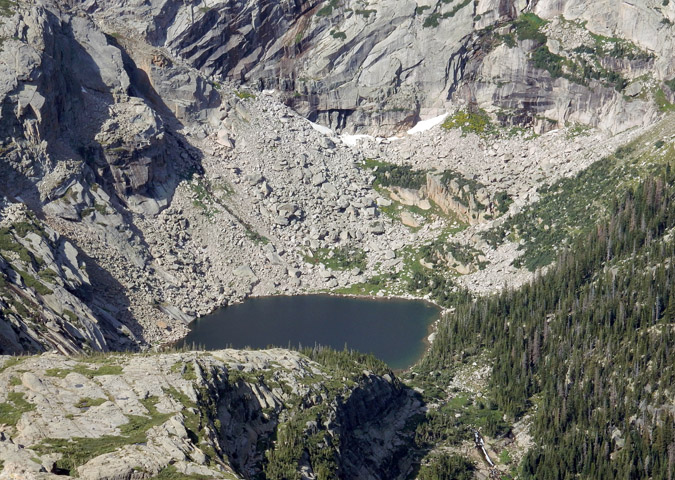 ---
As I looked just northwest of Black Lake at the rock formation known as Arrowhead, I noticed two small lakes on its north side that I knew nothing about. They were located on a shelf well above the Glacier Gorge trail and would not be visible from very many view points. I took this picture and looked them up at home. They are Shelf Lake (front-right) and Solitude Lake (back-left). I definitely have to make this a hiking destination sometime. They look so quiet and secluded from the rest of the gorge. Note though, there is also a Lake Solitude in the park on the west side of the divide, but this is not that.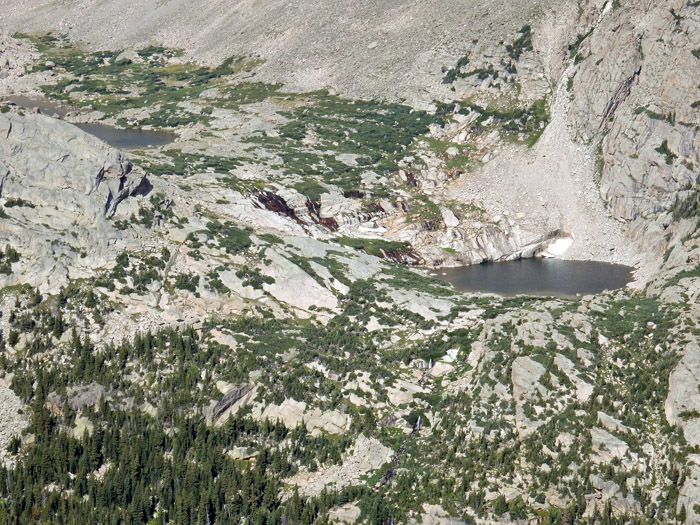 ---
After about fifty minutes of working up the north ridge, 10:54 AM, I stopped to let my lungs catch up and took this shot showing roughly the last 500 vertical feet to the summit. So far, I had found that the path of least resistance was mostly 10 or 20 yards, or meters, east of the ridge, where the rocks and boulders were somewhat smaller. I stayed as close to the ridge as I could though; I did not want to lose the view into the gorge for any longer than I had to.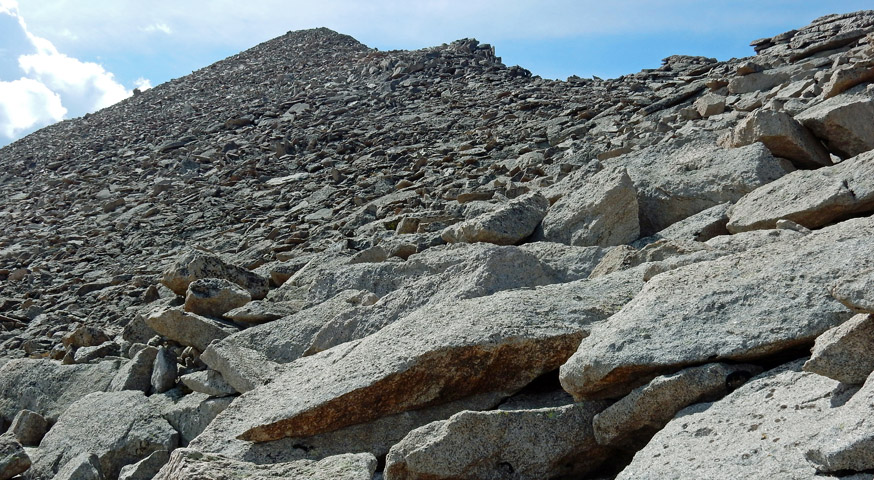 ---
Twenty-five minutes later, 11:23 AM and just 200 vertical feet or less from the summit now, I stopped again for a photo of the lower Keyboard of the Winds Ridge and Pagoda Mountain. There was a cloud sitting over Pagoda, and I waited for a while hoping it would blow away, but it didn't, and I got tired of waiting. The final section of the ridge from here to the summit was just a little steeper which made the final push even more fun.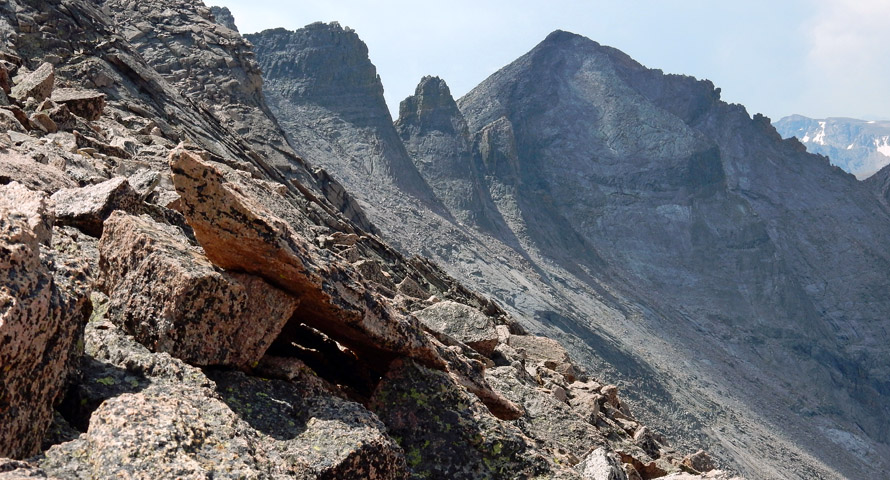 ---
I was on the summit at 11:40 AM and started taking photos right away. There was a little cloud build up occurring and I wanted as much sun as possible in my shots. This picture of the east side of Longs Peak shows the upper Diamond Wall with Mount Meeker in the left background.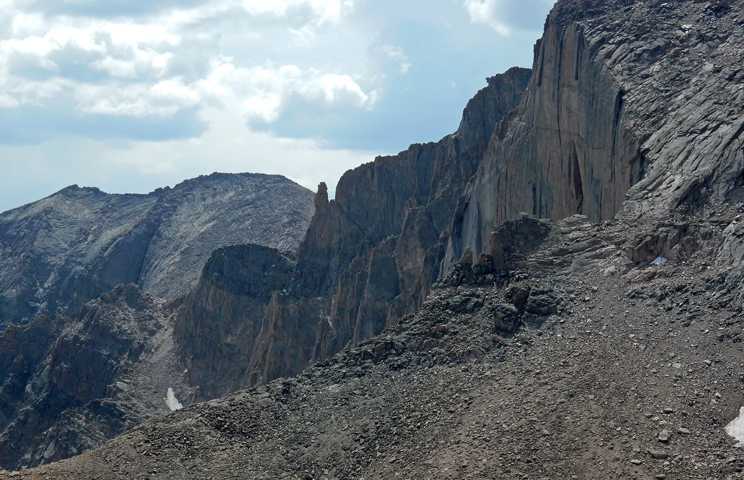 ---
This view of the entire north side of Longs Peak really shows the upper slab to the summit above the Cable Route. As rugged as this peak looks from any direction, It's pretty cool that the Keyhole Route to the summit is only class 3. That's not to imply that class 3 is not a serious grade though. Two years ago from Chiefs Head Peak, I witnessed a body recovery taking place on the west side of the Keyhole on Longs Peak.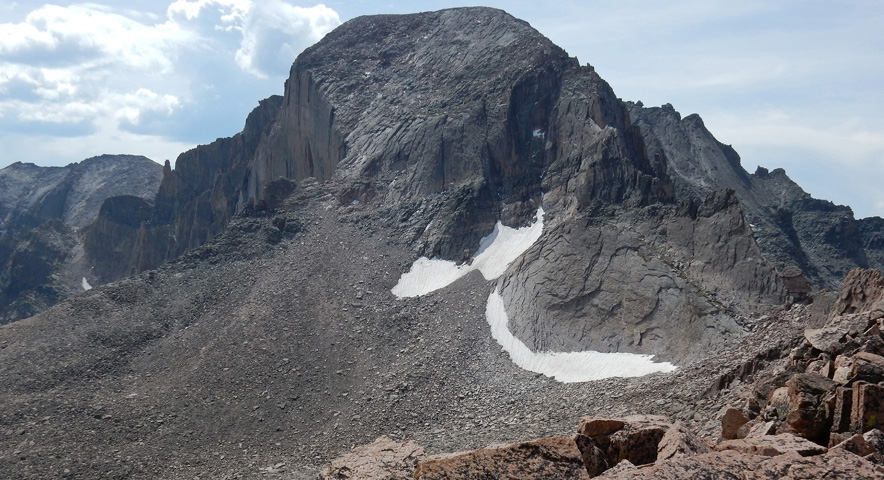 ---
I used a rock to steady the camera for a fully zoomed picture of a couple guys camped out in the Longs Peak Boulder Field bivouac area below. I heard later, on the descent, from two other guys who had camped there the previous night that the weather had been mild and warm. They woke up and had a great breakfast prior to climbing Longs Peak. Personally, I prefer very early pre-dawn starts with a light day pack rather than humping the extra camping gear; but, to each his own.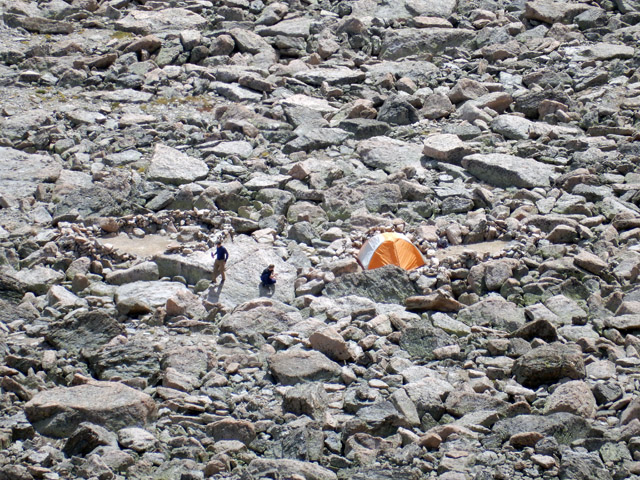 ---
With clouds coming in, I did not want to be caught descending the ridge in a storm, so I scrambled down the east side of Storm Peak into the lower Boulder Field to get off the peak faster. Just as I was about to start cutting over to the trail, about 12:50 PM now, I heard a squeak and turned to see this little Pika watching me.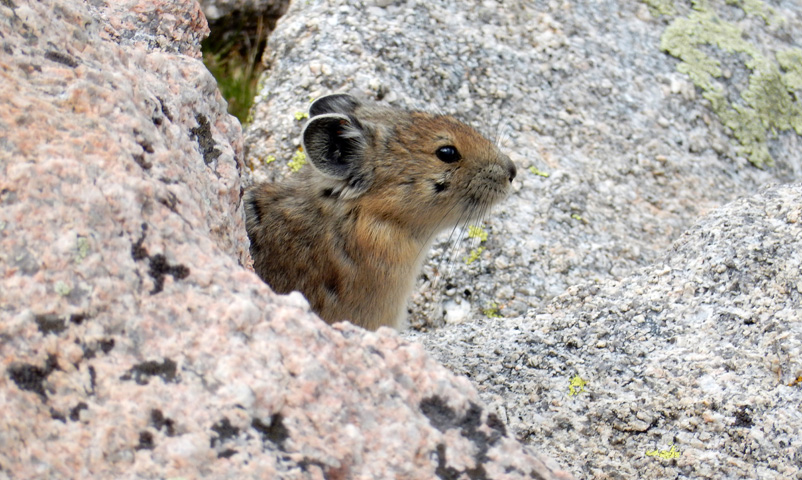 ---
On the long hike back down to the Glacier Gorge Trailhead, it rained lightly off and on for a few hours but never developed into much of a storm. At 3:06 PM, I stopped for this last shot showing the area of my route above timberline to the ridge and on up to Storm Peak. I made it back to the trailhead at about 5:25 PM. My GPS recorded a total distance of 14.97 miles, a total elevation gain of 3,747 feet, and the entire trip took 11 hours and 23 minutes. It was a good day!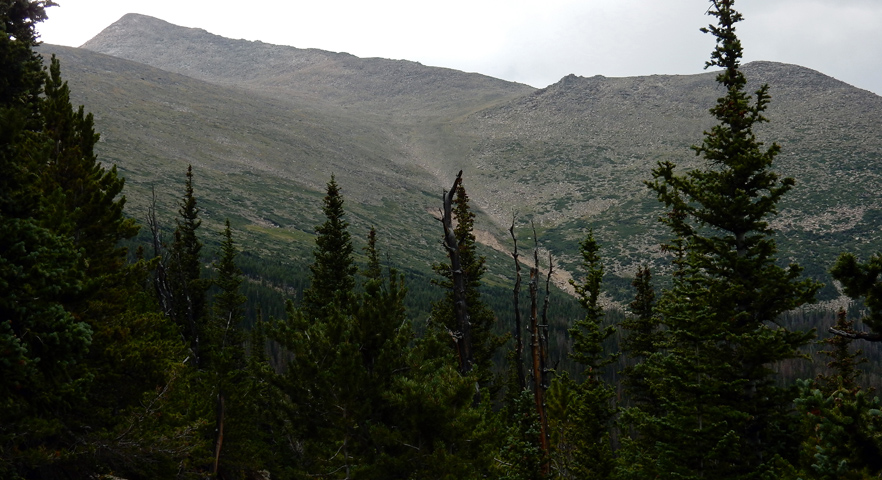 ---
---
RMNP Links
National Park Service - Climbing and Mountaineering in Rocky Mountain National Park

Rocky Mountain National Park: The High Peaks

U.S. National Parks Net - Rocky Mountain National Park Hiking Guide
---