Spearhead

Finally, after a number of cancelled attempts in the last few years, due to less than desirable weather conditions, Suzy and I set off from the Rocky Mountain National Park, Glacier Gorge Trailhead, Saturday - August 18th of 2007, to climb Spearhead's North Ridge Route. With a six mile approach ahead of us, we hit the trail sometime after 4am, as did at least three other parties. Not too far from Mills Lake, I stopped to ditch my headlamp and get this shot.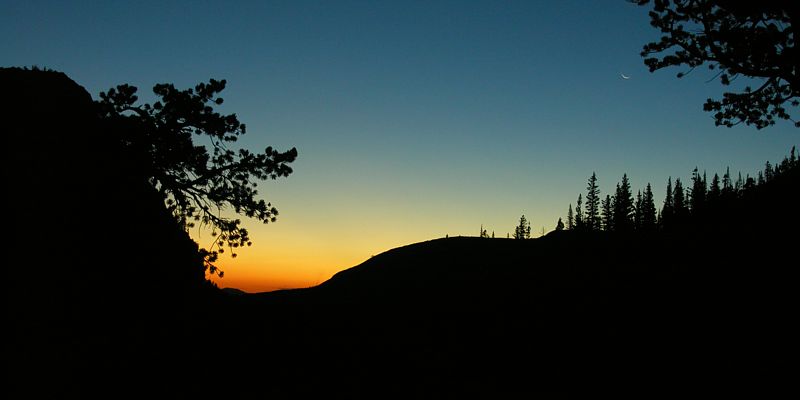 ---
We expected to reach Spearhead while it was still cold and shaded; however, my pace, being what it was, provided me with a beautiful sunny morning photo opportunity. This shot captures Spearhead emerging from the shadows of the Longs Peak north ridge. Dumping our packs at the base, we looked up, not quite sure what to think; there were climbers all over Spearhead, and a party of three was just starting up the ridge ahead of us.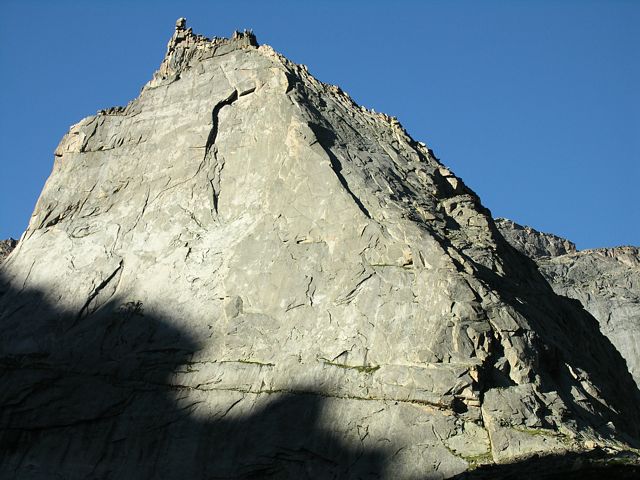 ---
Feeling uncomfortable about climbing behind what looked like a slow moving train, we decided to climb to the right of the standard route - so much for my route description notes. I figured "How much harder could it be?" It really wasn't that much harder, but we found ourselves doing pitch after pitch of hard-to-protect face climbing with run-outs up to fifty feet in places. We eventually cut back to the standard route for the final two pitches. This last shot looks up from the top of the final technical pitch, at roughly 12,500 ft, to the remaining third class summit scramble, with Mount Pagoda and the Keyboard of the Winds in the background. Around that time though, 3:30pm, the weather started looking worse, and having no desire to be on the summit in a possible developing storm, we descended.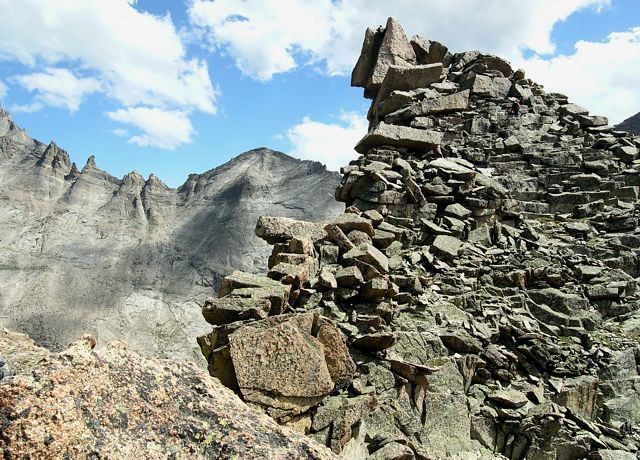 Arriving back at the car right at dusk, tired and blistered from my new boots, nothing could have been more welcome than the cooler Suzy packed with sandwiches and beer. A storm never did develop, but I'm sure we'll do this again sometime, and check out the awesome summit view then.
---
---
Area Guide Books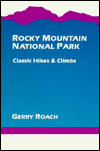 Rocky Mountain National Park: Classic Hikes and Climbs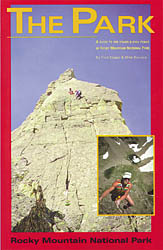 The Park: Rocky Mountain National Park




Rock and Ice Climbing Rocky Mountain National Park: The High Peaks




Rocky Mountain National Park The CLIMBER'S Guide Volume # 2: HIGH PEAKS


---