Mount Sneffels

Day two of our 4th of July weekend in the San Juan Range brought Suzy and I to Mount Sneffels. We were feeling pretty good, although a little sluggish from doing Redcloud and Sunshine Peaks the day before. I had my eyes set on the Southwest Ridge Route but our lack of speed starting out convinced us to stick with the standard route up the south slopes (Grade II, Class 2+, and a Classic).
Somewhere around 8am, this shot of Mount Sneffels and its southwest ridge was taken from the Blue Lake Trail at about 12,600 feet, just prior to ascending the scree covered south slopes just east of the ridge.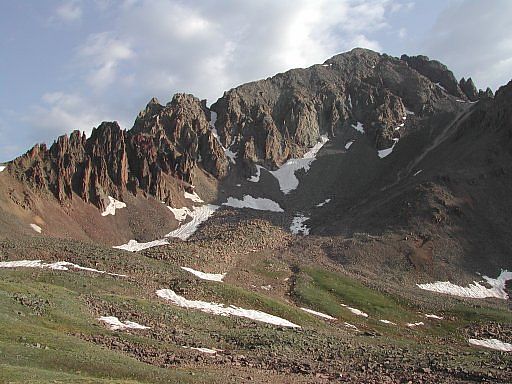 ---
While the view in this next picture, looking south from the top of the scree slopes at the 13,694 foot Gilpin Peak, is awesome to say the least, it barely shows the storm moving in quickly from the west. Our ascent suddenly became a serious matter and my photography was put on hold, so I didn't get the pictures I was hoping for. Only 30 minutes from the top at this point, we hesitated to go any further, but chose to continue anyway.
The couloir leading to the summit was still filled with snow, but we hadn't brought crampons or ice axes, so we continued up carefully using existing kicksteps. Ten minutes later however, the wind picked up and it started snowing; the storm had arrived. As we approached the top of the couloir, only five or ten minutes short of the summit and convinced that it wasn't safe to go any further, the storm started breaking up. So we raced up, tagged the summit, and beat feet back to a safer altitude.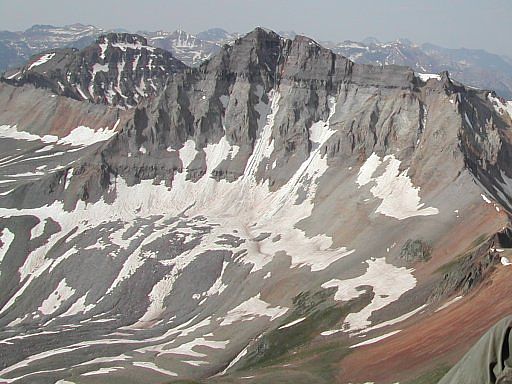 ---
Descending out at the bottom of the couloir, and out of the weather, I stopped to grab this shot looking east through Kismet and Cirque Mountain, to Teakettle Mountain: another impressive looking 13,000 foot peak. We felt good, having knocked off three peaks to celebrate the holiday.
---
---
Area Guide Books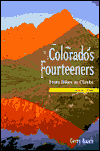 Colorado's Fourteeners: From Hikes to Climbs




Colorado's Fourteeners: Companion Map Package with Cdrom and Map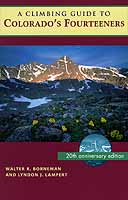 A Climbing Guide to Colorado's Fourteeners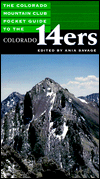 The Colorado Mountain Club Pocket Guide to the Colorado 14ers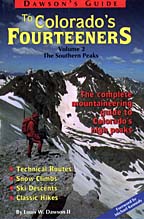 Dawson's Guide To Colorado's Fourteeners - Vol 2


---