Sandbeach Lake, Wild Basin

Winter Snowshoe - December 20th, 2009
Last winter, I was looking at my map of the Wild Basin area, at the southern end of Rocky Mountain National Park, for a good snowshoe route. As I looked at the trail to Sandbeach Lake, it occurred to me that there would probably be a great winter view of the Continental Divide, Longs Peak, and Mount Meeker from the summit of Mount Orton (11,724 ft), on the west side of the lake.
From the Wild Basin Trailhead, the distance to Sandbeach Lake is roughly 4.5 miles, with about 1,970 feet of elevation gain. Mount Orton stands a little over 1,400 feet above the lake. The map's topography indicated a slight ridge on the east slopes that I thought might be the best way up, so I gave it a try.
Not too unexpectedly, it didn't work out. The high winds that day completely covered the trail with deep powder snow. When I finally arrived at the lake, with the blowing snow, I could barely see across. It would have been stupid to go further (being out there along wasn't real smart either actually), and with no view, what was the point; so, I called it a day and went home.
Sunday, December 20th - 2009, a year later, with better weather, I tried again. This time, I hit the trail at 5:30 A.M.. I made it to Sandbeach Lake by 9 A.M. and took this picture looking across to the lower east slopes of Mount Orton, with Copeland Mountain rising to 13,176 feet further back. The wind had me concerned about the visibility deteriorating, but at the moment, it was great.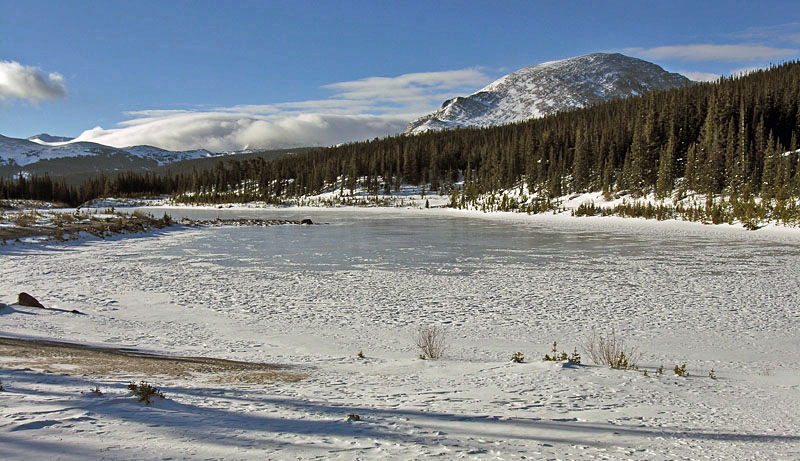 ---
Once I crossed over to the west side of the lake, the real work began. After a hour of trail breaking up my planned route in knee to waist deep snow, I had only gained about 500 feet in elevation when I stopped to get this next shot of the south face of Mount Meeker (13,911 ft) through the trees on the ridge. While I would have prefered firmer snow conditions, I was still having a good time, so on I went.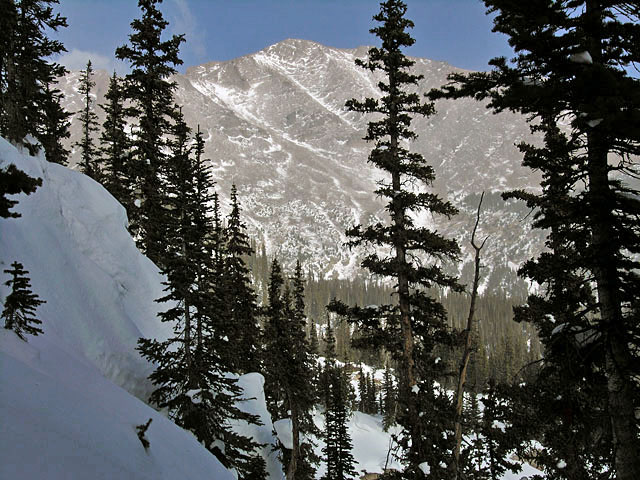 ---
Fifteen minutes later, with clouds rolling in from the northwest "What a drag!", I ran (relatively speaking) over to the edge of the ridge to grab one more quick shot of Mt Meeker. Seeing, for the first time, the blunt looking pinnacle in the center of the face, I was surprised to actually find it marked on the map as Dragons Egg Rock.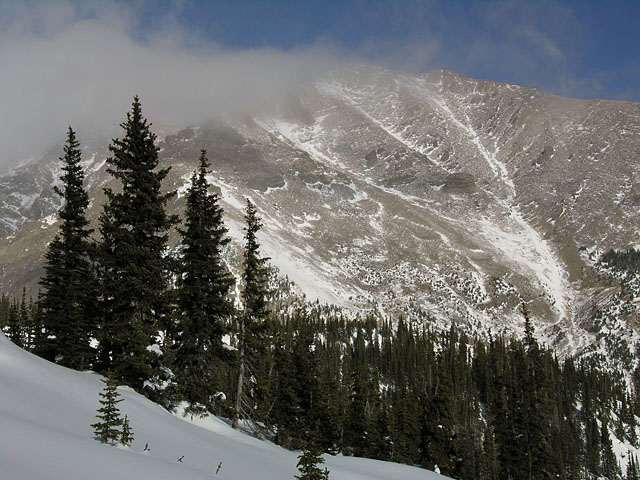 ---
Pushing on a little further, my GPS registered my high-point at 10,991 feet. It was almost 11 A.M. now, and with over 700 feet of vertical gain still to go, I would not have reached the summit much before 1 P.M.. I had hoped to get back to the trailhead before dark, and with visibility worsening, I gave it up. I was still hoping that it might clear up a little for a last photo, so I sat down for some lunch. After eating half of the Schlotzskys sandwich Suzy had bought me the previous evening, I looked down at my fingers - there was no pain, there was no feeling...I had become uncomfortably numb. For some reason, I now had a song stuck in my head.
As I got up to get some warmth flowing back into my body, I realized that the clouds had cleared, and I got the final shot I had been waiting for - a view from the south of Pagoda Mountain, Longs Peak, and Mount Meeker. Then, I couldn't help noticing that the slope in front of me was blown nearly free of snow. I couldn't resist taking this alternate route back down, and half walking half glacading, I was back to the lake in one third of the time it took going up. Even though my butt was dragging a little as I started the three hour hike back out to the trailhead, I was already planning my next trip in. I'm going to get that view from the summit of Mount Orton one way or another.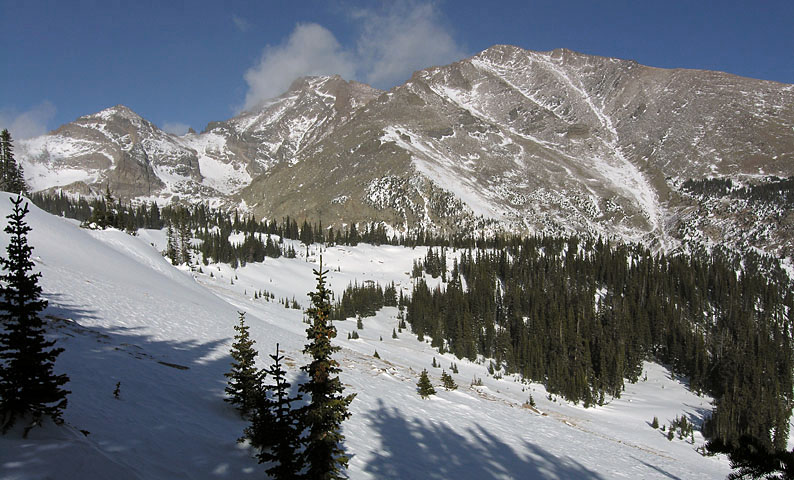 ---
---
RMNP Links
National Park Service - Climbing and Mountaineering in Rocky Mountain National Park

Rocky Mountain National Park: The High Peaks

U.S. National Parks Net - Rocky Mountain National Park Hiking Guide
---