San Luis Peak

Friday, September 26th, 2003, taking advantage of a good weekend weather forecast, Suzy and I headed down to Creede, Colorado for an ascent of San Luis Peak. After a late night arrival and an early morning wake up Saturday, we left the West Willow Creek Trailhead at 7:05 A.M., heading for San Luis' south ridge.
About one hour into the approach, we finally had enough light for a good shot of the southwest face of the peak. This route follows the Continental Divide and Colorado Trails, and the scenery, especially this time of year, was beautiful.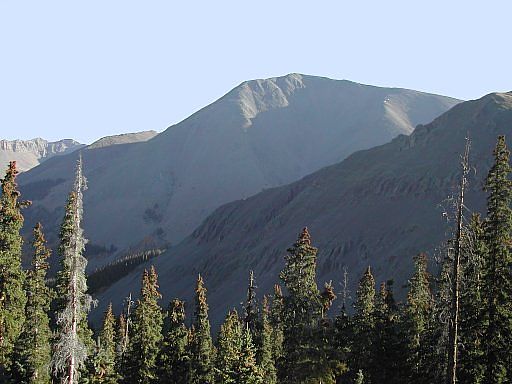 ---
Coming up on the second of three passes we had to cross on the South Ridge route, this view looking northwest shows the magnificent autumn colors created by all the aspen groves. We couldn't have picked a better weekend for this trip.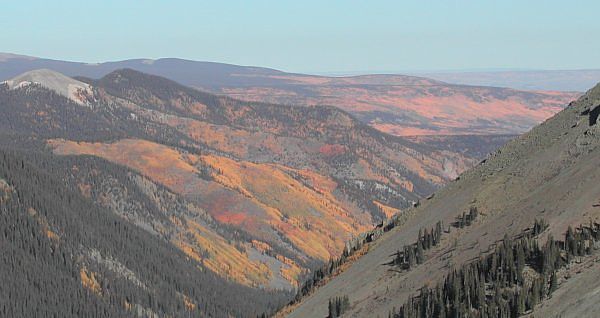 ---
Just east of the trail, approaching the 3rd pass now, was this cool looking outcropping of pinnacles. Once over this final pass, all we had left was the steep ascent of the south ridge itself.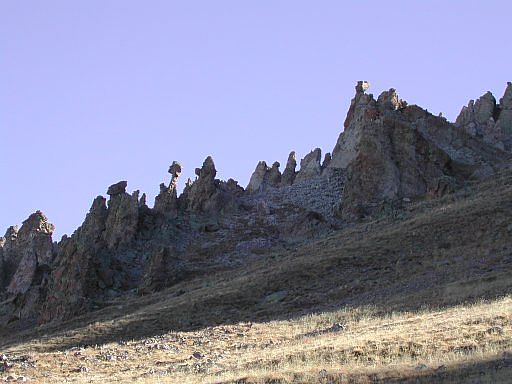 ---
Suzy, just five minutes short of the Summit, stopped to get another glimpse of this unbelievably beautiful San Juan Range autumn day; I stopped to catch my breath.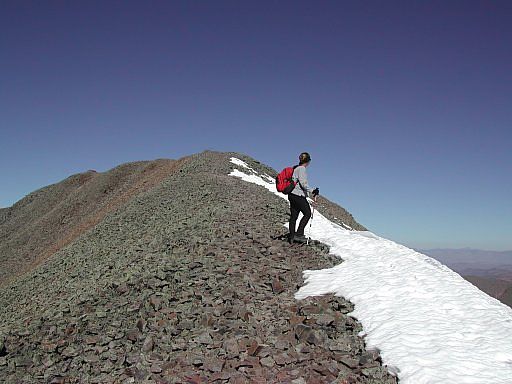 ---
While there was some haze this day, the fall colors in the view from the summit of San Luis Peak were still great.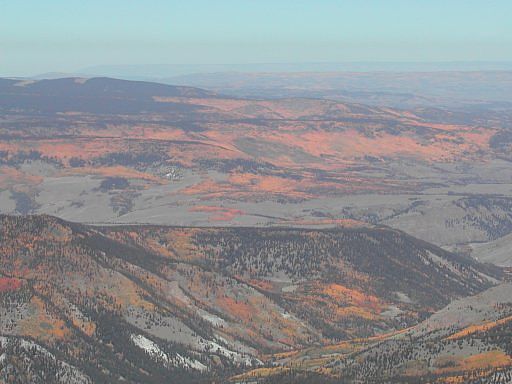 ---
On Uncompahgre a few weeks earlier, I was unable to positively identify San Luis Peak; however, finding Wetterhorn, Matterhorn (a 13er), and Uncompahgre Peaks looking west from the summit of San Luis was not a problem.
It had taken us 3 hours and 45 minutes to reach the peak of San Luis from the West Willow Creek Trailhead 4x4 parking, and after a 45 minute lunch, taking our time with all the good weather, we started back down.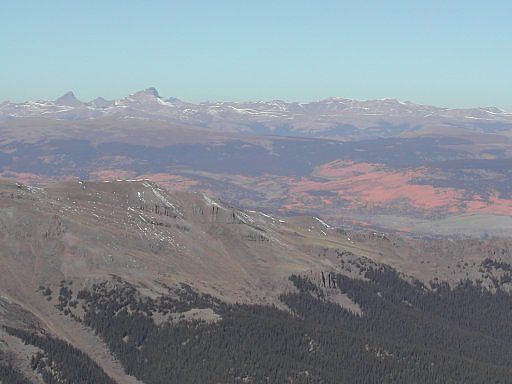 ---
Nearing the end of the trip and with San Luis Peak in the background, Suzy and I wound our way up toward the third and final pass in our descent back to the trailhead. This is an agonizing pass to get over in the heat of the day, but with a cold beer waiting on the other side, we managed to do it. Seven and a half hours after leaving the trailhead, we dropped our packs and popped the tops. This was a good day!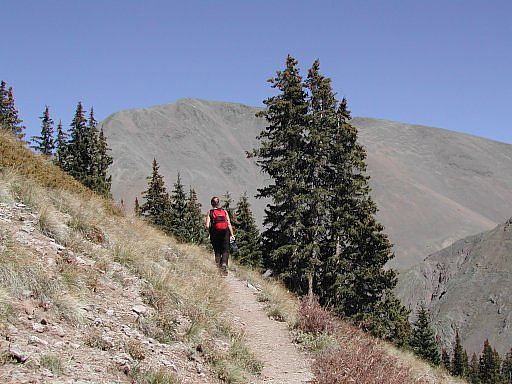 ---
---
Area Guide Books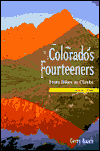 Colorado's Fourteeners: From Hikes to Climbs




Colorado's Fourteeners: Companion Map Package with Cdrom and Map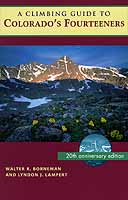 A Climbing Guide to Colorado's Fourteeners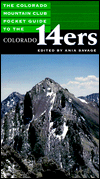 The Colorado Mountain Club Pocket Guide to the Colorado 14ers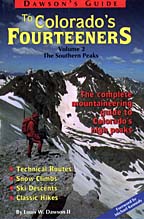 Dawson's Guide To Colorado's Fourteeners - Vol 2


---