Redcloud & Sunshine Peaks

The July 4th holiday weekend seemed like a perfect time for Suzy and I to run down to the southwest corner of Colorado and hit some of the great peaks in the San Juan Range. Our goal was to do a Redcloud and Sunshine Peaks combination, ascending Redcloud's Northeast Ridge Route (Grade II, Class 2), continuing down the south ridge to Sunshine's northeast ridge, and choose a descent once on top of Sunshine.
I took this picture of Redcloud, back and left, and Sunshine from our camp near the Silver Creek-Grizzly Gulch Trailhead.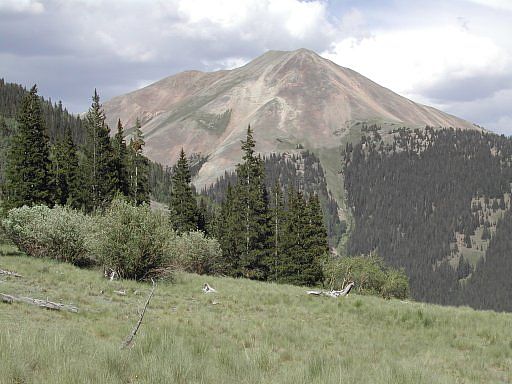 ---
After roughly an hour or so on the trail, the view of the Northeast side of Handies Peak was worth a few shots. It would have made sense to hit this peak the next day while still camped in the area, but we chose instead to save it for another time and do Mount Sneffels, just outside of Ouray, Colorado for day two.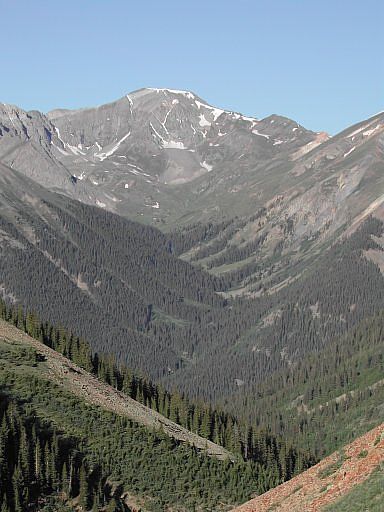 ---
This shot was taken during a well deserved break on the northeast side of Redcloud. Once you get to the saddle headed up the ridge, the trail breaks into two: one heading basically straight up, while the other switchbacks. Follow the switchbacks; the other trail is steep and loose.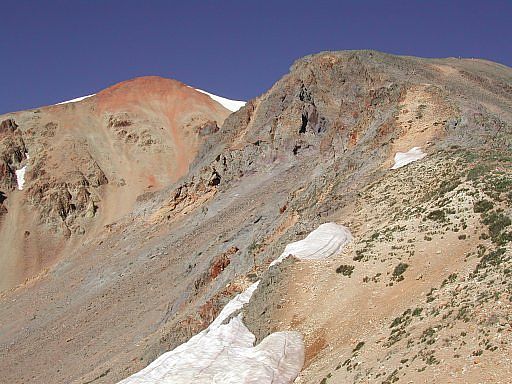 ---
From the top of Redcloud, looking north, the view of Uncompahgre Peak, Colorado's 6th highest, was extremely impressive. This peak, along with Wetterhorn and Matterhorn (in the following shot) will hopefully be another combination effort later in the season when our conditioning is further along.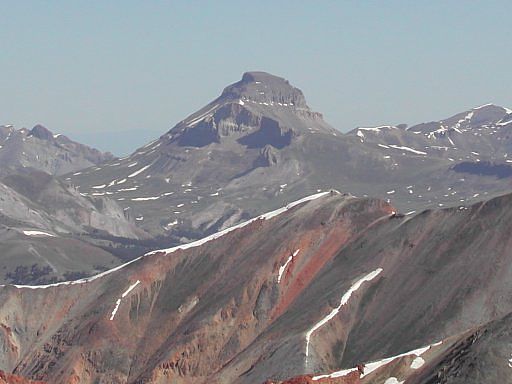 ---
Still looking north, but slightly more to the west, we could see the 14,015 ft Wetterhorn Peak (left) with its long challanging 4th class East Ridge connecting to Matterhorn Peak at 13,590 feet. Also, further back, we could even see Coxcomb Peak (left) and I think Redcliff (peaking out in the center), two more Colorado 13ers.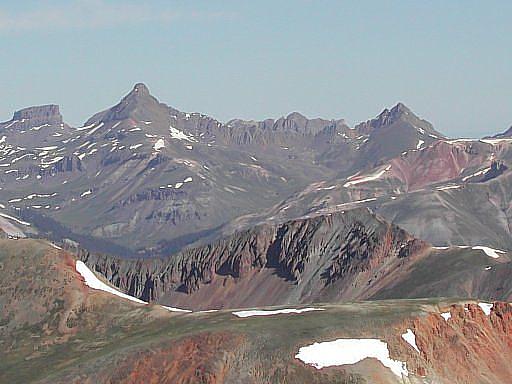 ---
While enjoying the view of Redcloud from the top of Sunshine peak, our concern was now, how to get down. The safer choice would be to return on the same route; however, Sunshine's North Slopes Route, ugly as it looked, was a tempting shortcut, so we reluctantly decided to give it a try. After carefully choosing one of three nasty gullies at about 13,000 feet to pass through, we inched down 300 feet I don't care to try again any time soon. Once through the gully though, the forest below, down to the main trail, was worth seeing. Gerry Roach used the word "enchanted" in his description.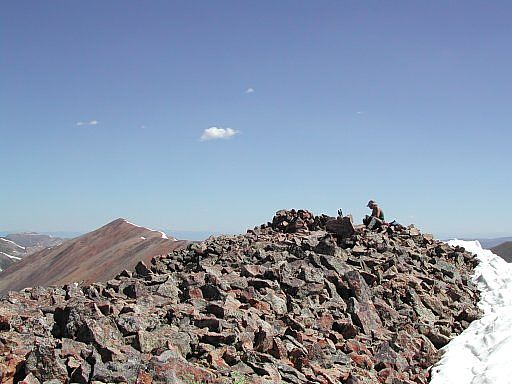 ---
---
Area Guide Books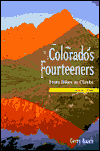 Colorado's Fourteeners: From Hikes to Climbs




Colorado's Fourteeners: Companion Map Package with Cdrom and Map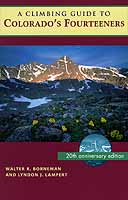 A Climbing Guide to Colorado's Fourteeners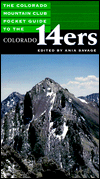 The Colorado Mountain Club Pocket Guide to the Colorado 14ers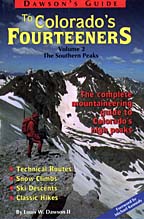 Dawson's Guide To Colorado's Fourteeners - Vol 2


---