Australian Rap Jumping

I've put this page on Rap Jumping together from photos sent to me by my friends, Mark and Genene, in Australia. I couldn't include them in my Australian Vacation Abseiling shots though, because they weren't taken during that trip. Besides, I think Mark and Genene deserve a page on this site dedicated to them for all they've done for my son and I.
Word of Caution: This should only be performed with a static rope for two reasons; static ropes are more resistant to high friction, and dynamic rope stretch is undesirable when stopping suddenly near the ground.
In this picture, Mark is dropping with zero break. I nearly dropped a load the first time I saw this. My first thought was that he had lost control; then suddenly, about 10 feet off the ground, he came to a screeching halt and stood up grinning.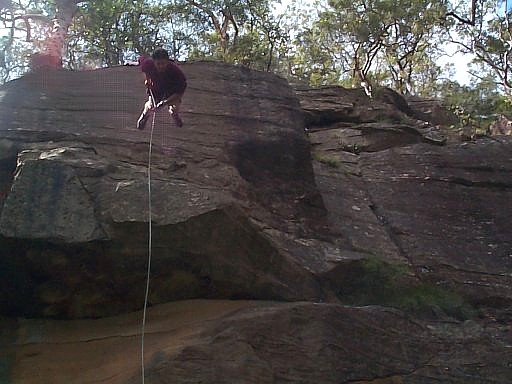 ---
Left - Josh, probably only 13 at the time, shows impressive form, in this shot, as he leaps over an overhang.
Right - Mark, having a little fun, has some nasty burn marks on his shoes from this variation.
---
In this area of Australia, leeches are everywhere, worse than the tics here in the Rocky Mountain region. Nasty as they are though, they're going to have to suck pretty hard to get any blood out of this static rope.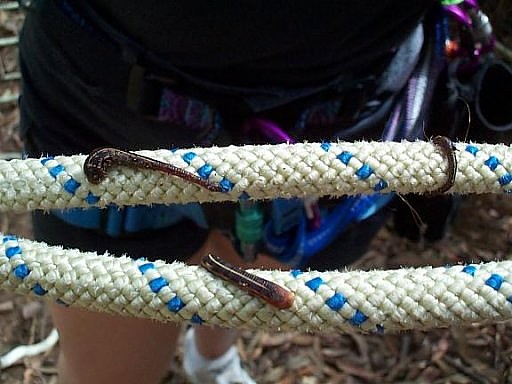 ---
While visiting the Sydney Sea Cliffs one day, Genene maneuvered into position for this shot, with some difficulty, as Mark rapped off the cliffs.