North Longs Peak Trail

It was 4:20 AM, September 18th, 2014, when I left the Glacier Gorge Trailhead in Rocky Mountain National Park, heading for the North Longs Peak Trail, and on up to the Boulder Field. I wasn't sure what I would do after that, but I at least wanted to check out the trail - having only gone up a short distance on snowshoes many winters ago with Suzy. This route adds some mileage to a hike up to Longs Peak, but the benefit to that is a lot more solitude.
I hiked for two hours before I could turn off my headlamp and continue on in the very early morning light. A couple hours further still, and I was at the junction of the two Longs Peak trails, well above timberline. I started seeing the local Pika running around in the rocks as I hiked on towards the Boulder Field. I'm usually way too impatient to wait around for a good photo of these critters, since they rarely hold still for very long, but today I found one that I guess was still just waking up.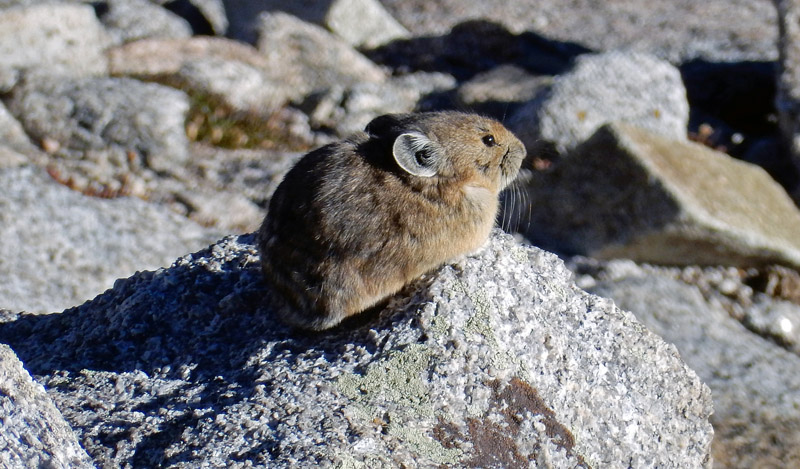 ---
I thought about summitting Storm Peak, on the north side of Longs, from the Boulder field, but it looked like I might be able to get up to the top of the Chasm Wall, between Longs Peak and Mount Lady Washington, before the sun moved too far west, and get some shots of climbers on the Longs Peak Diamond Wall. So, now I had a plan. After carefully selecting a seat on a boulder at the top of the Chasm wall, I took this picture of the upper Diamond. I could hear climbers talking (with no wind, sound travels well along the rock walls), but they were too far away to see.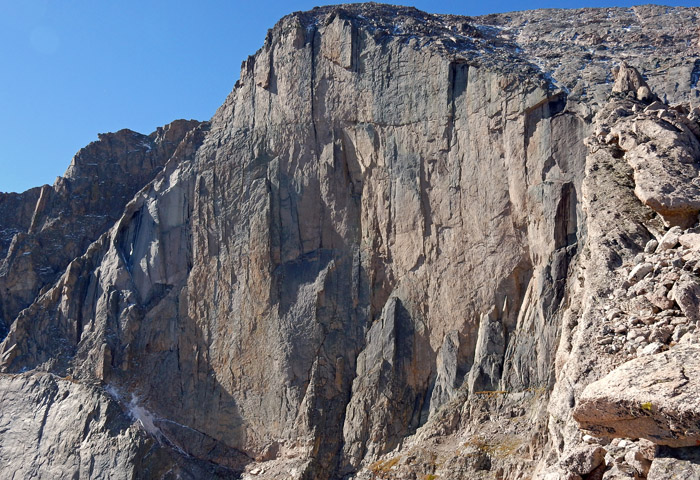 ---
| | |
| --- | --- |
| With my binoculars out, I searched the Diamond, and I finally spotted two pair of climbers on the wall. The sun was moving fast though, and I was only able to get this one single shot of an unknown climber on Pervertical Sanctuary, at 10:19 AM, before losing all of them to the shade: making the rest of my shots flat and boring. | |
---
Looking around now, I was getting my first view of Lamb's Slide, a popular snow route, and I definitely had to get some beta shots of it for a possible climb in the spring or early summer. A climb like this though, between 12,000 and 13,000 feet, means I really needed to get rid of the 15 pounds I gained last winter and step up my cardio workouts significantly. So, this may just be wishful thinking - I do a lot of that. This shot shows Lamb's Slide with Mount Meeker behind, and Chasm Lake down below.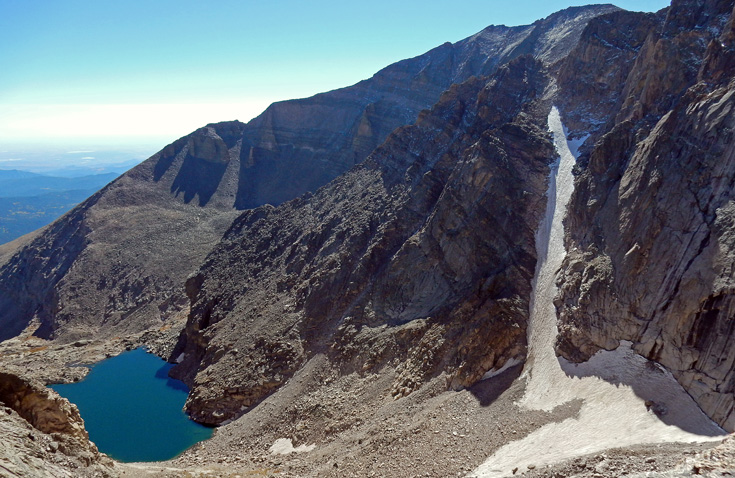 ---
I was scanning the area again with the binoculars, for nothing special this time, when I caught site of a climber topped out on the Flying Buttress (a classic climb on a rock rib on the north face of Mount Meeker) just visible beyond Longs Peak's Glacier Ridge - another cool photo opportunity.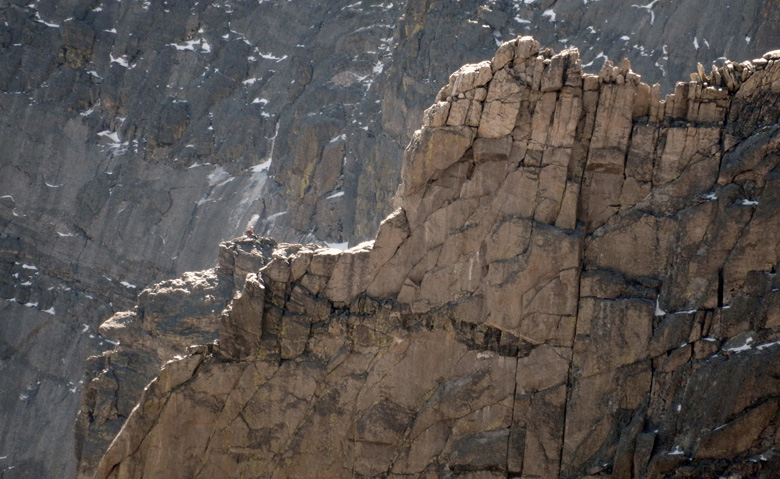 ---
It was just about 11:00 AM when I got up and started back down the trail. Four hours later, at 2:53 PM, I was crossing Boulder Brook. In the dark with a headlamp at around 6:30 AM, crossing this had been very interesting. It appears that the heavy rains the previous September, in 2013, had really caused some damage. The trail, and bridge if there had been one, were completely washed out. Now, in the daylight, I was able to get a shot looking up and down stream showing the erosion.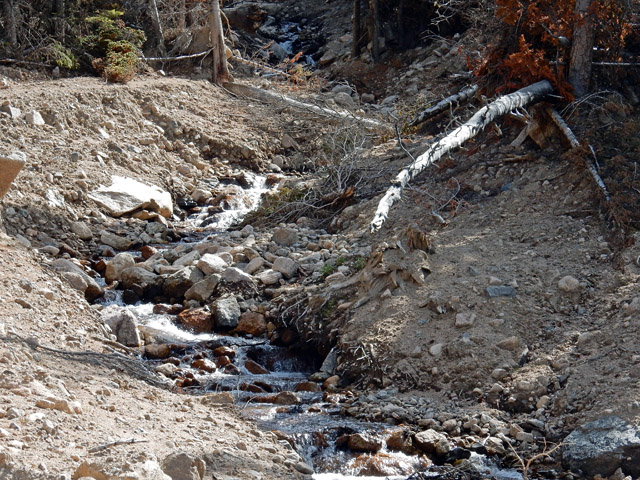 ---
Lucky for me that morning, cairns had been build to mark the trail through this mess to meet up with the trail again on the other side: still, I had a hard time following them in the dark.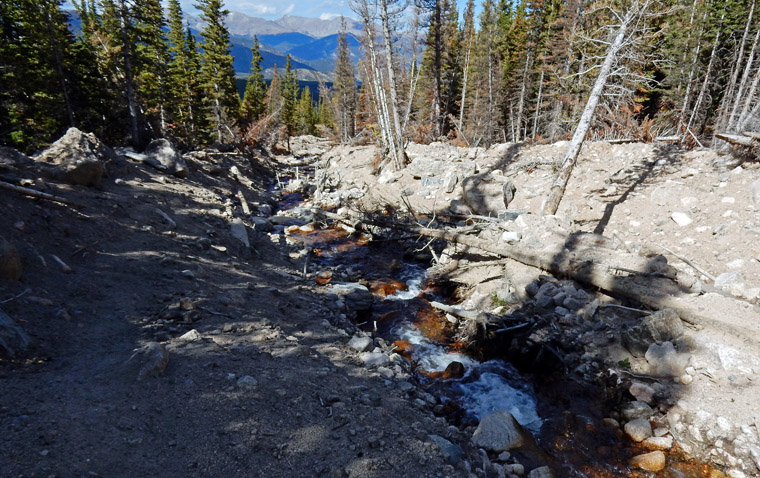 ---
Still with about an hour to go, at 3:45 PM now, I stopped for a picture of the fall colors down by the road and trailhead; although, technically, for a few days yet, these were still late-summer colors.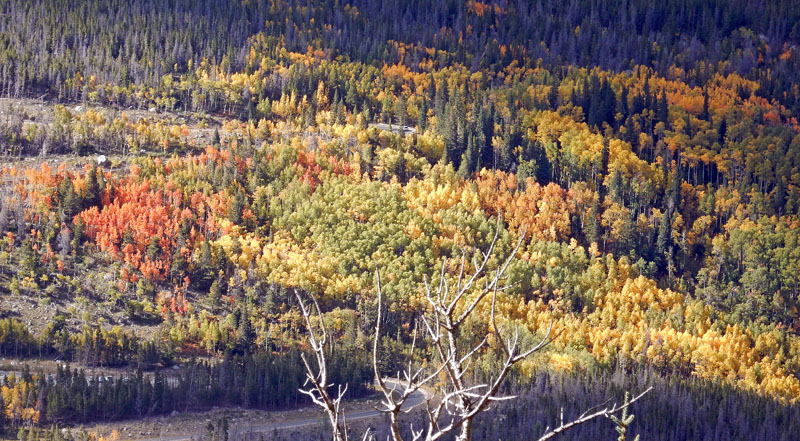 ---
| | |
| --- | --- |
| | Just shy of the Glacier Gorge Trail junction, at 4:14 PM, I crossed over Glacier Creek. The map does not show a falls here though, so I'll just call this a cascading water shoot - a bridge over troubled water. It was pretty cool seeing this with just the light of a headlamp at about 5:00 AM. |
It was about 5:10 PM when I finally made it back to my car, but the last mile had been a somewhat unwanted transition back to reality. There were people everywhere, and the fresh mountain air I had enjoyed so much all day was now polluted with the heavy scents of perfumes and colognes. It's possible though, that some of these people had a thought or two about how I smelled too. I was now looking forward to a nice drive home down the Big Thompson Canyon - with the windows wide open.
GPS Stats: my round trip time was 12 hours, 52 minutes (however, I spent nearly an hour sitting at the top of the Chasm Wall enjoying the view), with a total distance of 18.03 miles. My total accumulative elevation gain for the day was 3,525 ft., and I reached a high elevation of about 13,130 ft.
---
---
Area Guide Books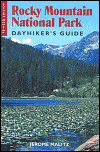 Rocky Mountain National Park: Dayhiker's Guide




Hiking Rocky Mountain National Park


---