Mills Lake Hike - Winter

Rocky Mountain National Park
Sunday, February 17th, 2013, had a nice warm and sunny weather forecast for the Colorado Front Range, so Suzy and I decided to hike up to either Loch Vale or Mills Lake in Rocky Mountain National Park. At the Bear lake Trailhead though, at 8:30 in the morning, the weather was cold and seriously windy. Within 15 minutes, we had most of our spare clothing on. Still, it was winter, and deep down, I enjoy this more than a hot summer day with temps pushing 100F.
When we got to Alberta Falls, seeing it frozen over was no big surprise. I had a new pair of the Kahtoola MICROspikes I was trying out, and of course, I had to walk around below the falls as part of the test.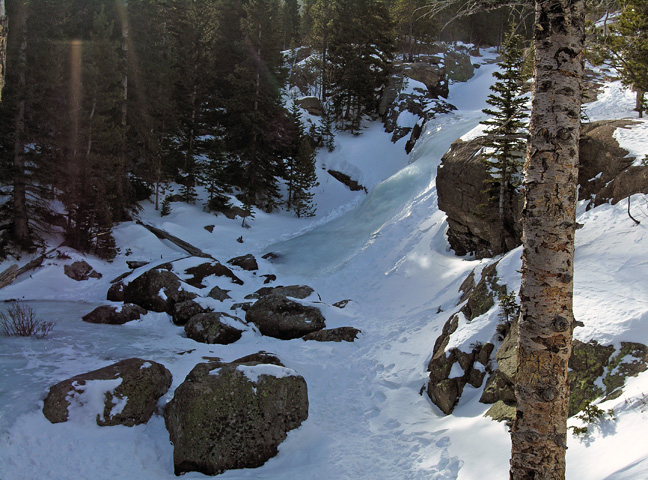 ---
Not far up from Alberta Falls, we came up on this Steller's Jay sitting in a tree just to the side of the trail. I was obvious that the winds were getting to it. The fact that it chose to sit there while we took pictures rather than fly off was another indicator of how cold it was. My wild guess was that the chill factor was in the single digit range, at least around 9:something AM.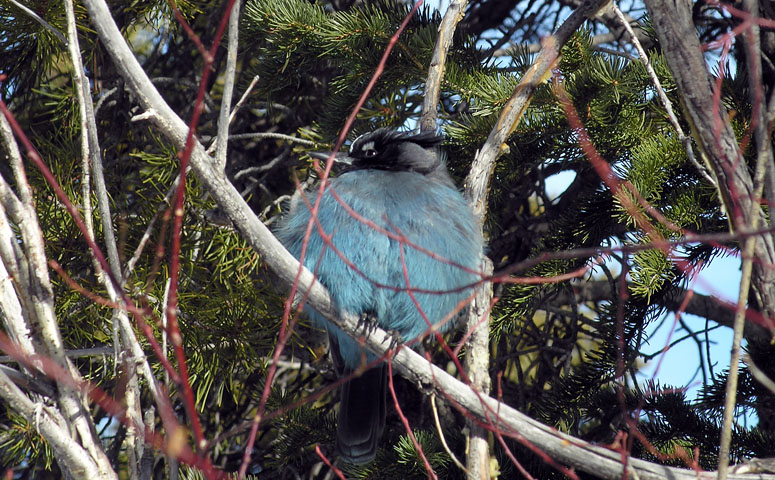 ---
A little further up the trail, we had a great view of the south side of Hallett Peak. We were not in much of a clearing though, and it took some wondering around in the powder snow, off trail, to find a rock I could get up on for a picture without tree tops in the way.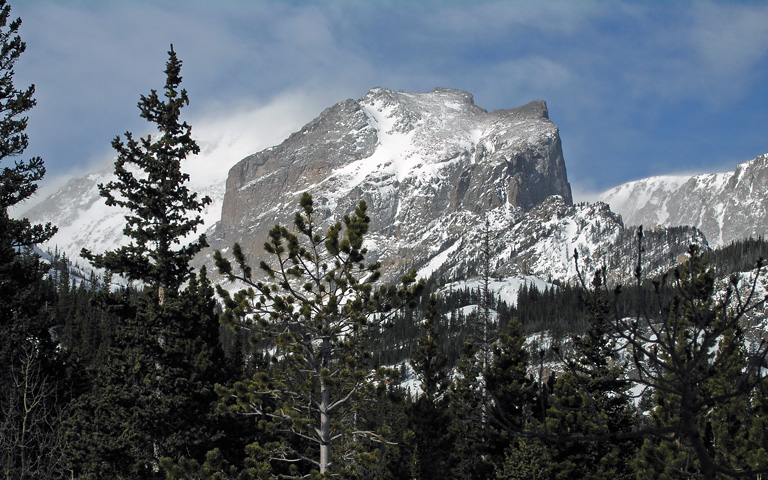 ---
It wasn't until we got to the fork in the trail, requiring a decision, that we chose Mills Lake over Loch Vail as our destination; so, a half mile further, as Mills Lake came into view, I stopped for a picture of the winds up towards Glacier Gorge. Surprisingly, after finding a nice sunny slab of rock to sit on along the lake shore, we were fairly comfortable.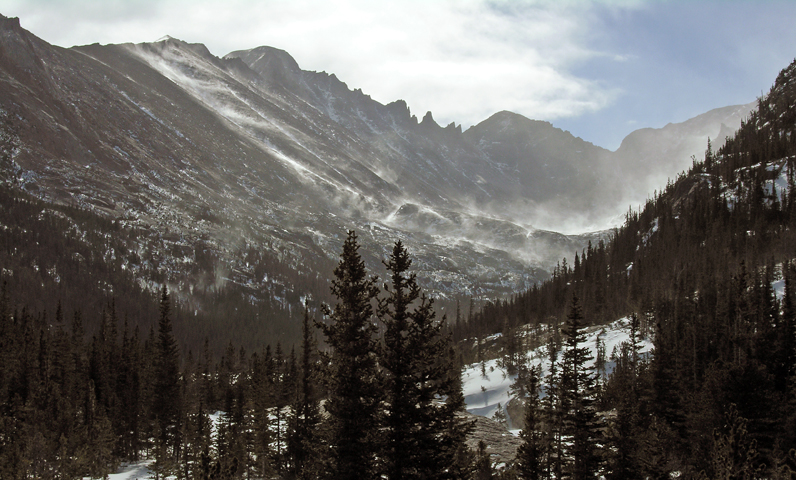 ---
I've seen some impressive snow plumes blowing off the top of Longs Peak before, but I thought this vertical curl, reaching hundreds of feet into the air, next to Spearhead was cool!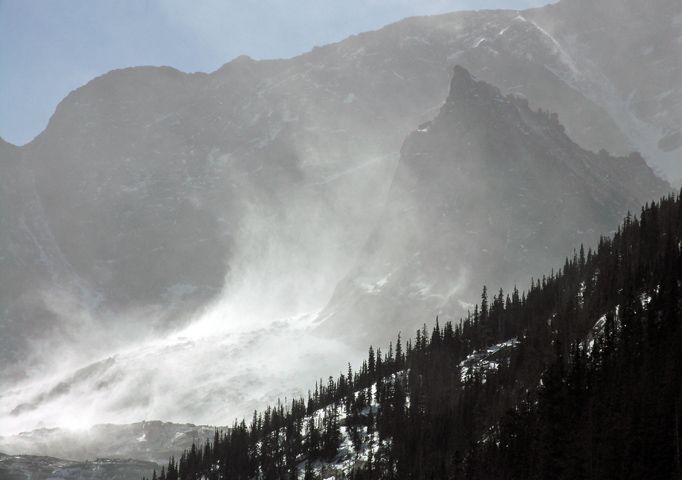 ---
A few years ago, on another nice sunny day, I summitted Mount Lady Washington in January with 80+ MPH winds at the top, so I was trying to imagine what it was like on Longs Peak when I took this shot.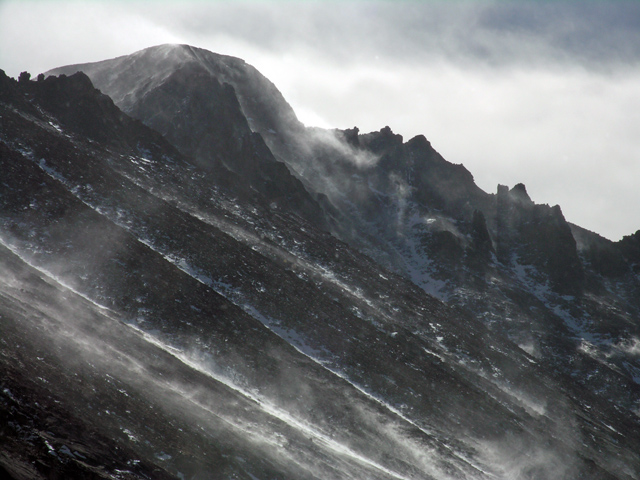 ---
Before we started back out, Suzy pointed out the ice, "All Mixed Up", on the north side of the lake. The lack of snow this year has really made it easy to see the route.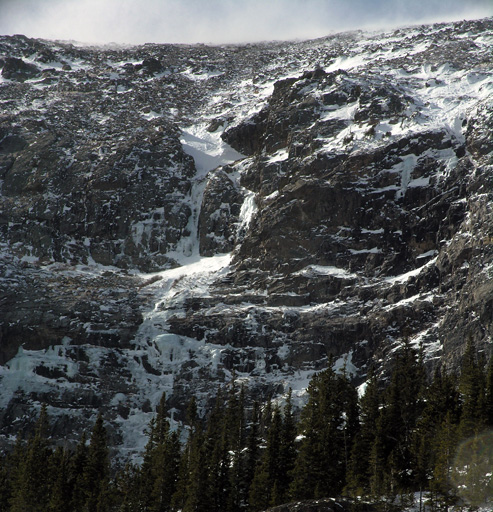 ---
On the way back out, this scenic view, looking towards the Loch Vale area was a great picture to end this series with. We were back out at the trailhead just after noon, and back at Estes Park in time for a late lunch at Smokin' Dave's BBQ & Taphouse. You can't top off a short winter hike much better than that!