Ptarmigan Glacier Ascent

Odessa Gorge
It was April 25th, 2014, and I had taken Friday off for a hike up into Odessa Gorge, in Rocky Mountain National Park. Ideally, I wanted to ascend Ptarmigan Glacier but really didn't expect to be up for it. I had not been out much at all over the winter while I was letting my Achilles Tendons heal up from all the hiking Suzy and I had done the previous summer. I was hitting the weights consistently, but my cardio workouts were unimpressive. I had gained 10 to 15 pounds in about 6 months. Spring snow was here though, so I started out from the Bear Lake Trailhead, with my headlamp on, at about 4:40 AM. Not the first time however, I absentmindedly left my camera in the car and had to use my stupid smart-phone for photos. I stopped for this shot of the sunrise about a mile and a half up the trail.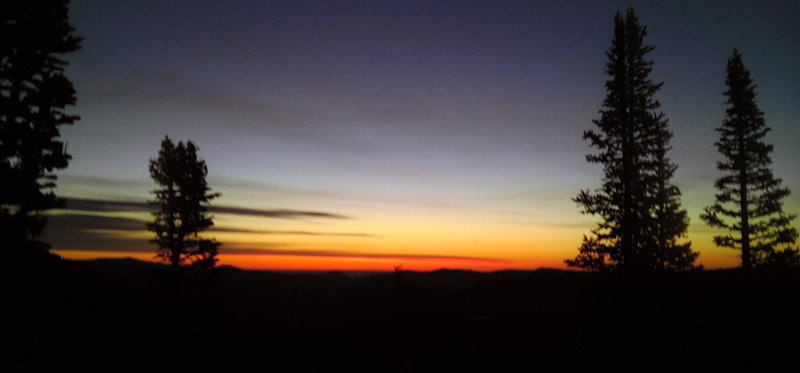 ---
It was probably about 7:00 AM when I stopped at Two Rivers Lake and took this shot looking up into Odessa Gorge with Ptarmigan Glacier at the end. Conditions were good. It was colder and windier than I had expected, but the snow was firm and easy enough to walk on. I set my pace and started up. I love this area: it's smaller than other gorges in the park, but I have always had it completely to myself, and today was no exception.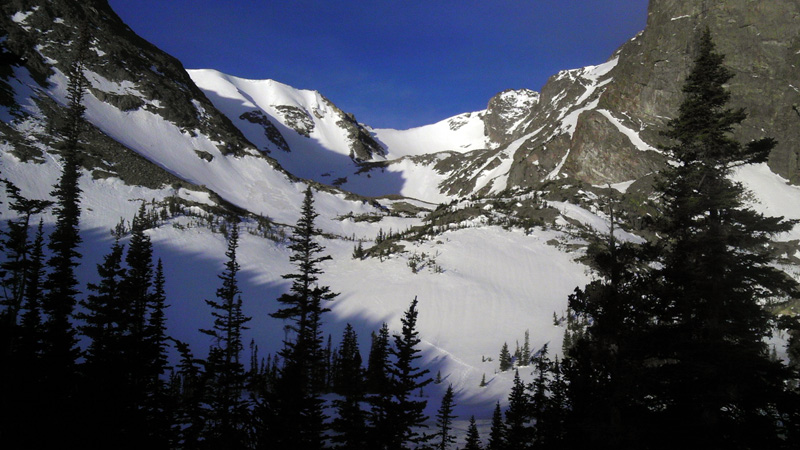 ---
Cool! It was 9:30 AM when I topped out at Ptarmigan Point. I had stopped at the bottom of the glacier and replaced my Kahtoola MICROspikes with a more traditional mountaineering boot crampon, and I traded-out one trekking pole for a mountaineering axe. My hiking shoes probably weren't the best choice of footwear with the crampons, but it worked. The wind at Ptarmigan Point, however, had to be somewhere around 70 MPH give or take 10. I hesitated to get too close to the edge when taking this picture looking back down the gorge, because a good gust could have push me right over. You can see Lake Helene and Two Rivers Lake (still frozen of course) down where I took the earlier photo looking up into the gorge.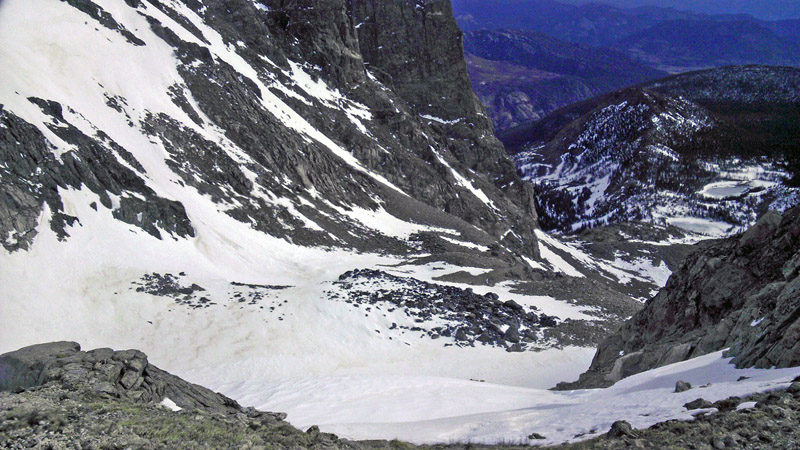 The wind was miserable and my focus now was getting back down a ways. I took the short hike over to the summit of Flattop Mountain and started down the trail to just above timberline, where I sit glissaded down the north side of Flattop's east ridge back down to the trail I had come in on. This took me down about 1,000 feet in elevation in a mere 10 minutes, and made the hike back out a lot easier. I was back at the trailhead at 12:05 PM and was a little overwhelmed by the temperature rise. I had dropped from winter conditions above 12,000 feet to a hot spring day in 2 and a half hours. I would celebrate a great day later that afternoon with Suzy at the Fort Collins Brewery with Enchiladas, a Chocolate Stout and a Rocky Mountain IPA.
GPS stats for the outing were: trailhead-to-trailhead in 7 hours, 24 minutes; a round trip distance of 8.43 miles; total elevation gain of 4,619 feet; with a high elevation of 12,347 feet ASL (not adjusted for the current barometric pressure). The official height of Flattop Mountain is 12,324 feet, so I could not have been higher than that.
---
---
RMNP Links
National Park Service - Climbing and Mountaineering in Rocky Mountain National Park

Rocky Mountain National Park: The High Peaks

U.S. National Parks Net - Rocky Mountain National Park Hiking Guide
---