Paiute Peak Ascent

13,088 feet / 3989.22 meters Elevation
On Day three of a four day camping trip with my wife Suzy and our Black Lab Abbey, having taken a rest day after ascending Shoshoni Peak, I set off to climb Paiute Peak at 5:30 AM, August 23rd, 2017, from the Mitchell Lake Trailhead in the Indians Peaks Wilderness Area In the late afternoon the day before, there had been a bad hail storm which cracked the windshield of my car and threatened to collapse our tent, and as I started down the trail this morning, I could tell by the lack of stars that there was still a lot of cloud cover around. However, the sun still managed to produce a beautiful sunrise at 6:11 AM. For shots like this you just have to suffer through the pre-dawn starts.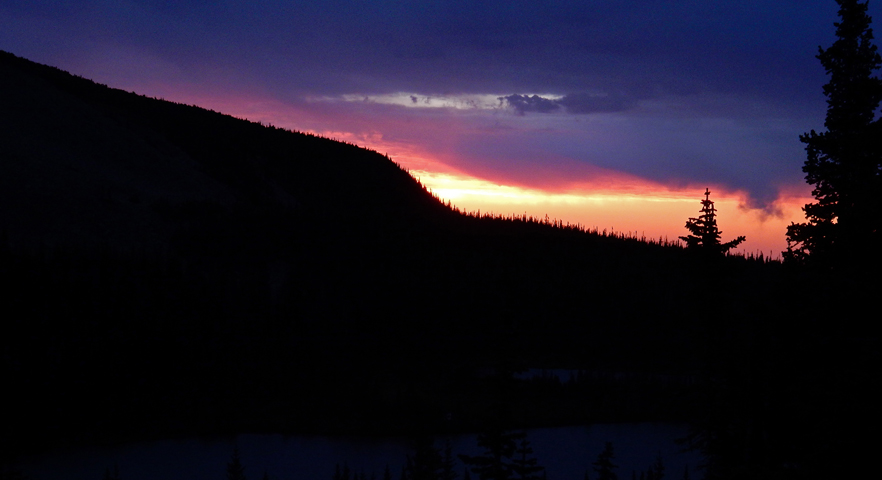 ---
With my headlamp off, and above Mitchell Lake now, I suddenly looked up to see Bullwinkle about 20 yards in front of me feeding right off the trail. There was no way I was going to try to bully this thing off the trail so I could pass, so even though the brush was fairly thick, I started bushwhacking in a wide circle around. This shot was taken while bushwhacking around at 6:56 AM.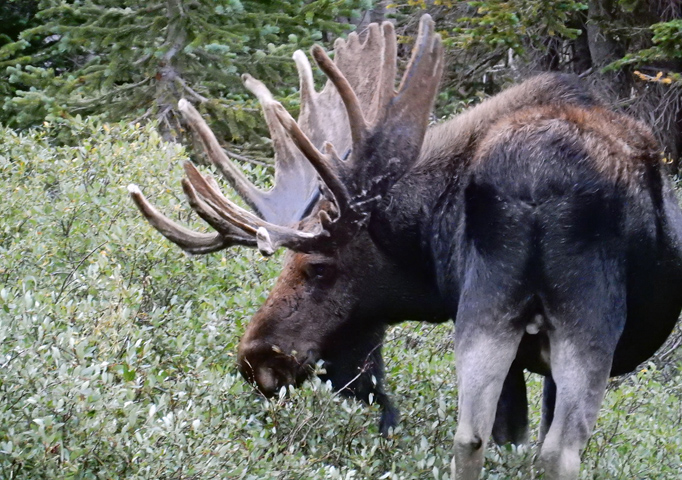 ---
About three miles up the trail, 7:37 AM now, I was making my way around Blue Lake. This little waterfall is located near the west end of the lake. Once around the lake, the rate of ascent increases, while the trail decreases. I had been up to the unnamed lake above Blue Lake with Suzy a few years ago, but I had forgotten just how faint the trail is, if it's really there at all. I had no trouble finding cairns, they seemed to be everywhere, but if they were marking any sort of trail, I couldn't seem to follow it. I knew where I was going though, so it wasn't that big of a deal, just a lot of rock hopping.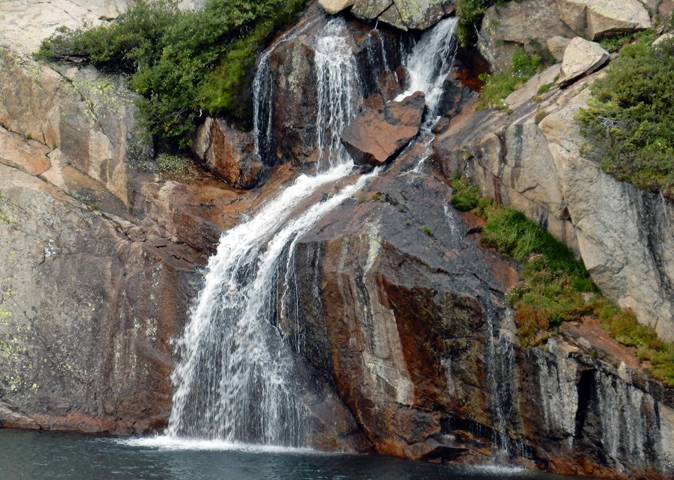 ---
This waterfall is roughly 20 minutes from the unnamed lake above Blue Lake. As I took the shot though, at 8:27 AM, my hopes of summiting Paiute Peak were fading. My progress was slow, still a little sluggish from summiting Shoshoni a couple days earlier, and the weather was still iffy. It looked like the clouds were trying to burn off, but it wasn't happening very fast.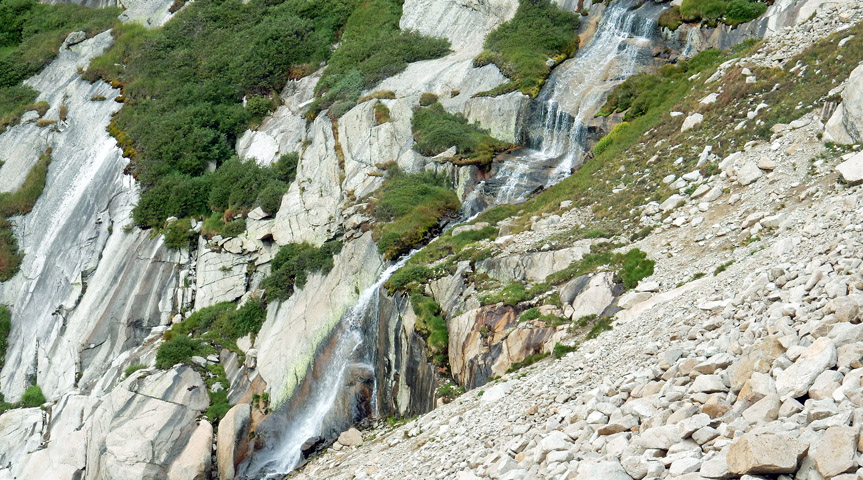 ---
When I finally made it to the unnamed lake, below Paiute Peak, I stopped for a quick breakfast Cliff Bar. As I eat, I heard the familiar squeak of a Pika very close. I moved a little to my right, and there it was just kind of checking me out, so I took it's picture (8:47 AM) before it decided to run off. As I put my pack back on though, my lower right back went into a spasm. For five minutes I couldn't even breath deep without setting it off. After a while, it seemed to settle down a little, so I started off again very slowly, and feeling a little stupid for continuing. This just didn't seem like my day.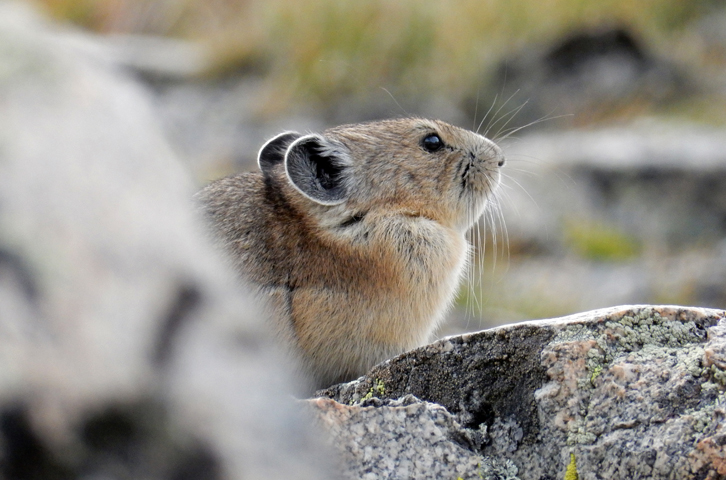 ---
After ascending a couple hundred feet more (9:16 AM), and reaching a shelf at the base of Paiute where I took this shot looking back at the unnamed lake and Blue Lake further down to the right, I had to make a choice - climb the peak or turn around.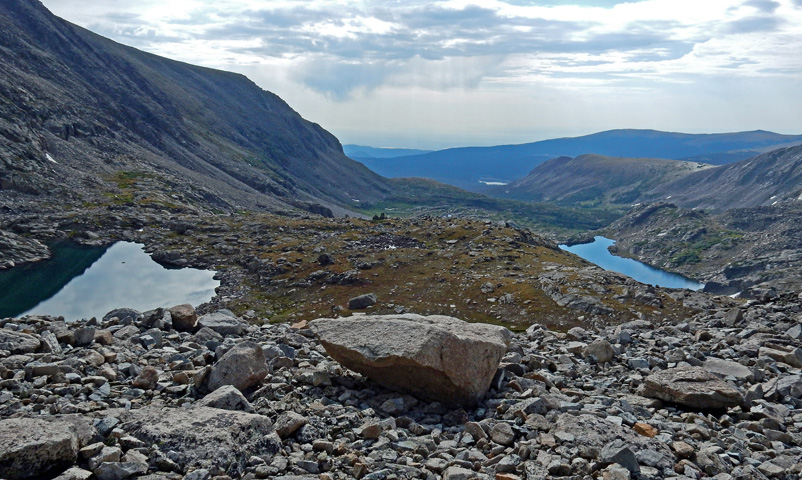 ---
I looked ahead at the scree slope I needed to go up and thought 'That doesn't look too bad' so I started up. The first half of the slope wasn't bad at all, and I found myself commiting to the ascent for the first time. There was just enough of an increase in the angle halfway up though, that I found myself fighting to stay on the larger, more stable, rocks to the right and doing some class 2+ climbing. This shot of the scree slope shows how deceiving the angle is without a size reference, like trees. Still, this was supposed to be the easiest way up. Funny how you never hear about the "classic" scree slopes though.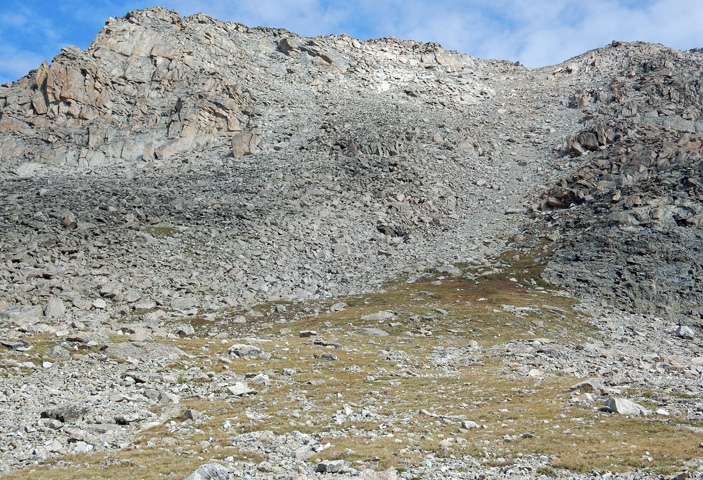 ---
Once I was above the scree slope, the remaining scramble up to the summit was relatively easy. This shot from the summit (10:34 AM) looks south with Mount Toll in the foreground, and Navajo Peak in the distant background.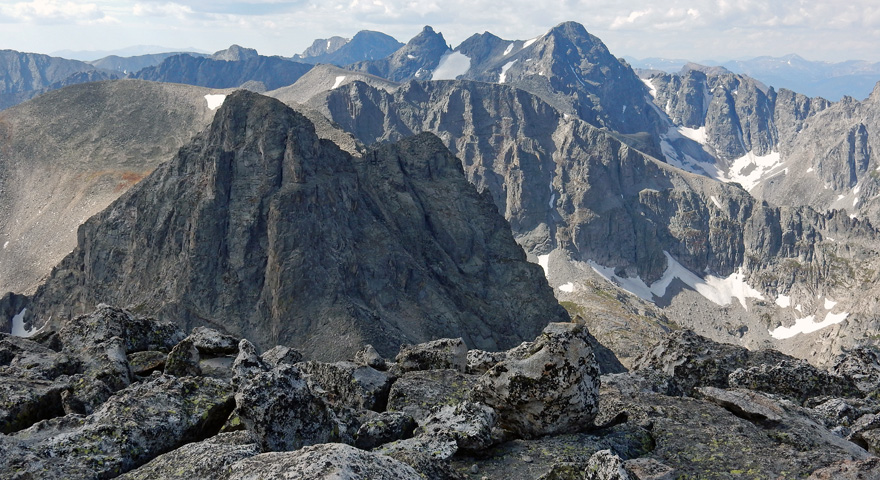 ---
Looking east now, along the ridge to Mount Audubon, I had to make another decision. I wanted to traverse this .85 mile 3rd class ridge - considered a classic - but knowing the weather was going to turn bad sooner or later, it was a big risk. I didn't want to be caught still on the ridge in a storm. The ridge looked great though, and I just couldn't pass it up, so off I went, this time feeling more than just a little stupid.
Note: Mount Audubon is a couple hundred feet higher than Paiute, so after descending four hundred vertical feet of the ridge to the saddle, about one third of the way across, I then had a six hundred vertical foot ascent up the rest of the ridge to summit Audubon. As I was trying to outrun the weather, this was extremely exhausting.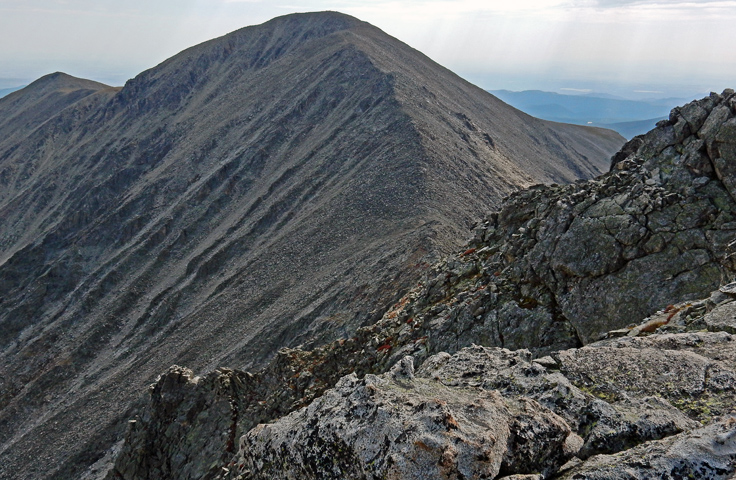 ---
Still resting on the summit, I took this shot of the lakes on the north side of the peak. It looked like a great area to hike into someday. I'll bet there's not a lot of hiker traffic on this side of the peak.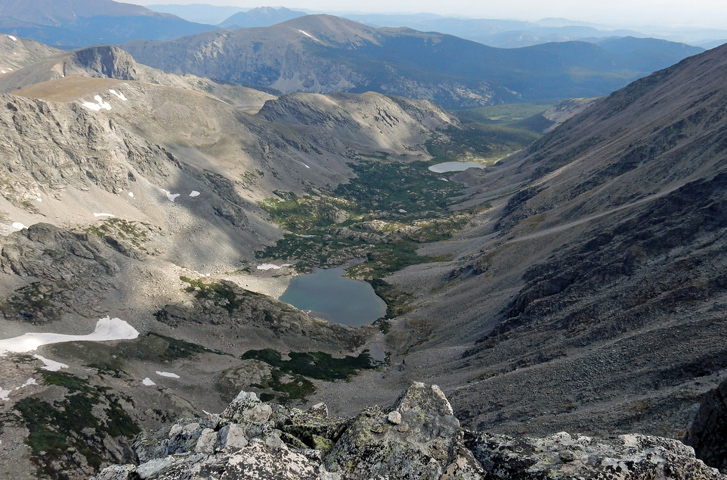 ---
Coming down the ridge from Paiute had given my lungs a nice break, but now it was time to get them in gear again. That takes a little doing though. I didn't get far up when I had to stop for a short break at 11:31 AM and, not wanting to waist the time, I took this shot showing the ridge back towards Paiute Peak before trying once more to get a pace going. I was sucking big air when I summited Mount Audubon at about 12:20 PM. The ridge had taken me an hour and forty minutes to cross. Now that I was off the ridge, I changed my focus to getting back down below timberline before the weather broke. I didn't even stop for summit photos; however, I've already got a webpage on Mount Audubon, so they would have been duplicates anyway. Taking the East Slope route down, I was safely below timberline when the hail started, and after twenty minutes of that, the rain took over. My last hour on the trail was in the storm, but the cooler temperatures really felt good. I was back at the trailhead about 2:50 PM.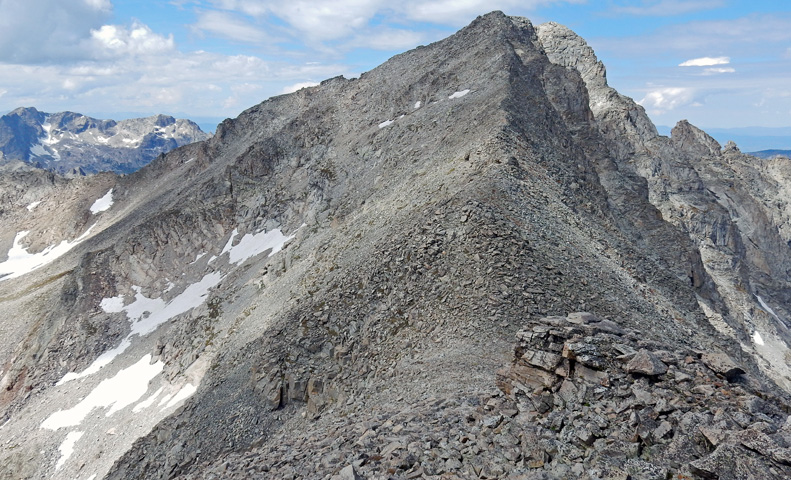 ---
The rain lasted another four hours after I got back to our tent at the Brainard Lake Camping area. Once my pulse slowed down, I stayed wrapped in my sleeping bag for the rest of the evening with a chill that wouldn't go away until I fell asleep in the early evening. The next morning, moving stiffly out the tent, I took this shot of Mount Audubon with Paiute Peak visible off to the left (west). At first I was disappointed that I couldn't see the ridge, but then I noticed Audubon's 3rd class Southeast Ridge in the center of the shot and immediately, I had my next Indian Peaks ascent planned. The GPS declared that my total distance for the day was 9.27 miles, Time out was 9 hours & 21 minutes, with the total accumulative elevation gain of 2,806 feet.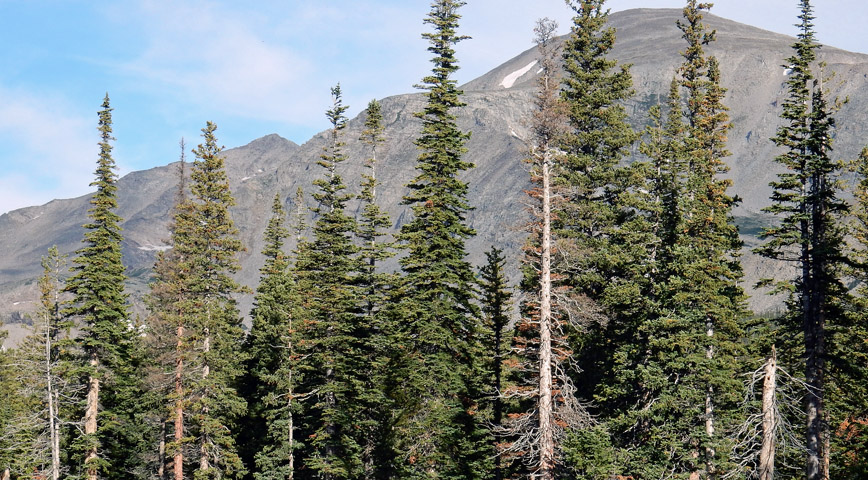 ---
Indian Peaks Wilderness @ SummintPost.org
---
Area Guide Books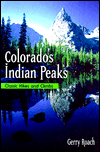 Colorado's Indian Peaks: Classic Hikes and Climbs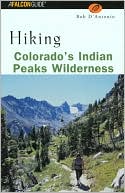 Hiking Colorado's Indian Peaks Wilderness
---