Mount Orton Ascent

11,724 feet / 3573.4752 meters Elevation
For the last few years, I've wanted to climb Mount Orton, in the Wild Basin area of Rocky Mountain National Park, for what I suspected would provide great photo opportunities of the surrounding peaks. I had attempted a winter ascent a couple years back, but came up short in deep powered snow conditions. Thursday, July 21st, 2016, now, I was off again for the summit at 4:23 AM. About 3 miles up from the Wild Basin Trailhead and Ranger Station, I started bushwhacking through the forest up to Orton's SE ridge line from the N. St. Vrain Wilderness Campsites. My first photo of the day, about 1 hour and 15 minutes up the trail, shows a near full moon over Copeland Mountain in dawn's early light.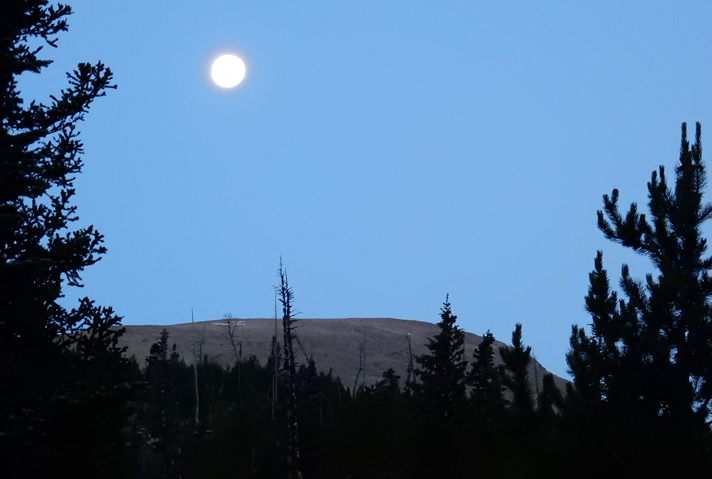 ---
I was on the SE ridge line about 6:30 AM, and about 50 minutes later, I stopped for this shot showing the NE slopes and the NW face of Copeland Mountain - an angle I have wanted a clear shot of for a while. This peak is on a short list for my next summit attempt.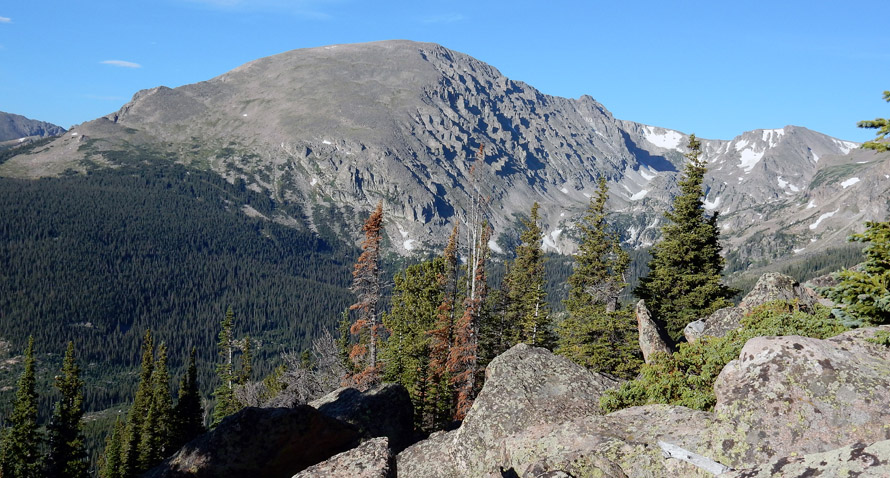 ---
At 7:44 AM, I broke through timberline, and finally had a clear view of the summit at 8:16 AM which appeared to be the first of three points along the ridge ahead of me. In the shot below, standing tall behind the summit are, left to right, Chiefs Head Peak (13,579 ft), Pagoda Mountain (13,479 ft), Longs Peak (14,255 ft), and Mount Meeker (13,911 ft). Having summited all four of these peaks and with the summit of Orton maybe only a mile away, I really liked this shot!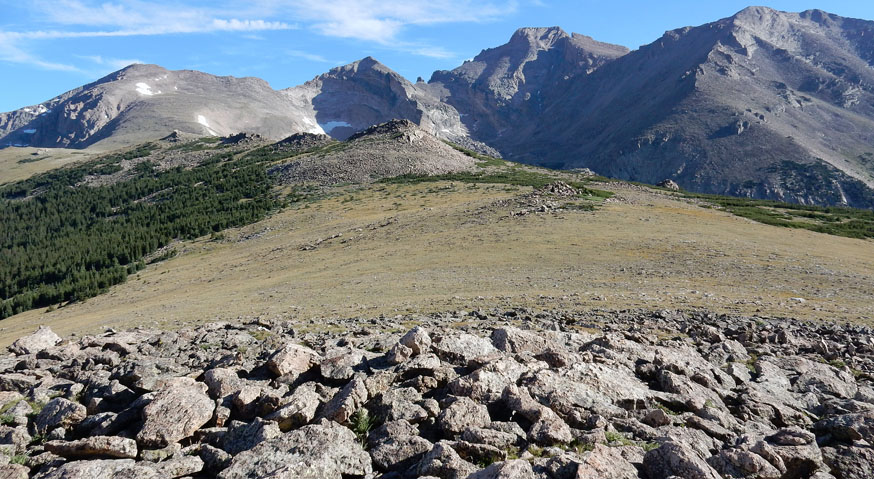 ---
As I approached the summit, confirmed by the GPS, I took this awesome photo of the peak with the south side of Pagoda Mountain dominating the shot from the background. I know that the erosion seen in these mountains is for the most part due to glacial activity, but I can't help thinking that there's more to the story about what bit off roughly an entire 3rd of Pagoda.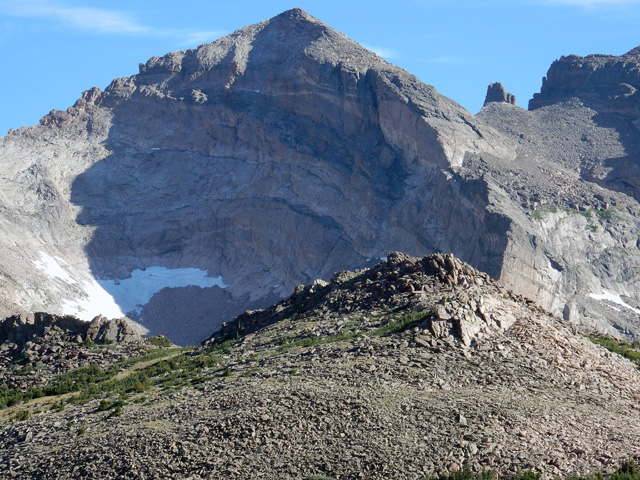 ---
Still a few minutes away from the summit, I paused again for a shot of the view looking west-southwest at Thunder Lake up against Tanima Peak (12,420 ft). As I took the shot, I realized that I have not been to this lake yet.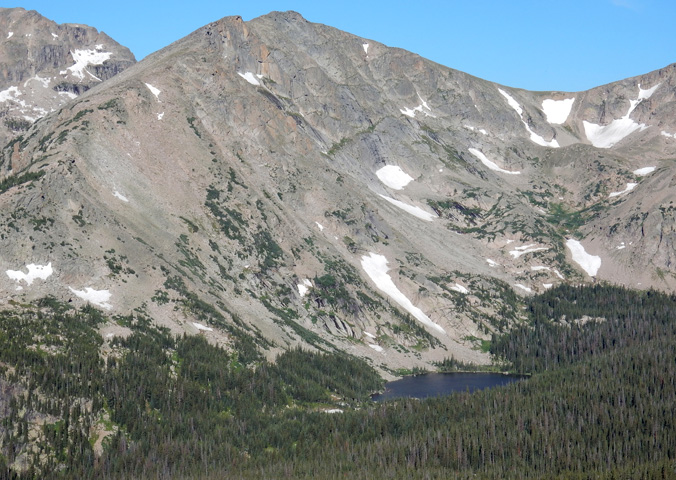 ---
I topped out at 8:55 AM, and although I felt like taking my thin long-sleeved shirt off in the warm sun, the mosquitoes were thick and they were after blood. One of my first shots from the summit was looking further up the ridge line leading all the way up to Chiefs Head Peak. While I would have loved to continue on up this ridge, Chiefs Head was still another (1,855 ft) of vertical gain from Orton, and I didn't have enough water for the extra hours it would take to get up and back. It's actually been six months since I've been up in the mountains, so I didn't really have it in me anyway, but I like having a better excuse than that.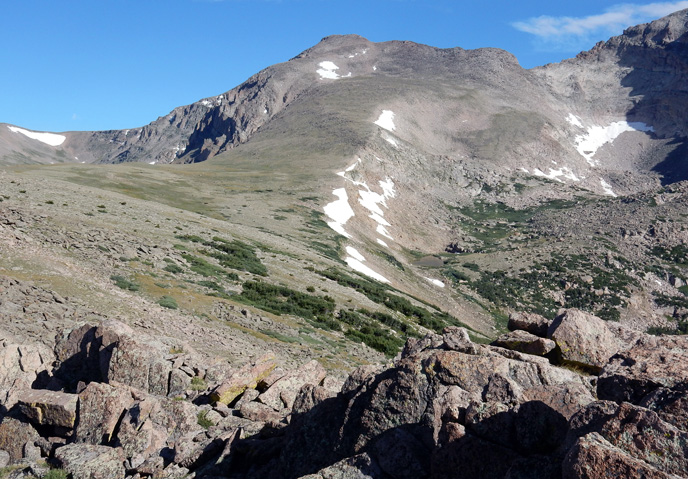 ---
At one time, years ago, I had thought about climbing Chiefs Head or Pagoda, and traversing to the other along the ridge connecting them. Eventually though, I decided against it after reading that the traverse required some rappelling or technical climbing depending on the direction. The added risk, along with the thought of the extra weight of climbing equipment in my pack, and the need for a climbing partner, convinced me to put the idea aside. However, this was my chance to get a good shot of the ridge leading down from Pagoda towards Chiefs Head, for dream sake.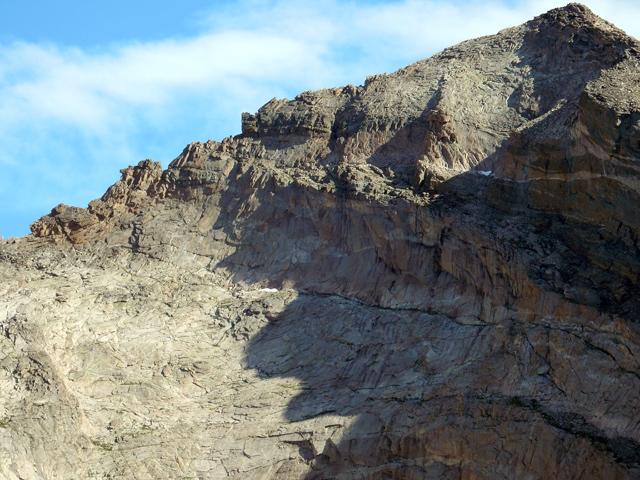 ---
Back in the mid to late 90s, I summited Longs Peak twice via the Keyhole Route, and I've photographed it many time from the east, north and west, but this was my first good look at the south side with the Keyboard of the Winds Ridge on the left - pretty rugged looking.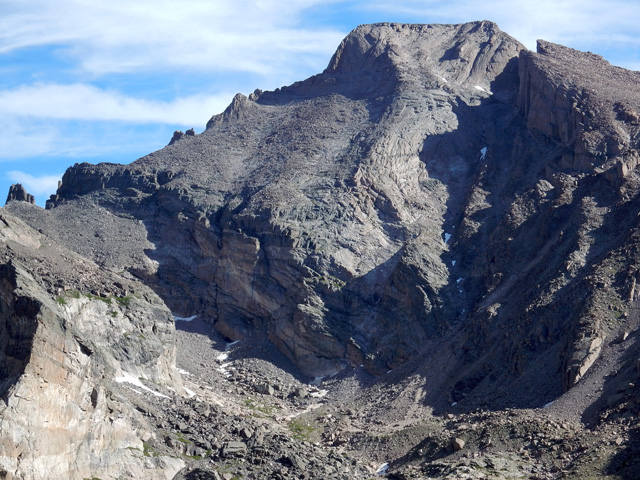 ---
I printed this photo of Longs Peak and Pagoda Mountain on 13x19 inch photo paper and posted it in my cubicle at work. I am a firm believer that it's shameful to post anything work related at work. When the B.S. gets deep, I just turn to it, or any other photo I've posted, and instantly I'm far far away.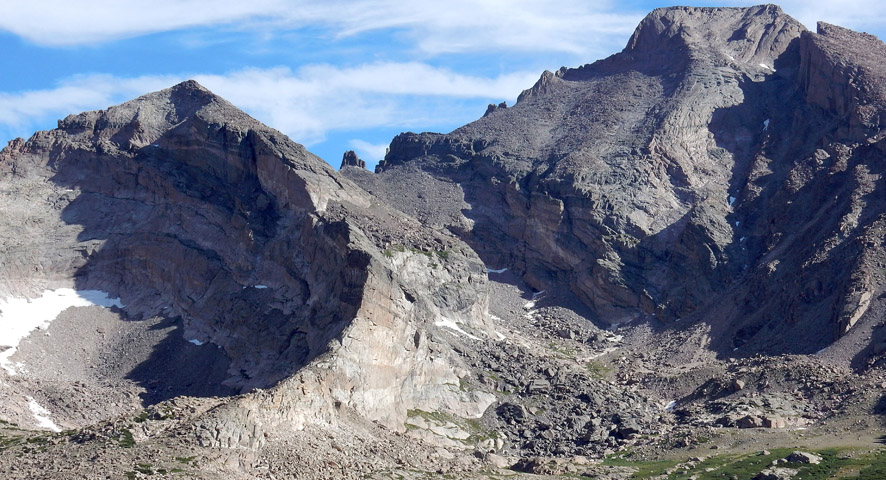 ---
I don't know when, but someday, I plan to hike up to Dragons Egg Rock which is roughly halfway up Mount Meeker's south side. Why, you ask? "Because it's there!"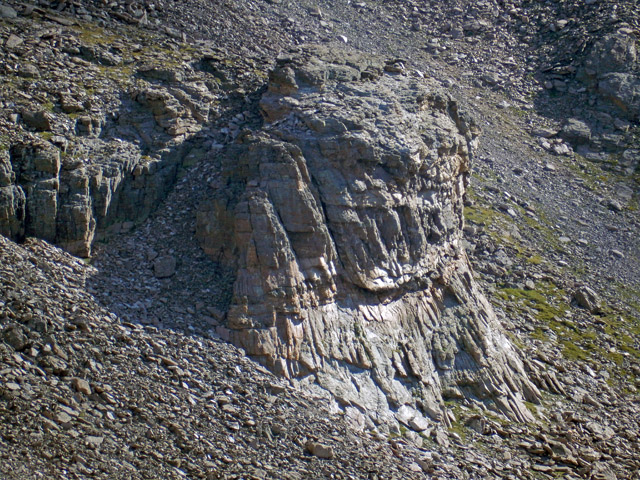 ---
Still in my photo frenzy, my focus shifted to the knife-edge ridge leading to the summit on Mount Meeker from the east. Crossing this ridge probably took me closer to hyperventilating than I've ever been. The exposure was more than I had expected. I usually eat something while enjoying the view on a summit, if the weather is holding, but I couldn't relax enough knowing I had to cross the ridge again going down, so I re-crossed the ridge without eating just to get it over with.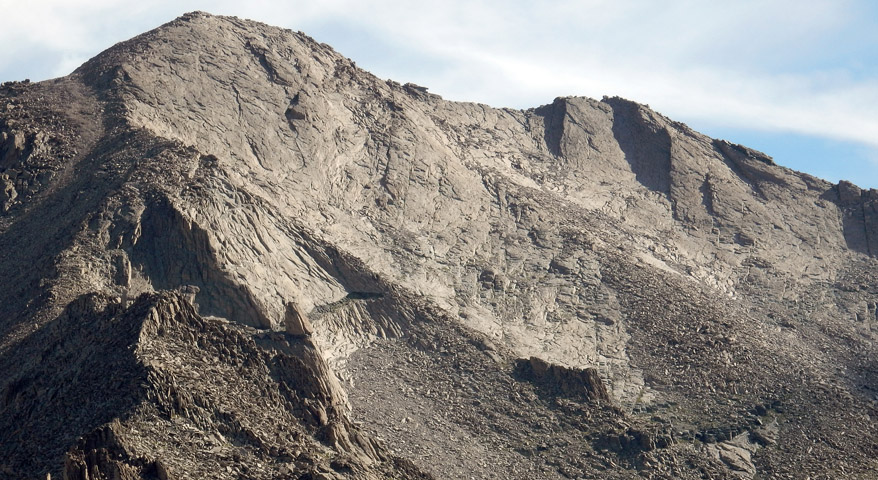 ---
I almost missed it, but looking behind me, south, I noticed Navajo Peak (left) and Apache Peak way off in the Indian Peaks Wilderness. With a full zoom and a steady rock, I was able to get a fairly good shot of them; although, the distance really brought out the haze, which was either pollution from Denver or forest fire smoke, or both. With photo editing, I was able to improve the shot, but I still wish the sky had been clearer in that direction.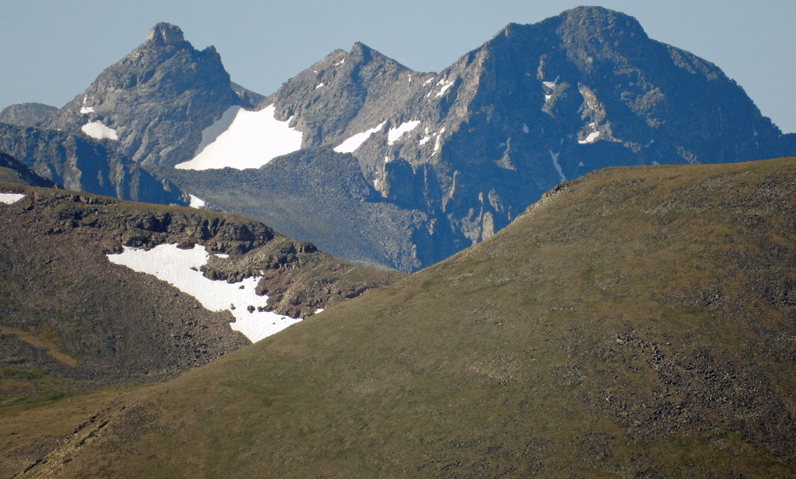 ---
I backed off on the zoom a little to show the basin surrounded by Meeker, Longs, Pagoda, and Mount Orton. A Hike into this basin has also been on my wish list, but I've been putting it off because the hike involves some marshy bushwhacking, and the mosquitoes that were quickly draining all my blood were most likely breeding heavily down there.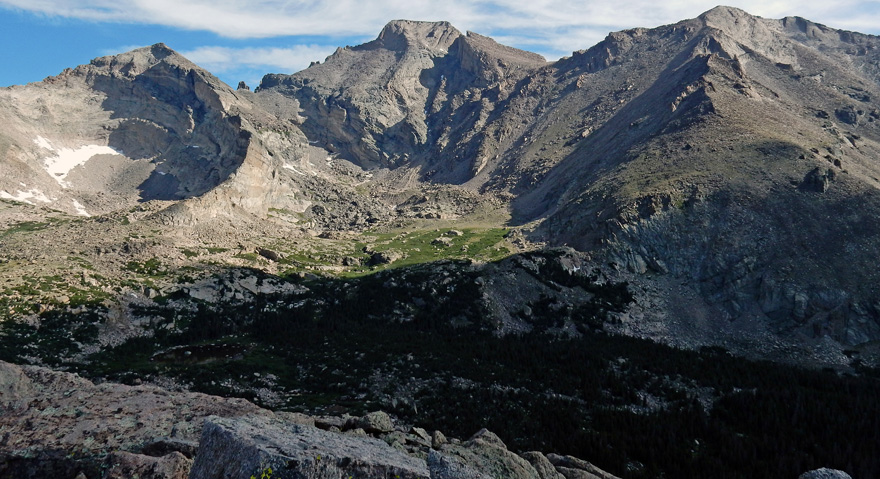 ---
I took one more shot of Pagoda Mountain, close up this time. The map shows Keplinger Lake at the bottom of this bowl, but it's either dried up or just not visible from this angle. I wish there was a time-laps video showing the creation of this bowl. It actually looks like the mountain was attacked by a giant ice cream scoop - just my opinion though. Enough stupid day-dreaming, after 30 minutes on the summit, even in this beautiful weather, it was time to get away from the blood sucking mosquitoes.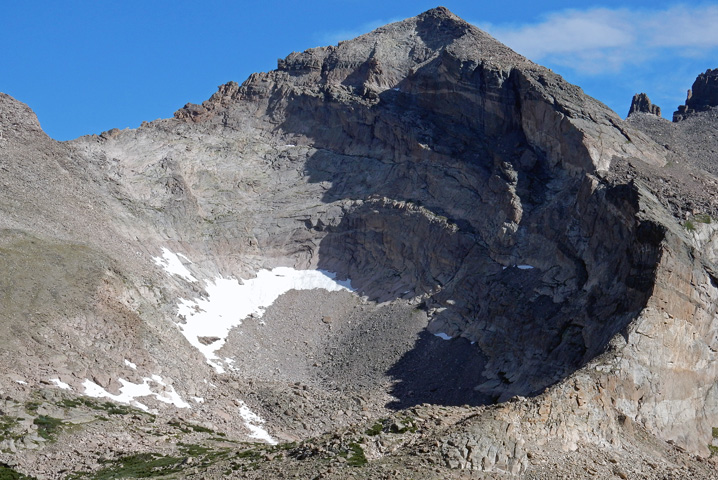 ---
Leaving the summit, I wasn't that excited about bushwhacking and boulder hopping back down the same route I had come up and was considering trying to descent the west side of the ridge to bushwhack and boulder hop over to the Lions Lake Trail. I knew it might end up being a dumb decision, due to the steep rocky terrain I knew it was, but I felt like a different challenge, so down I went. Before getting down too far, I just happen to look up and see a waterfall way off in the distance and stopped for this shot. As I backed up a couple steps to get a clear view though, I tripped over a rock and landed hard on my butt, and nine days later now, my lower back still hurts a little. Anyway, I have not seen this falls before, but looking at the map, I think it's Mertensia Falls. Now I've got another reason to hike into Thunder Lake some time.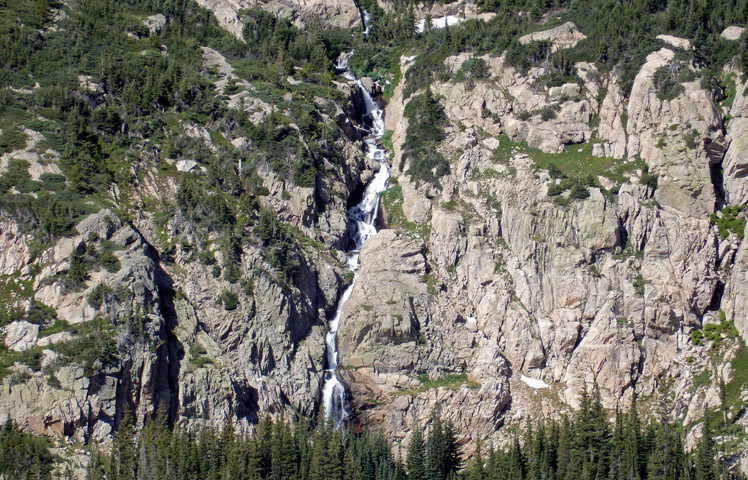 ---
Continuing down, as it started getting steeper, I came up on the cliff in this shot. I wasn't going down that, and looking at the loose steep scree slope to my left, I was about ready to turn back. Although behind me, on the other side of the cliff, it was still pretty steep but looked a lot more solid. So, I slowly started working my way down and was on the Lions Lake Trail two hours after leaving the summit. I would definitely not recommend this descent, but I had fun with it. What I could have done without was the extra two miles this descent added to the round trip distance.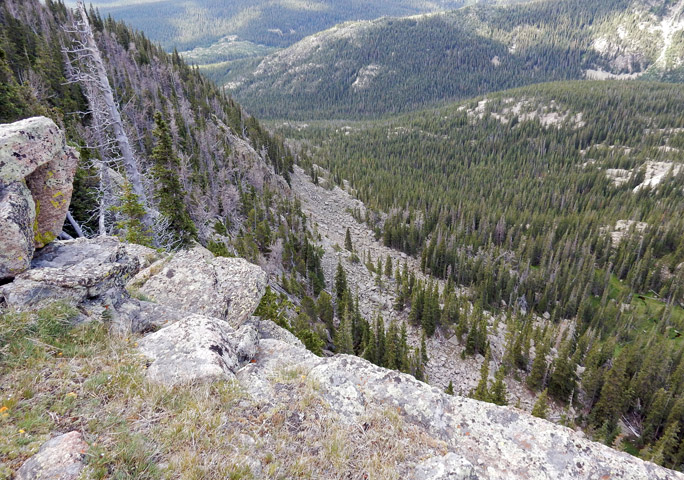 ---
When I stepped back onto the trail again, finally, I was about 10 or 15 minutes up from where the Lions Lake / Thunder Lake trail fork is, still 5 miles from the trailhead. Since the heavy rains and floods back in September of 2013, which washed out the bridge at Ouzel Falls, I have been using the Campsite Shortcut Trail to access much of the Wild Basin area. As I continued hiking, it occurred to me that the bridge might be back in place by now, so after confirming it with the next hiker I saw, I took the trail passing Ouzel and Calypso Falls for the first time in three years. This shot shows the new bridge at Ouzel Falls - looks solid enough.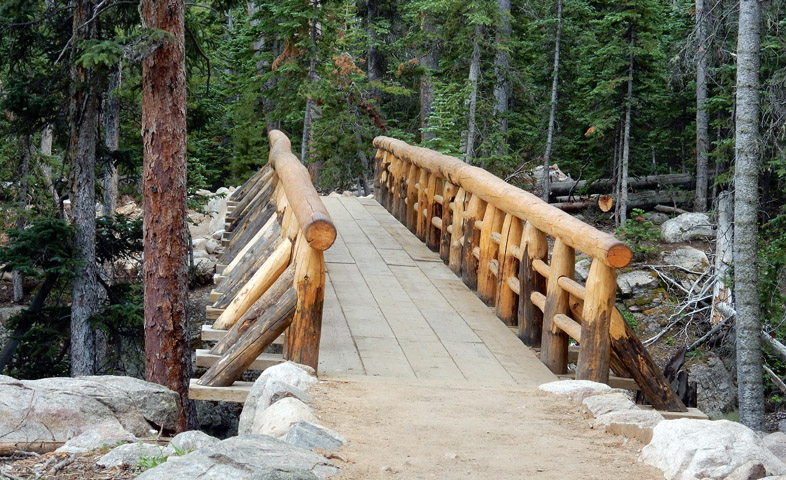 I was back at the trailhead at about 1:43 PM, with a total time out of 9 hours, 20 minutes. The GPS recorded a round trip distance of 12.05 miles, a total elevation gain of 3,071 feet, and a max elevation reached of 11,761 feet - 37 foot off the official summit height of 11,724 feet. The difference due to my lack of concern over setting the GPS with the current barometric pressure in the morning before starting out.
---
---
RMNP Links
National Park Service - Rocky Mountain National Park - Climbing and Mountaineering
---