Flattop Mtn. East Couloir

Odessa Gorge
For whatever reason, I've never taken the time to play with any alpine snow routes. I've done enough snowshoeing, but as soon as spring rolls around, I pull out the rock gear. This year though, I was determined to get something in while there was still some snow on the ground. So, with some extra vacation to burn, Wednesday, July 6th, 2011, after a couple of technically easy snow slopes the week prior for conditioning, I started out for Odessa Gorge, at 4:20 AM from the Bear Lake Trailhead. At the time, I wasn't sure what I was going to climb, or even if I would climb anything; I had no set plan. I wanted to get a look at the routes and the snow conditions before making any decisions. As I came into view of Odessa Gorge, I stopped to take this picture showing the bulk of the gorge. So far, I liked what I saw.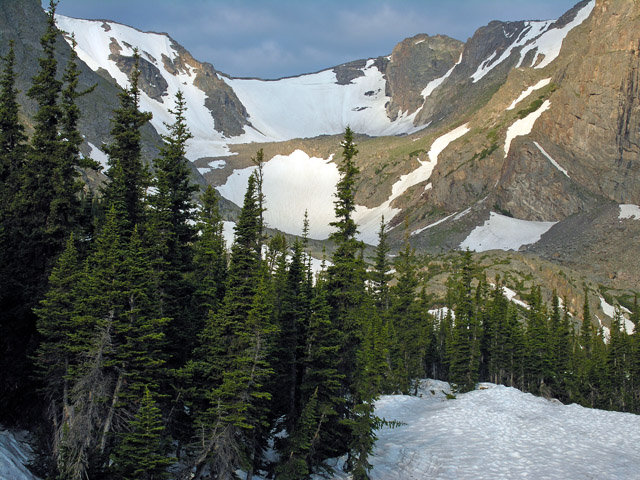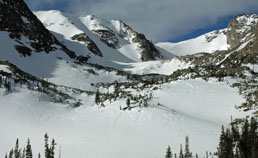 Odessa Gorge, March 11th, 2012
Update - March 11th, 2012: with the spring climbing season just around the corner, I hiked back into Odessa Gorge to get a feel for this year's snow conditions and took this shot. If I had brought my crampons and axes, I think I would have just kept right on going - it looked beautiful, which is exactly why I didn't bring them; the avalanche potential was there.
---
As I started working up into the gorge, I stopped, again, to get a shot of this waterfall off to the right. It seemed strange to have this much snow still on the ground in July, but the mountains had received nearly double their normal snowfall this last winter - even though the Colorado Front Range saw almost no moisture at all.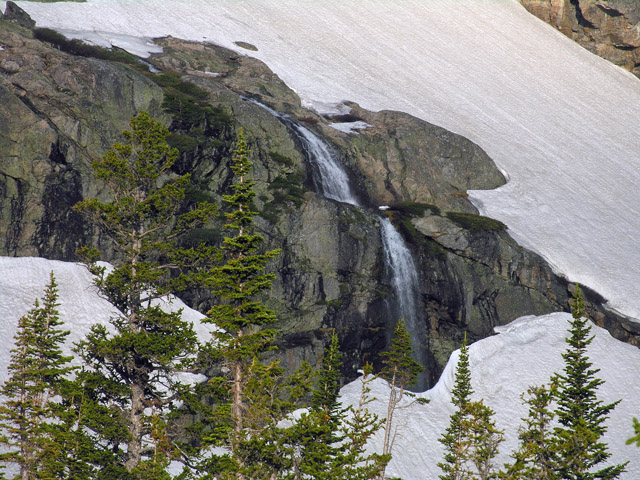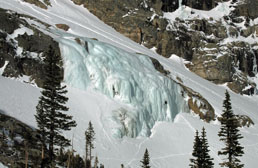 Grace Falls ice, Odessa Gorge, March 11th, 2012
Another update - March 11th, 2012: check out this winter's ice on Grace Falls, just below Notchtop Mountain! It's a fairly long hump into Odessa Gorge with ice climbing gear, but you can't beat the solitude and the surrounding beauty. I hiked over for a closer look, and while tracks indicated that there have been a few possible ascents, the ice was clean and in great shape.
---
At 8:00 AM, I stopped for another picture showing, left to right, Flattop Mtn. East Couloir, Hourglass Couloir, the West Couloir, and Ptarmigan Glacier. At this point, I was thinking of going all the way back and up Ptarmigan Glacier. I had hiked in to look at it last fall, and it was one ugly sheet of hard steep alpine ice peppered with dirt and rock. Now it looked like a good moderate snow climb.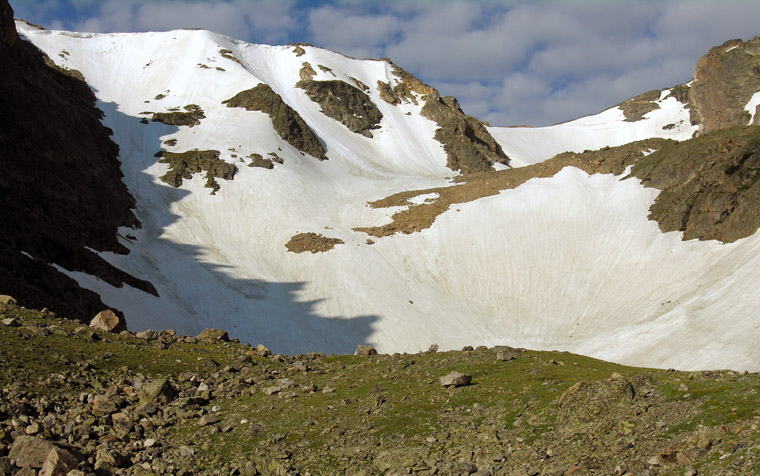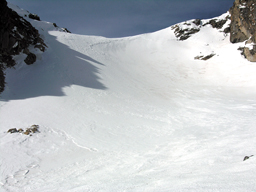 Ptarmigan Glacier, Odessa Gorge, March 18th, 2012
Yet another update - March 18th, 2012: Ptarmigan Glacier looks like a great warmup for this year's spring alpine snow season. Even though this is considered an easier route, my picture just doesn't seem to capture the height and angle I was seeing when I took the shot.
---
Around 8:10, I stopped to put my crampons on, and get my axes off the pack. I started the ascent into the back of the gorge at about 8:30. As I came up to the East Couloir though, I saw no reason to go any further back - it looked great. Having finally committed to a route, I angled left up the center of the couloir. With roughly 1,000 feet of elevation gain ahead of me, I had to work on my pace, which wasn't setting any records as it was. The cornice lining the upper rim didn't look like anything I wanted to mess with, so I was thinking the left corner at the top would be my best exit.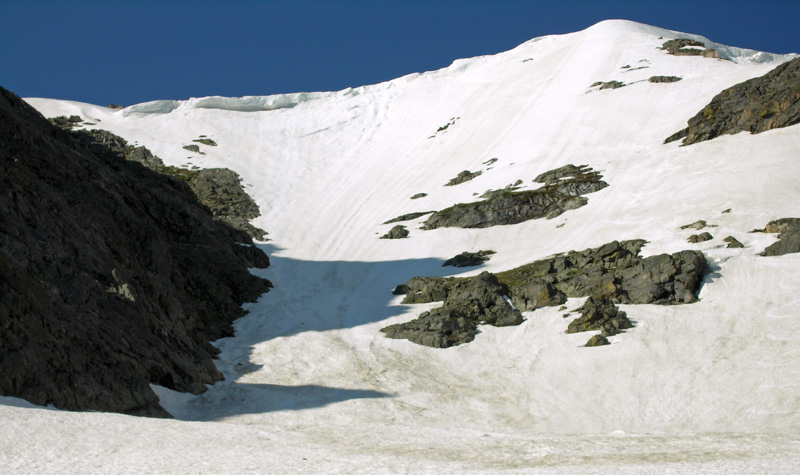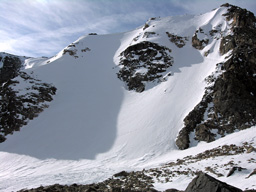 Ptarmigan Fingers, Odessa Gorge, March 18th, 2012
March 18th Update #2: This is a close-up of the two couloirs west, or right, of the East Couloir, known as the Hourglass and West Couloir on MountainProject.com, or simply "Ptarmigan Fingers", in the book "Colorado Snow Climbs". At some point this spring season, my footprint will, hopefully, be seen leading up the slope.
---
After a couple hours, I rounded the rock corner under the cornice rim, but as the angle slightly increased, the soft mushy snow was becoming a big factor. At the point where I stopped to take this shot looking back down the route, I was finding it necessary to kick hard two or three times with each step to off-set the lack of support. Worse, now that I was angling left, a slip would no longer take me back down the route (with time to self arrest), but into the rocks directly below me.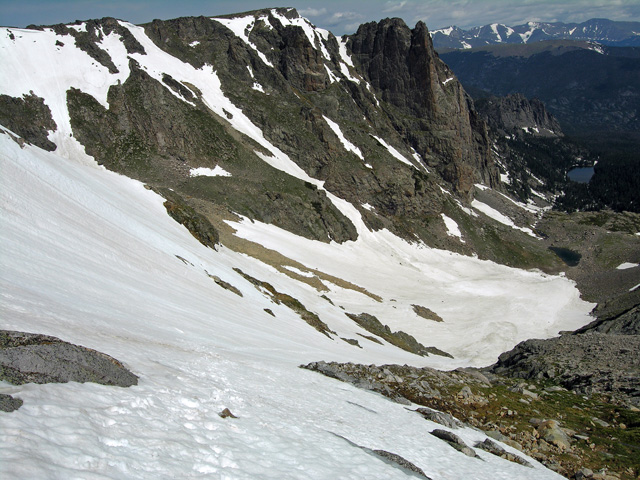 ---
About 30 feet higher - so close, but still so far - I took this shot showing the final stretch. I wasn't feeling very good about the conditions at this point, and after some indecision, I finally wimped out and traversed off to the left: finishing with a short scramble up the loose rock.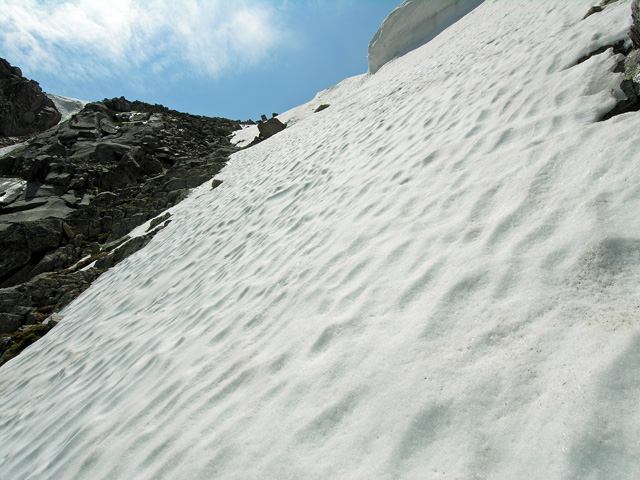 ---
Standing at the top of the couloir now, after lunch and a bit of a rest, about 12:15 PM, I took my final picture showing the cornice rim from above. It was time to hit the "Checking in - I'm ok" button on my SPOT device to send a text message letting my wife, Suzy, know I was off the route. The SPOT was a present from Suzy last year; she's not a big fan of my solo outings. For those not familiar with SPOT, it's a satellite GPS messaging device. Suzy and I have a system worked out where I check in every couple hours during an approach, when I start a route, when I top out, and when I'm back to the trailhead. The message also provides my GPS coordinates, and a link to view my position on an Internet topo map. It's pretty cool. More important, I can also signal for an emergency rescue with this device - assuming that I'm still able to push the S.O.S. button.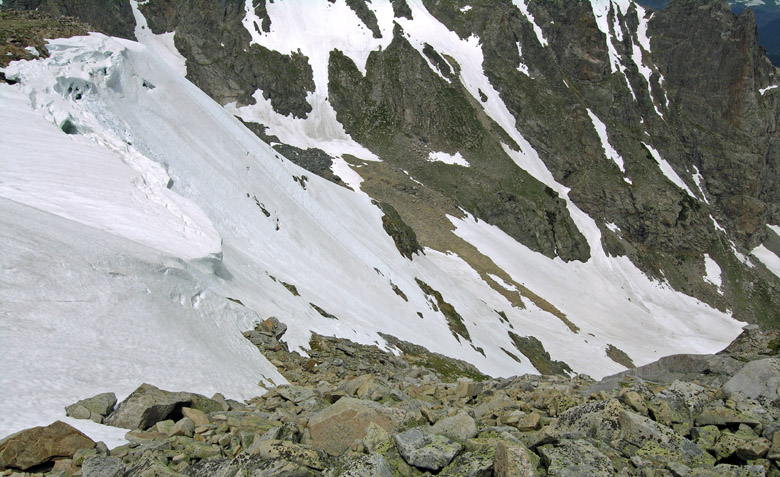 ---
I took the shot of this grouse two days earlier, after my warm-up ascent on Flattop Mountain's East Slopes. I was working my way back down to the trailhead when I ran into it. Until I actually saw it, the sound it made, a deep low grunt of some sort, had me thinking something big was behind the tree. I froze, ready to run back up the trail, until it casually walked out into view doing its goofy flared neck feather thing.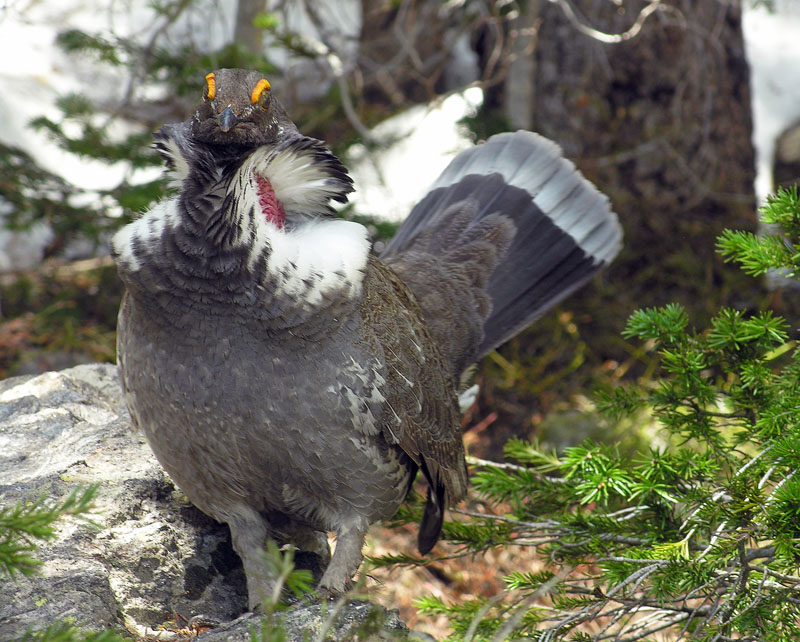 ---
---
RMNP Links
National Park Service - Rocky Mountain National Park - Climbing and Mountaineering
---