Climbing Related News

With some on-line news sources archiving everything after a period of time, and others requiring registration on links to specific articles, you will probably find some links no longer work or don't go directly to the intended article. It's more trouble than I have time for, so updates to this page will be not be as frequent from now on, but it will remain up.
Know anything that could or should be posted? Email me at
---
Jan 9th, 20011 - A couple weeks ago, I got an email from John Langston, one of my first climbing partners, who was back on the area for the holidays and wanted to get together for an afternoon of indoor climbing. John and I climbed together for two or three years, until about 2003 when I just couldn't keep up with him anymore. I never could really, but I've always been good at fooling myself. Anyway, he sent me these links which I found pretty cool. The first link is an article in the last issue of "There & Back", Colorado's Outdoor Magazine, about his trip to Greenland back in July War & Poetry at 4 in the morning, and the 2nd is a video of his first ascent of "Black Seal" in Bermuda John Langston on the first ascent of Black Seal 5.13b, at the Pump Room, St David's, Bermuda. Enjoy!
---
Thursday, January 10th, 2008, Sir Edmund Hillary died of heart failure.
I have never admired and respected anyone more than I did Hillary.

Sir Edmund Hillary Profile -- Academy of Achievement
National Geographic Video: Sir Edmund Hillary Dies at 88
Edmund Hillary - From Wikipedia, the free encyclopedia

The photos below were generously provided for non commercial use by Michael Chessler, of ChesslerBooks.com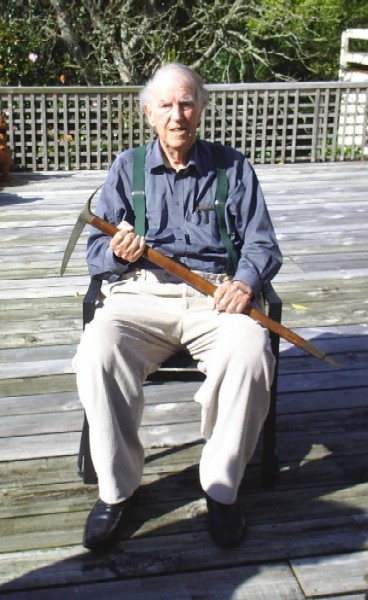 "Ed Hillary on his deck in August 2007, holding the Simond Ice Axe he used on Mount Everest in 1953."



"Maurice Herzog, Chris Bonington, Edmund Hillary, Reinhold Messner and Junko Tabei at the San Francisco Fairmount Hotel."
---
Mar 26, 2006 - I've just recently noticed that ClimbingBoulder.com has become MountainProject.com, and in the process absorbed most, if not all, of the sister sites. The sites I'm aware of that exist now only within MountainProject, are: Climbing Alberta, Climbing Bay Area, Climbing Blackhills, Climbing Boulder, Climbing Devils Lake, Climbing Joshua Tree, Climbing Moab, Climbing RedRocks, and Tucson Climber's Association. The data found on these sites, I assume is now available on MountainProject.com.
---
May 29, 2005 - I just happened to be climbing on Bon Homme, maybe 25 yards or so to the right when this happened. I'm glad to read that she only broke her arm. It was obvious from the sound of the rock-fall that it was large.
Rock injures climber on Devils Tower: By the Star-Tribune staff
---
Sep 27, 2004 - Climbing Magazine has an article in their Sep 2004 No. 233, Special Issue Epics, on Stimson Bullitt, climbing hard in his 80's.
Stimson Bullitt - climbing photos
Now that's what I'm talkin about!
---
Jul 29, 2004 - I see the new Vedauwoo Guide book is out. It's hard to get right now though; copys are selling fast. Barnes & Noble has it listed, but there aren't any copys available online yet.
Rock Climbing at Vedauwoo, Wyoming: Climbs of the Eastern Medicine Bow National Forest
New! - Published June, 2004
---
Jul 27, 2004 - Here's a senseless, all too common, tragedy - reported in the Jackson Hole News&Guide.
Teton soloist found dead
Searchers believe solo alpinist likely fell 1,000 feet from North Ridge of Grand Teton.
---
Jul 01, 2004 - There's a new guide book out for Indian Creek, south of Moab, Utah: "Indian Creek - a climbing guide" by David Bloom. While previous guide books for this area were lacking to say the least, this book sets a new standard in the climbing guide book arena. Check it out!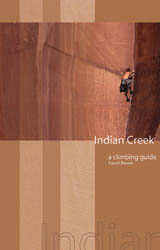 Indian Creek - a climbing guide

---
Jun 03, 2004 - Here's a great interview on fourteenerworld.com with Jean Aschenbrenner, the 1st woman and only the 4th person ever to ascend all 54 Colorado 14ers, and all 637 of Colorado's 13,000 foot peaks.
FourteenerWorld Interview with Jean Aschenbrenner
---
Feb 06, 2004 - I did a double take on running across this article. The grandson of Bob Keeshan, Captain Kangaroo - who just dies recently, could become the youngest person ever to climb the "Seven Summits".
Grandson using Keeshan as inspiration
---
Feb 04, 2004 - Cody, Wyoming, 6th Annual Water Fall Ice Roundup
"Friendliest Little Ice Festival in the Northern Rockies!"
February 13-15, 2004 - President's Day Weekend
Waterfall Ice Roundup
---
Dec 15, 2003 -- Here's a good follow-up article about the rescue that took place on the Grand Teton, 7/26/03, involving a group struck by lightning. See below for the link to the original article.
Report: Rescued climbers ignored several warnings
---
Nov 03, 2003 --
Last night, Sunday, November 2nd, Suzy and I had the pleasure of attending the Colorado Mountain Club - Boulder Group 2003 annual Dinner: An Evening with Malcolm Daly.
After dinner, Jean Aschenbrenner, the 1st woman and only the 4th person ever to ascend all 637 of Colorado's 13,000 foot peaks, acknowledged the spectacular achievement of Ken Nolan in becoming just the 3rd person ever to ascend all the 12,000 foot peaks in Colorado. Ken was awarded an impressive - very long scroll containing the entire list of peaks: all 1,313 of them.
To top off the evening, guest speaker Malcolm Daly, founder of Trango, presented a slide show of his 1999 trip to Alaska, and the amazing rescue that took place after his tragic fall on Hunter Mountain. Included in the presentation was an amateur video of the actual rescue. Malcolm's desire to share the experience may have been a little too much though, when soon after showing scenes of his left boot being removed, a couple people in the audience collapsed.
---
Oct 21, 2003 -- Found one Heel and Toe guide book on the ground at Vedauwoo, Saturday - Oct 18th. Identify it, and you can have it back.
---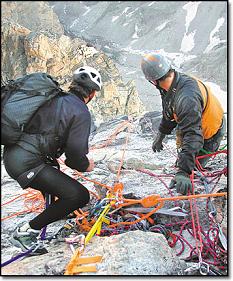 Jul 31, 2003 -- An article from the Jackson Hole News&Guide about a woman killed by lightning on the Grand Teton, Exum Ridge, and the amazing rescue of four others in her party, Saturday, 7/26/03.
"This might be the most spectacular rescue in the history of American mountaineering in terms of numbers of people being extricated and the way the helicopters worked and how fast the boys did it,"
Climbers: Rangers saved us
Lightning kills 25-year-old Idaho woman;
epic Grand Teton rescue saves four
---
Jul 16, 2003 -- Here's the link to National Geographic's Everest issue.
National Geographic - 50th Anniversary of the First Ascent of Mount Everest
---
Jul 02, 2003 -- Another climber dies:
Body of climber found in Cascades
---
Jun 12, 2003 -- Here's an article from the Jackson Hole News&Guide about the rescue on the Middle Teton in the Grand Teton National Park last weekend.
Rescue ends Teton race
---
May 29, 2003 -- I just got off the phone with the Rocky Mountain National Park people, and they are saying now that the Bear Lake Road closure (see link below - May 16th) is delayed and won't begin until June 23rd now. Normal road access applies until then.
---
May 23, 2003 -- Here's an article from the Bozeman Daily Chronicle on the climbing accident at Devils Tower last Saturday, May 17th.
Bozeman woman dies in climbing accident
---
May 23, 2003 -- Here's a link to some info on the South Platte / Hayman fire area opening. I haven't been down to see the damage yet, but I will sometime this spring or summer.
Hayman Fire Area Opening
---
May 16, 2003 -- The Galcier Gorge / Bear Lake area, in the Rocky Mountian National Park, could be more trouble to get to than it's worth these next two summers.
BEAR LAKE ROAD RECONSTRUCTION PROJECT 2003-2004
---
May 05, 2003 -- A USA Today follow-up article on Aspen, colorado climber Aron Ralston.
Details of climber's amputation emerge
---

May 05, 2003 -- Apparently, Fort Collins, Colorado has quite a population of fox living within the city. While I've heard this before, I was still surprised to see these young kits running and playing along side the road Friday evening, just east of College Drive. I had no idea they could cohabitate with humans like this. How does this apply to climbing you say? It doesn't.
---
May 02, 2003 -- A USA Today article, dated 5/2/2003, reported that Aron Ralston, a 27 year old climber from Aspen Colorado, was rescued Thursday after being reported missing for four days. Apparently, Saturday April 26th, while climbing in Blue John Canyon in southwest Utah, Aron's right arm became trapped under a fallen 200 pound boulder. Thursday, two days after running out of water, Aron made the decision to amputate the arm with his knife. He then lowered himself back down to the canyon floor, and hiked out where he was found by a Utah search and rescue helicopter. Aron is currently in serious condition at a hospital in Grand Junction, Colorado.
---
Apr 28, 2003 -- Drove down to Penitente Canyon, in the San Luis Valley of southern Colorado this last weekend. I didn't have a lot of time to play around, only doing four climbs, but really enjoyed it. The canyon is shallow and narrow, reminding me of a Hollywood 1950's western set. While the climbs are short, probably averaging about 50 feet in length, the quality of the rock is right up there with Shelf Road, near Canon City, Colorado; and Sinks Canyon and the Wild Iris, near Lander Wyoming. The rock is volcanic, making it rough and providing exellent friction. There are a number of trad routes, but this is basically a sport climbing area. A half dozen quickdraws will get you up most of the routes, which fall in the 5.10 to 5.12 range. Unfortunately though, I forgot my camera and didn't get a single shot.



Rock Climbing the San Luis Valley

---
Apr 28, 2003 -- I received this note from vedauwoo@yahoogroups.com:
From: J. W. H.
To: vedauwoo@yahoogroups.com
Sent: Sunday, April 27, 2003 9:46 AM
Subject: [vedauwoo] opening date

Just talked to the Forest Service people. Anticipated opening date
for the gates is May 5th. Of course you can park 'outside' the gates
and walk in anytime, as usual. Cost has gone up. The charge per car
per day is now $5.00 (was $3.00) and the Season Pass is now $30.00
(has been $20.00 til now). You can get the Season Pass by sending a
check (or just going there) to the USFS, MedBow-Routt National
Forest, 2468 Jackson St., Laramie, WY 82070 (307-745-8971).
Time to climb.
---
Apr 14, 2003 -- The 2003 International Climbers Festival, in Lander, Wyoming, is scheduled for July 10th - 13th.
http://www.climbersfestival.org/
---
Apr 11, 2003 -- Received an email a couple days ago that seemed to fit this site, so I'm posting a copy:
Postcard from theCrag #2: Older, bolder, longer, harder
---
MAR 21, 2003 -- I'm back from Utah, and I've added two new pages to the Utah Photo Gallery: Indian Creek, and Crack House Roof. There is also a page for Shelf Road, north of Canon city, Colorado coming soon.
---
Feb 19, 2003 -- Heading to Moab / Indian Creek March 10th - 14th; hopefully, I'll be in halfway decent shape and I won't rip a tendon this time. There may be only two of us going, so getting good pictures will be tough, but I'll do my best.