Navajo Peak Ascent via Airplane Gully

13,409 feet / 4087 meters Elevation
This trip actually started back on the 18th of July, 2015, when Suzy and I hiked into the Indian Peaks Wilderness so I could scout out Navajo Peak and Airplane Gully. Suzy was suffering from a bad arch all summer, and probably pushed it a little too far just hiking into the unnamed lake a mile west of Lake Isabelle. So at the lake, she took a break while I hiked a little further up the trail towards Apache Peak to get some shots looking across at Navajo. I was able to see just enough reflection from the wreckage in Airplane Gully to mark it on this photo.
Suzy had already been up Navajo Peak back in the 90s, so this was a good peak for me to do while her foot was healing. I emailed the photo marking the wreckage to my son, Steven, to see if he was interesting in going up with me. It had been many years since we had climbed a peak together, so I was really excited when he agreed to go. However, our 1st attempt, in August, was aborted after we had nearly reached Airplane Gully. I had left my camera on a rock further down, when I stopped to take off my jacket, and we spent the better part of an hour backtracking to find it. By then it looked like a storm was rolling in, so we called it off.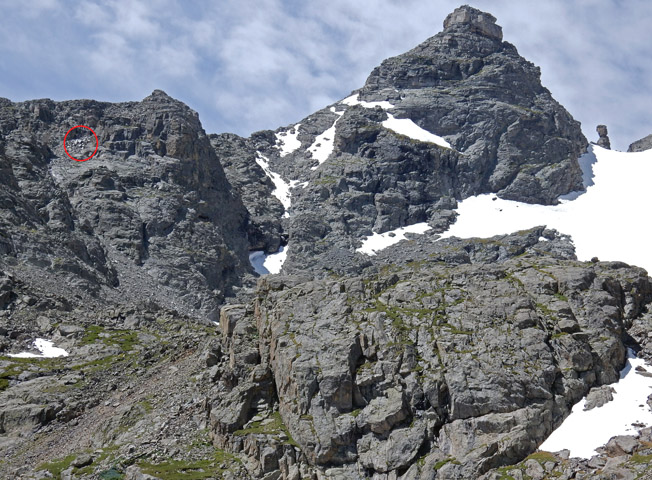 ---
Our 2nd attempt a month later, on Monday September 28th, started around 5:50 AM. About 50 minutes up the Long Lake trail, using head lamps, the sunrise was prime for our first picture. We were making good time even after twisting my ankle in the dark.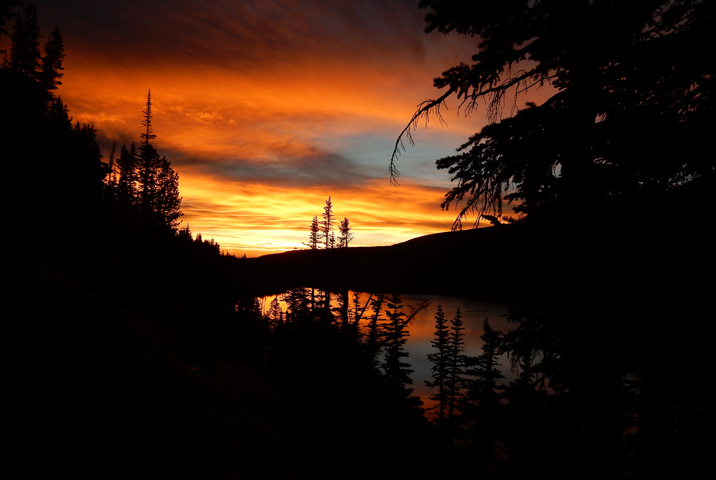 ---
Coming up the loose gully was a lot of work but nothing we hadn't done before. We reached the main site of the wreckage in the upper gully at 9:40 AM and stopped to check it out.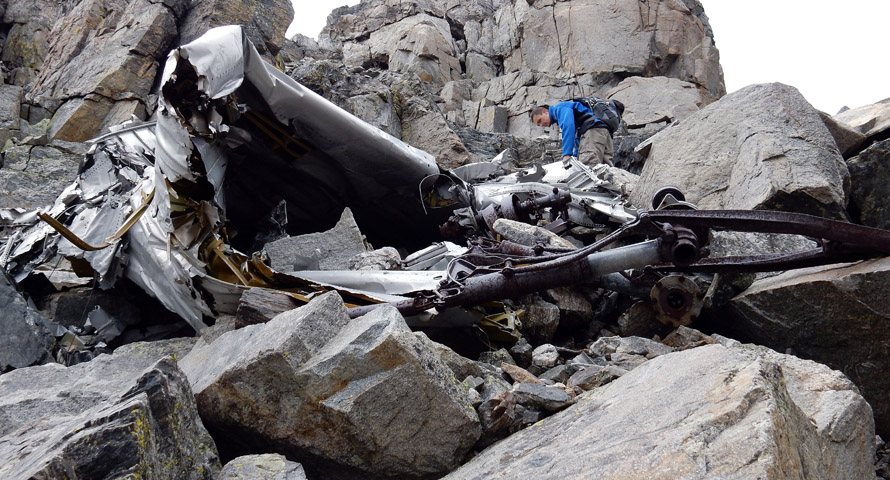 ---
As we looked around, we couldn't help thinking about that day in 1948 when the C-47 crashed. While the tragedy occurred over 65 years ago, I think we were both feeling pretty wrapped up in it - experiencing sort of a jump back in time.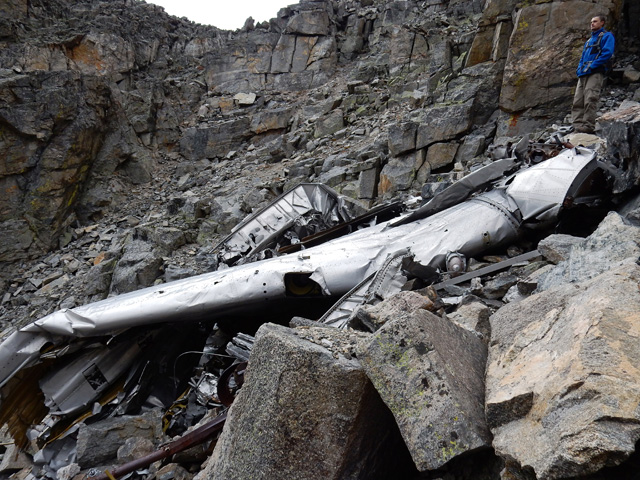 ---
I circled around the wreckage to get a shot looking down at the unnamed lake and showing just how far up the gully the crash site was. We could have spent a lot more time here, but we still had a mountain to climb, so we started moving on.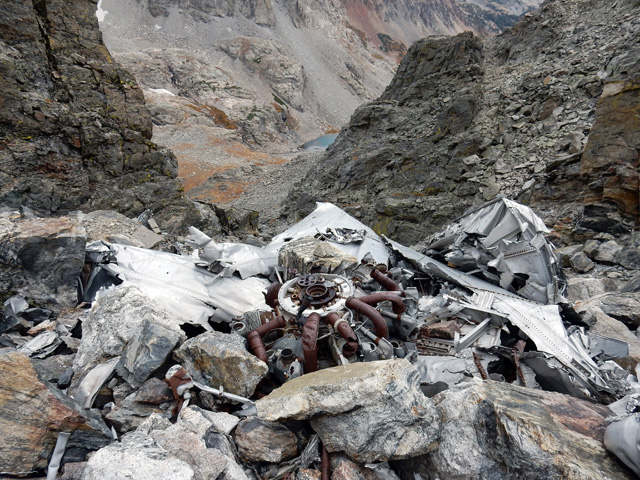 ---
I had mentioned the possibility to Steve of summitting via the 4th class chimney variation, and as we got closer, I actually preferred it to the airy looking standard finish. We were up the chimney in about five minutes.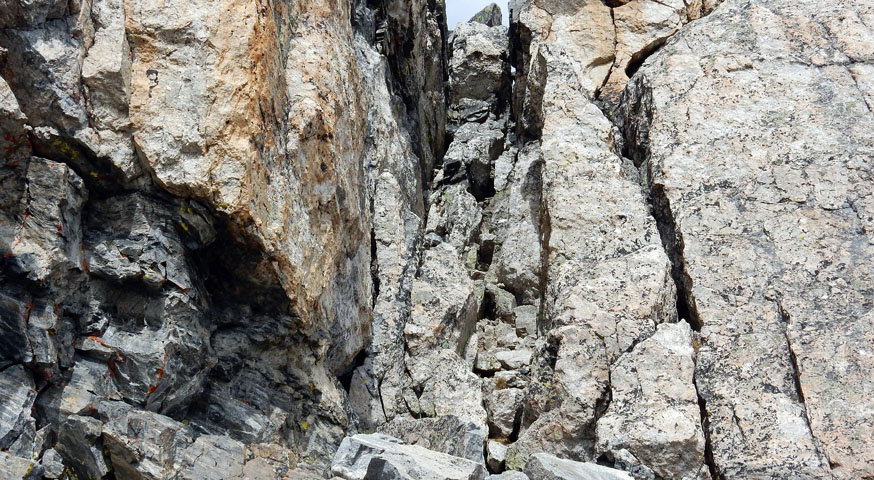 ---
The summit was good to see, after five hours, and even with the Denver haze this area always seems to have, the view was great. Steve struck a victory pose for me as I took shots in all directions. It was 10:50 AM and even though there was a thin cloud overcast in the sky, the weather looked fine. We took our time and eat a leisurely lunch before starting back down.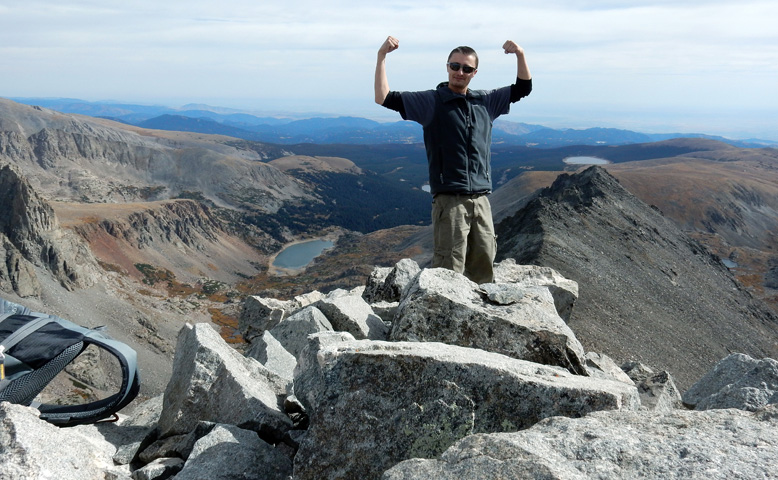 ---
This shot from the summit looks east and shows Lakes Isabelle, Long, and Lefthand. We had planned to descent the standard route, but descending on unfamiliar ground is always a challenge, and we had hardly started when I decided that I was more comfortable in the chimney. We reversed course back to the chimney, took off our backpacks to make the down-climbing easier and passed them down one section at a time. It worked out well; we were down on the trail in about 10 minutes. We spent the next two-plus hours boulder hopping down to the unnamed Lake.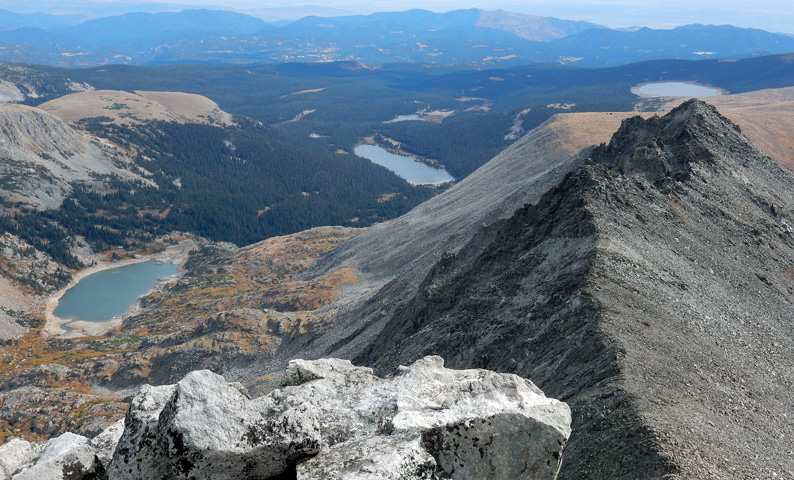 ---
At 2:45 PM, we were getting close to Lake Isabelle. The fall alpine colors in the Indian Peaks Wilderness were awesome, and I had to get at least one shot for this trip report. Suzy and I have sort of made it a habit to try and do some fall hiking in this area each year for this reason.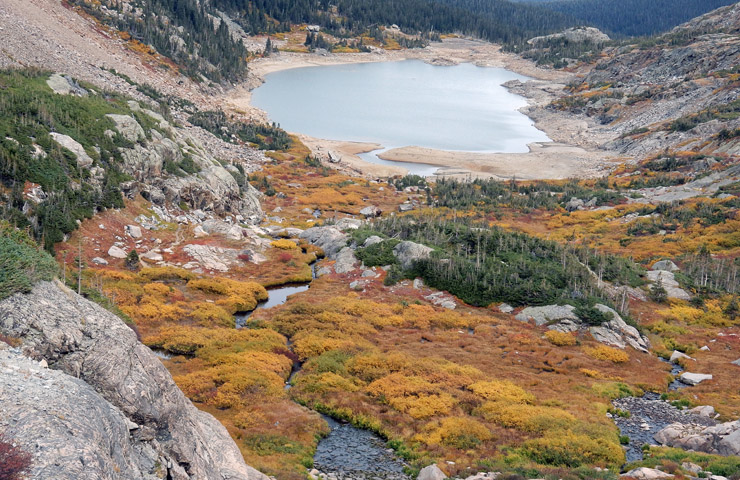 ---
At 3:15 PM, we were just about back in the forest when Steve spotted this pika running around in the rocks. They are hard to photograph because they just don't stand still for very long, but I was lucky enough to grab this one good shot before we lost it. The next hour or so took us back to the trailhead to end a great day. I forgot to turn off the GPS, so our stats were corrupted by a partial drive back out to the main road, but the whole trip took between 10 and 10.5 hours with just over 3,000 feet of total elevation gain.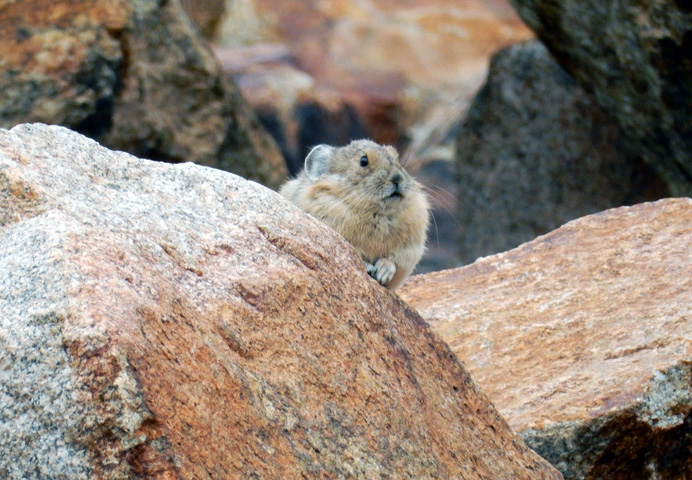 ---
Indian Peaks Wilderness @ SummintPost.org
---
Area Guide Books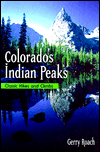 Colorado's Indian Peaks: Classic Hikes and Climbs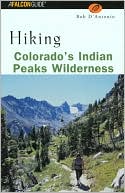 Hiking Colorado's Indian Peaks Wilderness
---