Mount Meeker Ridge Route

Via Meeker Park, Horse Creek T.H. June 21th, 2012
Having rested for a couple days after summitting Mount Chiquita and Ypsilon Mountain from the Lawn Lake T.H., and for the last day of my week long vacation, I chose to climb the Mount Meeker Ridge Route with a summit elevation of 13,911 ft. This route has been on my wishlist for a long time, and the weather was perfect.
I left the Horse Creek T.H. in Meeker Park at 5:25 AM, hiking up to the saddle between Lookout Mountain and Mount Meeker. I expected a nice quiet, less traveled, hike up to Meeker's southeast Ridge, but the trail was in serious need of maintenance, littered in many areas with avalanche debris. I climbed over and around trees in many areas all the way up through timberline. The trail was still worth using for this route, but it did slow me down. From the Lookout-Meeker saddle on up to timberline, the trail is light but marked continuously with small cairns. Not too far above timberline, I found this backbone. My guess, by its size and the surrounding terrain, is that this was a Big Horn Sheep.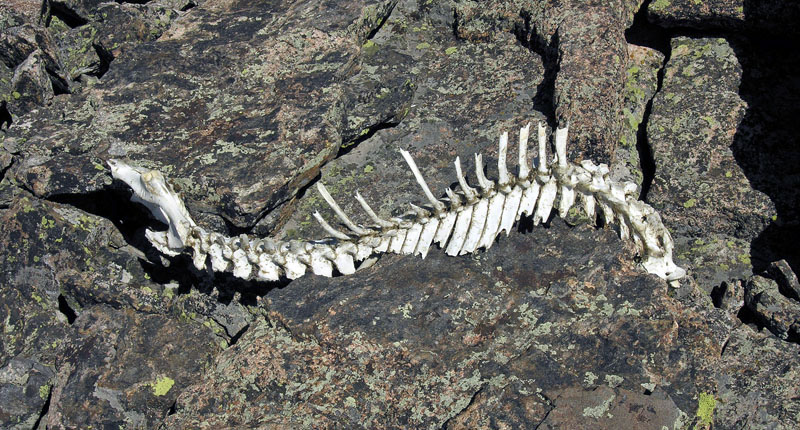 ---
At 8:50 AM, I stopped for a shot of the mountain at roughly 12,000 feet elevation. A couple years prior, in the fall, I had worked up to this point from the Wild Basin Sandbeach trail. It was extremely windy on that day though, and I chose not to go on any further. So, now I was on new ground and started feeling the adventure coming on. Most of the southeast ridge, up to the summit ridge, is easy to moderate class II rock hopping. It gets stiffer nearer to the summit ridge, but over all, it's probably the easiest way to get high on Mount Meeker.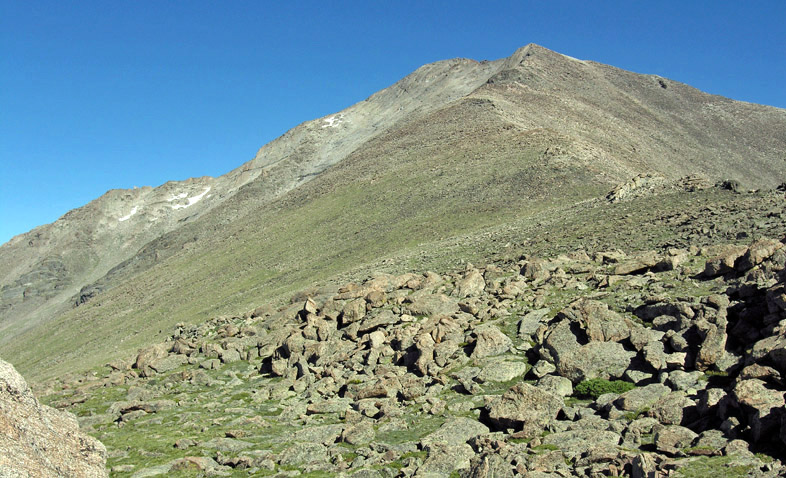 ---
Speedy Gonzales I am not. At 11:10 AM, I was still approaching the summit ridge, but at least now I was coming up to some cool views. This photo shows the south side of Longs Peak (left) and Mount Lady Washington (right).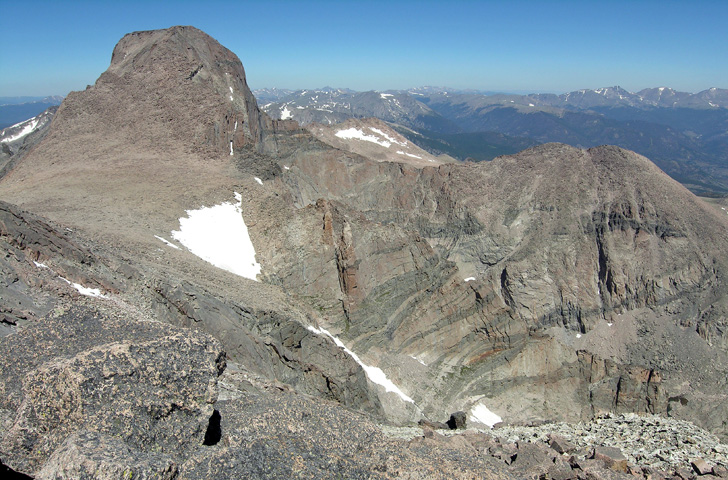 ---
Ten minutes later, I was standing there looking at the summit ridge and thinking "Whoa!" The picture I took, with Longs Peaks on the right, does not do justice to the scene I saw. A short scramble further and I was sitting at the start of the knife-edge ridge which is not seen very well here, but reeks of exposure. I could see the summit on the other side, but I was having a real hard time committing to this final section.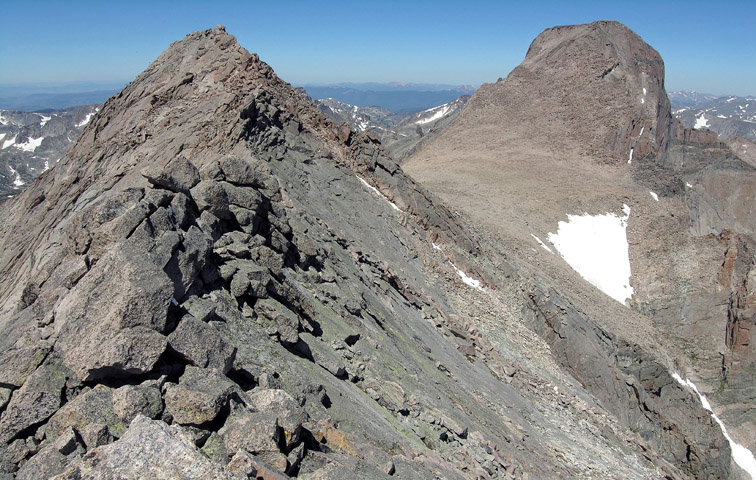 ---
As I sat there at the edge of the knife-edge, wondering if I really wanted the summit bad enough to cross, I glanced down and a spec of red down on an outcropping caught my eye. There was someone standing on this thing halfway up the north face of Mount Meeker. I took out the camera and got a shot so I could figure this out later.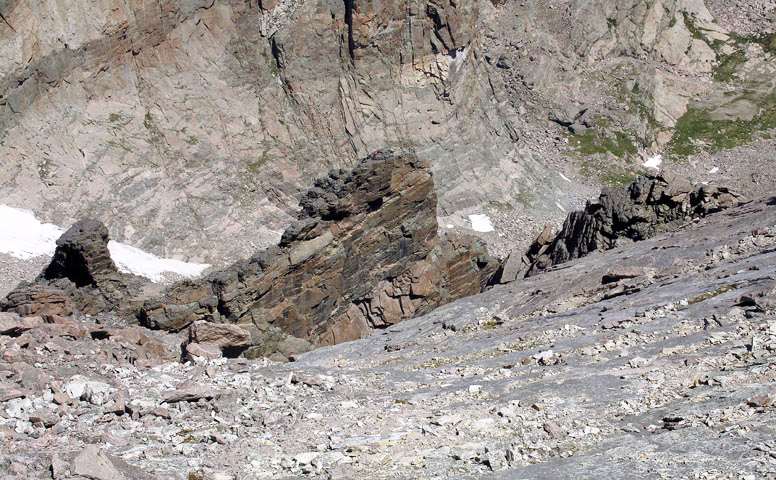 ---
With one more shot using the telephoto lens, I started thinking "Hell! If he can do that, whatever he did, I can do this." The winds were picking up though, and the thought of a sudden strong gust had me over-gripping everything like my life depended on it. There are two nearly equal high points on the west side of the ridge, and while the first appeared to be the true summit, I found the summit register at the second (west most) point.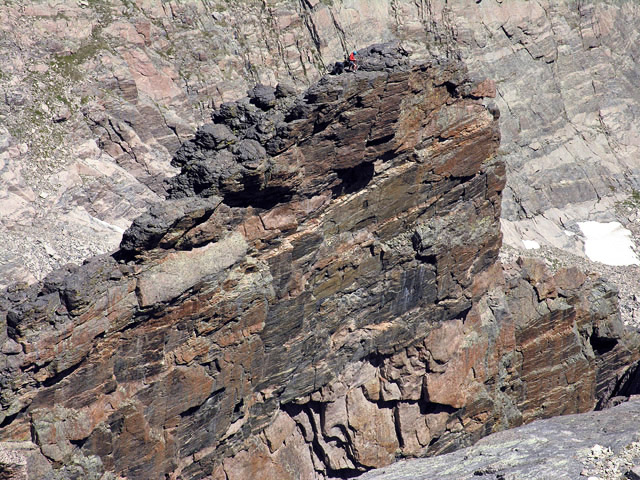 Note: at home, with the mysterious outcropping photo on the computer, I zoomed in and saw that the guy in the red jacket was holding a coiled climbing rope, and I could see a second climber dressed in dark clothing who I had not seen before. A visit to mountainproject.com showed me that they had just climbed the Flying Buttress: a 6-pitch, stiff 5.9, grade III, alpine trad route.
---
Before sitting down, I worked a little further west from the summit to get a few pictures looking over the Keyboard of the Winds Ridge, that runs between Longs Peak and Pagoda Mountain, into the Glacier Gorge. The angle wasn't quite what I was hoping for though, and the rock-on-rock look lacked contrast. After working this hard for the summit, it just seems right to sit, relax, eat something, and enjoy the view; however, there was no way I could relax knowing I still had to recross the knife-edge ridge, so after some consideration to hiking roughly five miles out of my way to avoid it, I worked back across the ridge and stopped to eat on less threatening ground.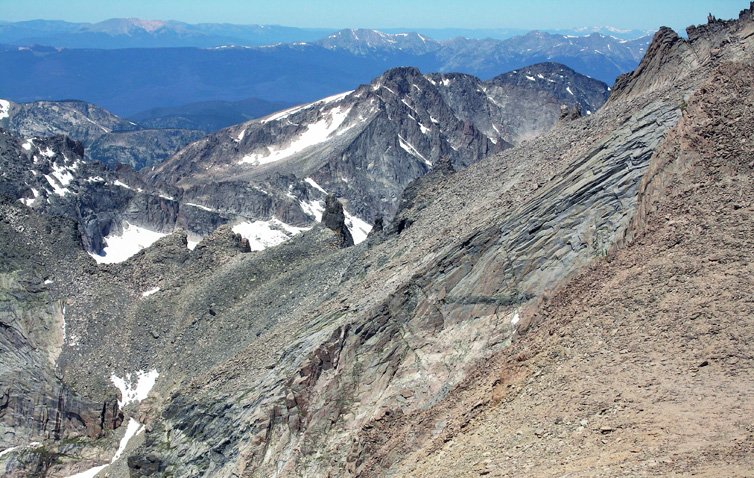 GPS Stats: my round trip time was 12 hours, 10 minutes (hopping fallen trees, and continuous trail relocation nearer timberline added time), with a total distance of 10.57 miles. My total accumulative elevation gain for the day was 5,302 ft.
---
---
Area Guide Books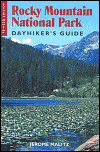 Rocky Mountain National Park: Dayhiker's Guide




Hiking Rocky Mountain National Park


---