Mount Massive

Early Saturday morning, August 7th 2004, Suzy and I started up Mount Massive from the Mount Massive Trailhead. We had considered either the East Ridge or the Southeast Ridge Route, but the weather forecast wasn't that good, and afternoon storm activity was almost certain, so we chose the easier and faster East Slopes Route for this ascent. After a long easy hike below and along timberline, Massive finally came into view. Having done this Mountain from the west years ago, ascending the West Slopes and descending the Southwest Slopes which were both annoyingly steep, the East Slopes Route was looking a whole lot more enjoyable.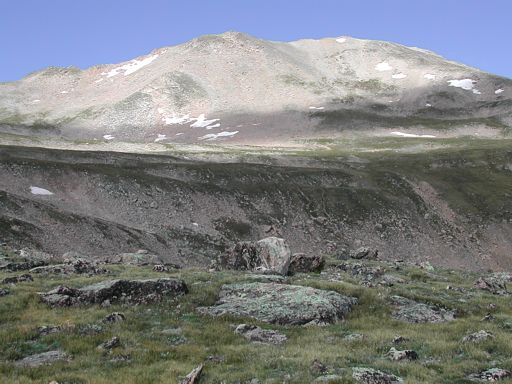 ---
Just up from the saddle now, I took this shot looking northwest up the ridge, with only about 400 vertical feet to go. The weather had been great up until now, but the clouds sneaking over the ridge from the west were going to change that soon enough.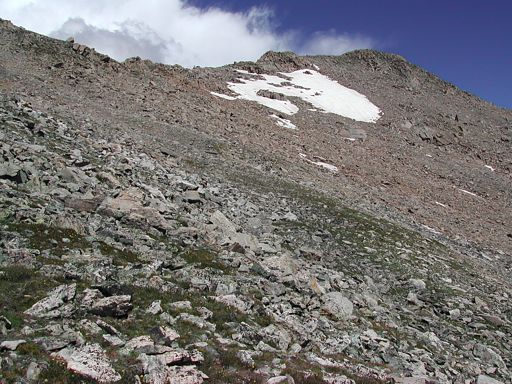 ---
Standing at the summit, I looked back at the wanna-be storm that had just hit us. This was just the first of many weak clouds that would hit through-out the rest of the day. The serious wet stuff held off until after we were back down to the trailhead though, but we were glad to have avoided the ridge routes anyway.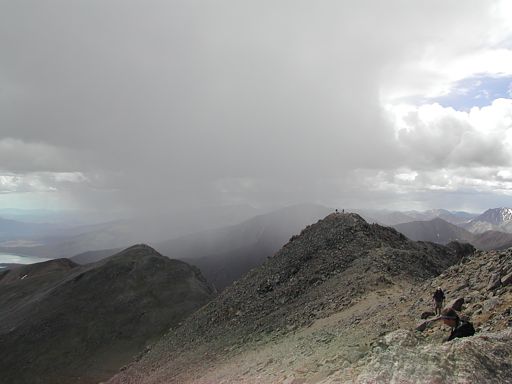 ---
On our way back down to the saddle, this view of the Southeast Ridge had me wishing the weather forecast had been a little better. I would have really liked ascending this route. While coming up this ridge shortens the total distance by about a mile, it also adds nearly 600 feet to the total elevation gain for the day.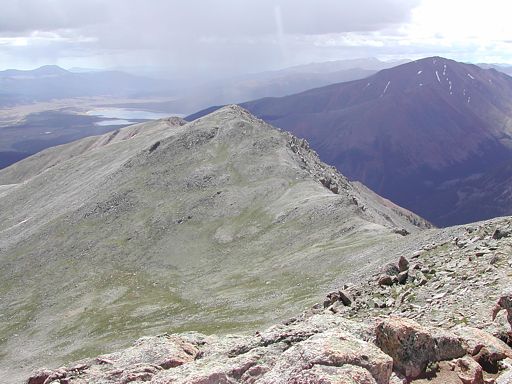 ---
Looking more to the south now, there's Mount Elbert (the highest peak in the Rocky Mountains) just coming out of the shadow of the passing storm, and La Plata Peak further back and to the right.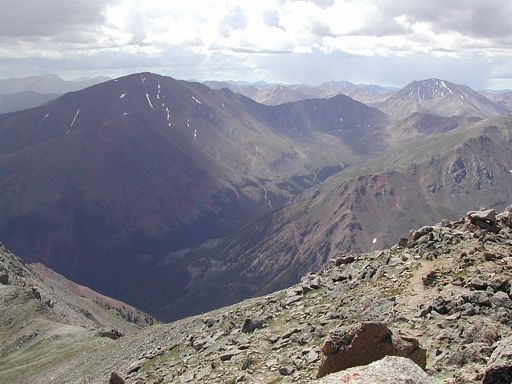 ---
Zooming in for a better look at La Plata Peak gives a great view of its cool North Face with the classic, two mile long, Ellingwood Ridge extending out in front.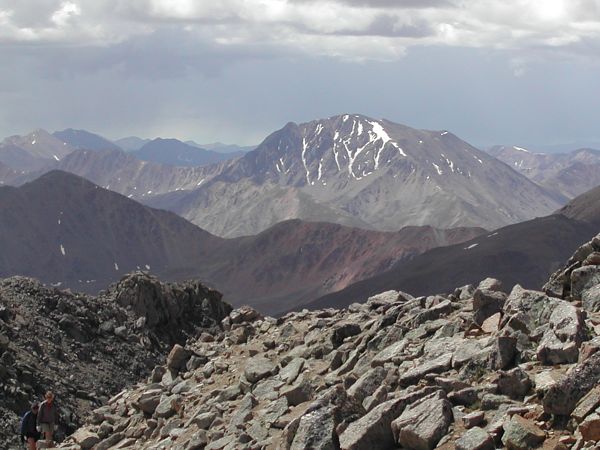 ---
As an after thought, still fairly close to the summit, I turned to get this shot, with Massive Green down the ridge to the northwest of the summit.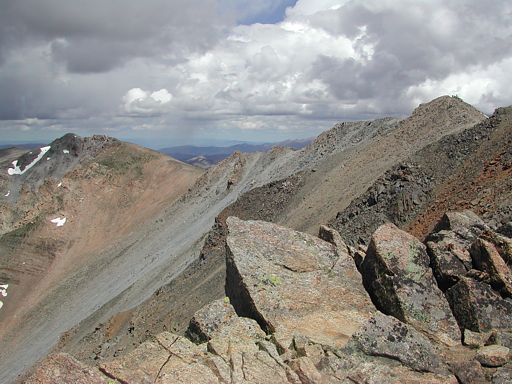 ---
Back to timberline, with four miles ahead, visions of microbrews danced in my head. I love the alpine beauty at this altitude.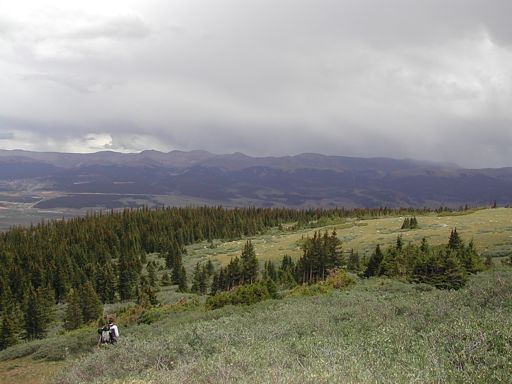 ---
On our way home from an early spring hiking trip to the Colorado National Monument and the Black Canyon, April 2006, Suzy and I stopped periodically to get some shots of the peak conditions along the Sawatch Range. This shot of Mount Massive was my favorite of the series.

---
---
Area Guide Books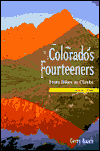 Colorado's Fourteeners: From Hikes to Climbs




Colorado's Fourteeners: Companion Map Package with Cdrom and Map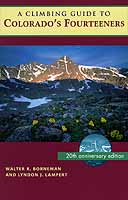 A Climbing Guide to Colorado's Fourteeners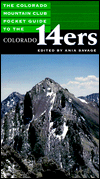 The Colorado Mountain Club Pocket Guide to the Colorado 14ers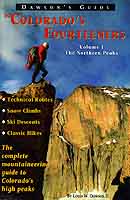 Dawson's Guide To Colorado's Fourteeners - Vol 1


---