Loch Vale Gorge

During the winter of 2002/2003, my friend, Ben, and I made a trip into the Loch Vale area with thoughts of climbing the Northwest Face Route of Thatchtop. We knew the powder snow conditions were more than we could handle for a winter ascent, but it was good just to get out anyway.
The first cool scenic shot looks into the Loch Vale area while still a mile or more away. I believe that's Taylor Peak (13,153 feet), barely visible, in the background to the left.
(The original photo, of poor quality, has been replaced by one taken Feb. 17th, 2013, from roughly the same location)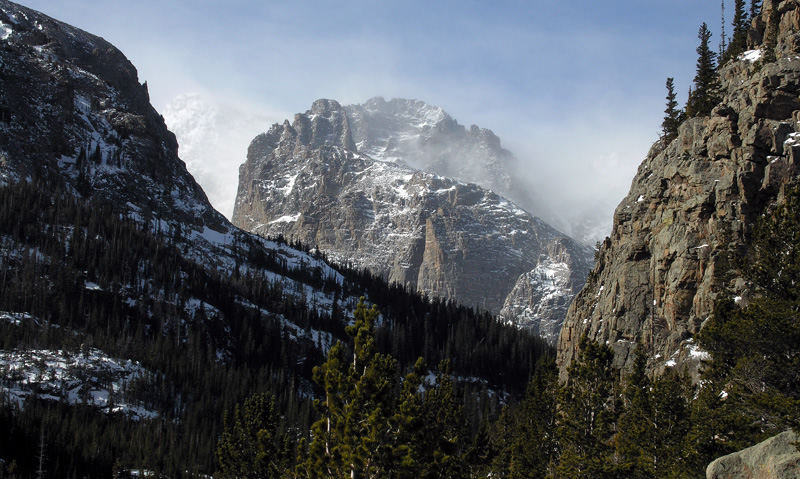 ---
While I've been up to Sky Pond before, it's always been a pre-dawn hike in, so the view from The Loch toward Sky Pond was something new for me, and with all the fresh snow, it was a beautiful site.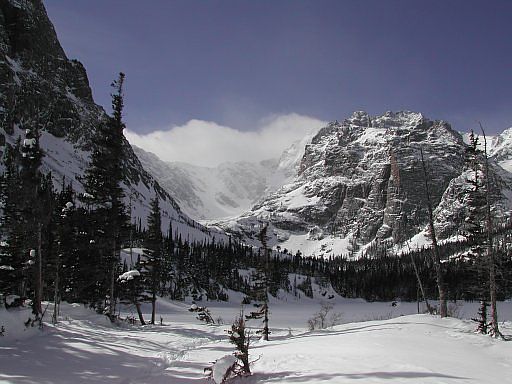 ---
Finally at Thatchtop, all we had time for was a couple of pictures before heading back to the trailhead. This shot shows Deep Freeze (WI 5+ , 300 feet), and the Northwest Face Route (WI 4-5 , 1,000 feet).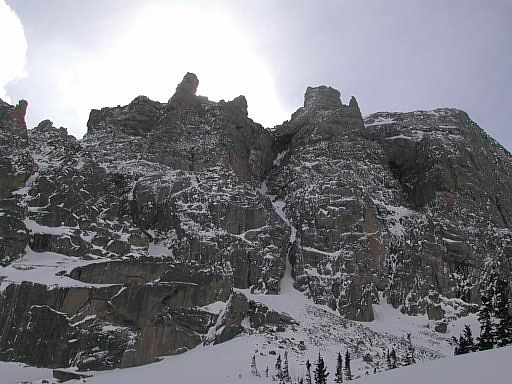 ---
Ben captured this interesting shot while I broke trail on the final approach to Thatchtop.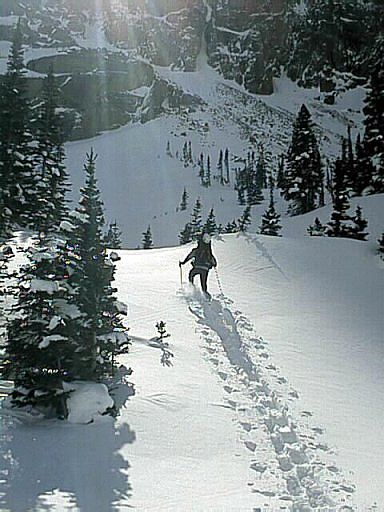 ---
On our way back down through Loch Vale Gorge, we stopped to check out some ice along the way. We were impressed with this solo ascent by Dakota Soifer, a student at CU in Boulder, Colorado.
---
Jumping ahead now, to August of 2006, on a hike into the Sky Pond Cirque, I took this shot of the Petit Grepon - probably the most saught after technical climb in the park. Its great high altitude exposure and unbelievably small summit at roughly 12,000 feet elevation, make this climb a true classic. Even with the fairly strenuous approach, you can expect to be sharing this spire with multiple parties. Afternoon thunderstorms are a common occurrence at high altitude, so try not to get caught near the summit with a highly conductive rack, performing a lightning rod immitation.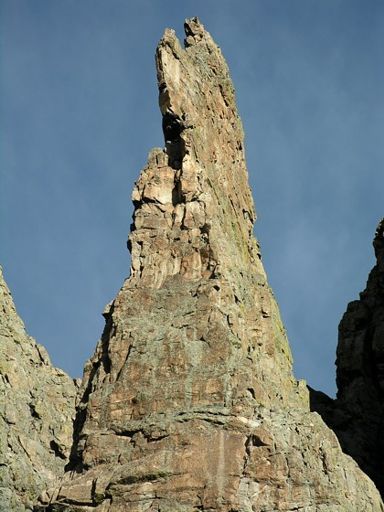 ---
On the way back down from my photo shoot with the Petit, I decided to catch the Andrews Creek Trail up to get a look at Andrews Glacier. Along the way, I couldn't help noticing something vaguely familiar with this tower, north of the trail. I took a shot and later identified the two towers, Zowie (left), and Wham (right), along Otis Peak's south face (far left).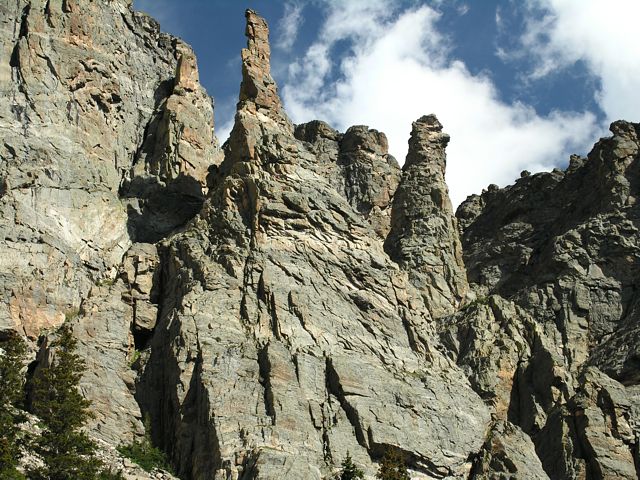 ---
---
Area Guide Books

Rock and Ice Climbing Rocky Mountain National Park: The High Peaks




Rocky Mountain National Park The CLIMBER'S Guide Volume # 2: HIGH PEAKS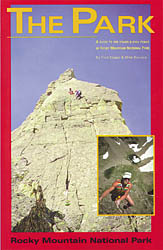 The Park: Rocky Mountain National Park


---