La Plata Peak

4am August 9th, 2003, Suzy and I started up the West Ridge Route of La Plata Peak. This put us on the west ridge just as it got light enough to turn off our headlamps, and only about 500 vertical feet from the summit when the peaks started seeing sunlight. What this means is that the order of photos on this page are from the peak down since that's how the pictures were shot.
This shot of Ellingwood Ridge doesn't quite show it all, but at roughly two miles long, it's too much for a single shot. Suzy had attempted to bag La Plata via this ridge a few years ago, but lost her pack halfway up, watching it tumble a good thousand vertical feet down the east side. Unable to continue without the contents, water and such, they worked their way down to find it. Surprisingly, they did find it, and even more surprisingly, it wasn't damaged. She still uses that pack today. I've always thought that climbing and mountaineering gear manufacturers were ripping us off with high prices, but I suppose there is some quality and craftsmanship behind those prices.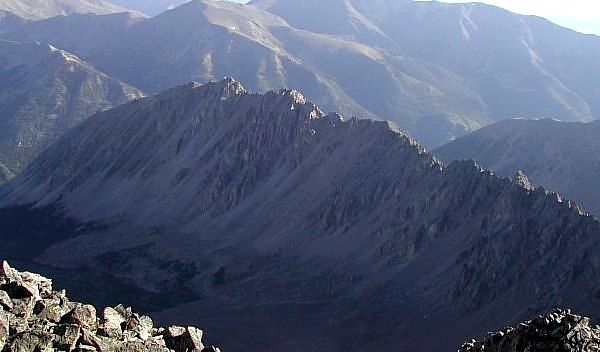 ---
Beyond Ellingwood Ridge to the north, are Mt Elbert (back right) and Mt Massive (back left), the 1st and 2nd highest peaks in Colorado.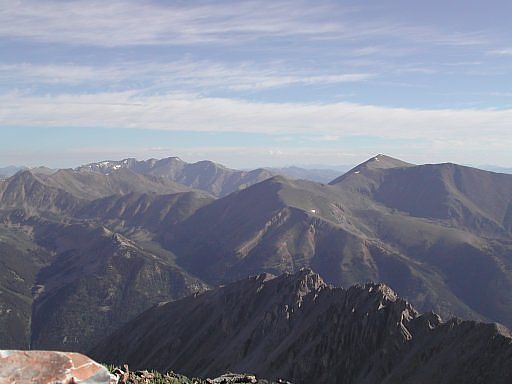 ---
La Plata's Southwest Ridge Route holds a false summit on the northest end of the ridge. The true peak is still 30 minutes or so away, as seen here in this shot taken from the false summit.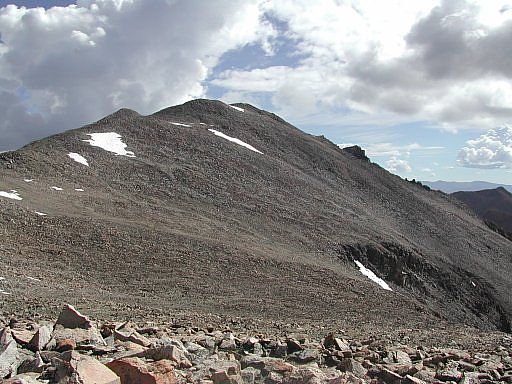 ---
Looking south from the false summit, you can see the southwest ridge itself. The steep loose trail bringing us up the east side of the ridge was one of the worst class 2 trails I've been on; however, looking closer at the 14er guide book topo map, we may have been off-route: possibly on an older - rerouted portion of the trail. If this was the case though, the reroute could not have been marked very well, since we passed a couple other parties struggling up the same slope as we descended. Anyway be careful; even using trekking poles, we both fell coming down.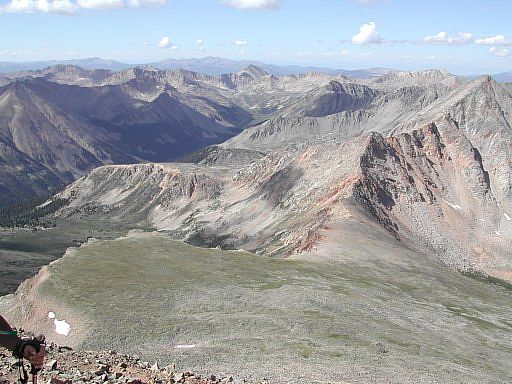 ---
You can find Ptarmigans on many of the high peaks in the Rocky Mountains, and that includes the southwest ridge of La Plata. While this picture seems a little grainy (I think I accidently engaged the digital zoom), it shows just how good their camoflage is, blending in perfectly to its rocky suroundings. You can easily walk right by one without noticing, and I, myself, have nearly step on one before seeing it. They are not a very excitable bird, and don't appear to be in a hurry to get out of your way.
It's not really clear where the name Ptarmigan comes from, but my book on wildlife suggests that it may have originated from a Gaelic word meaning mountaineer. Whatever - with feathers on their feet for warmth, and turning completely white in the winter, they are definitely at home in the mountains.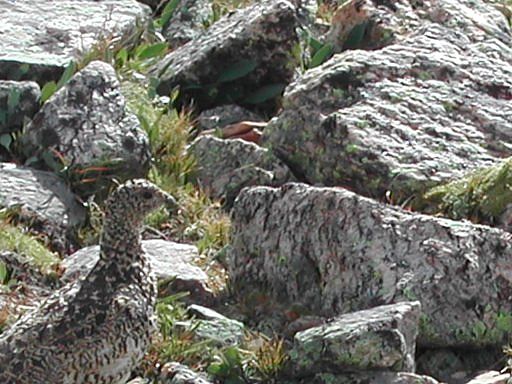 ---
With the trailhead only 10 or 15 minutes away, I stopped to get this shot with Huron Peak in the background. Huron is a great short and easy peak that also has a beautiful hiking trail around its west side leading up to a waterfall; although I can't remember its name.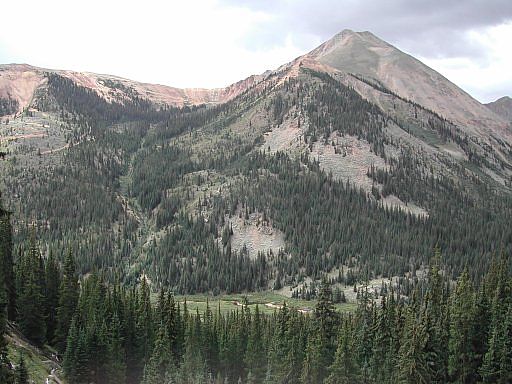 ---
---
Area Guide Books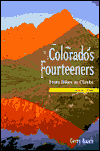 Colorado's Fourteeners: From Hikes to Climbs




Colorado's Fourteeners: Companion Map Package with Cdrom and Map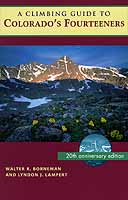 A Climbing Guide to Colorado's Fourteeners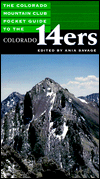 The Colorado Mountain Club Pocket Guide to the Colorado 14ers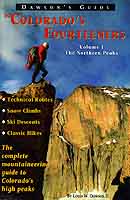 Dawson's Guide To Colorado's Fourteeners - Vol 1


---