Humboldt Peak

After driving about 6 hours in hard rain to get down to Westcliff, Colorado, Friday July 16th, 2004, Suzy and I woke up about 6am Saturday to low clouds and absolutely no view of Humboldt Peak nor any other mountain in the Sangre de Cristo Range. I should have checked the weather forecast prior to leaving, but it was too late for that now. With nothing better to do, we headed on up the seven mile road from hell to the upper South Colony Trailhead. After an hours of crawling up the road in "low" 4-wheel drive, we were completely caught off guard by a beautiful day, as seen in this picture of Humboldt Peak taken just up from the trailhead.
---
Knowing better than to expect this weather to last long, we immediately hit the trail. While niether of us had attempted this peak before, our real reason for choosing it was to get a good look at the Ellingwood Arête, rated 5.7, on the Crestone Needle. About a half hour or so up the trail, we got what we wished for. One look was all it took to see that this was probably going to be the most enduring route we've done, with its long intimidating crux finish, sitting up at 14,000 feet. Without any hesitation, I declared that we "had" to do this - next year - maybe. This shot shows most of the 2,000 foot route.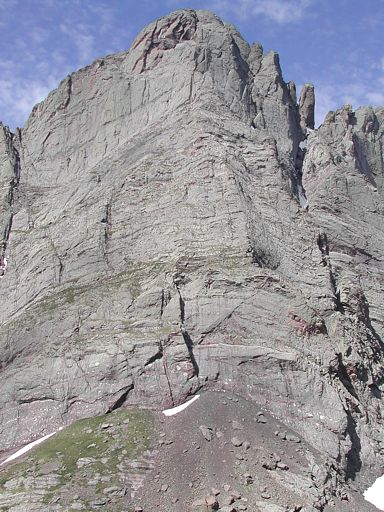 ---
As we countinued up to Humboldt Peak, completely captivated by the Ellingwood Arête, I nearly forgot that we were also seeing, through some gathering clouds now, Crestone Peak and the awesome 4th class ridge that connects it to the Needle.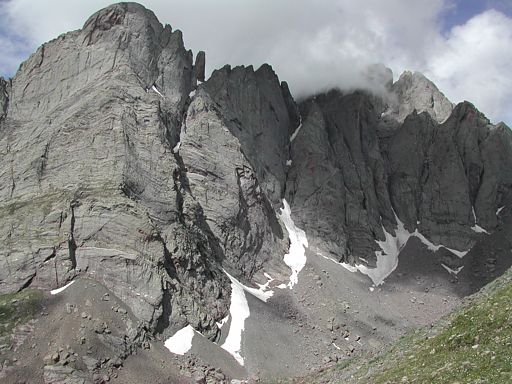 ---
As we finally approached Humboldt's summit, it was becoming obvious that our beautiful day was decaying. Clouds were working in from the east and west, and I doubted that it would be much longer before things started getting ugly again.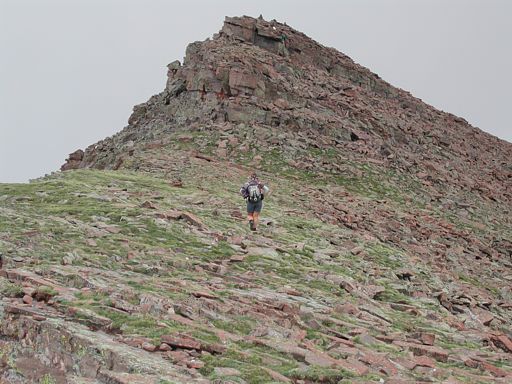 ---
After a short lunch break on the summit, I got this nice gloomy weather shot of Suzy heading back down with the Crestones lurking in the background.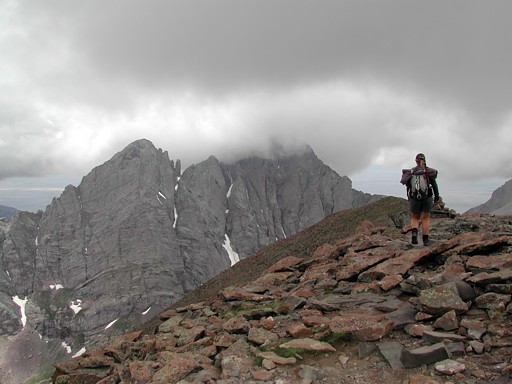 ---
Surprisingly, we made it back down to the trailhead without getting rained on; however, as we crawled back down the road from hell, we came across the remains of a nasty hail storm that had hit the lower slopes as we were getting back down to timberline. If this storm had hit further up the mountain, we would have been hurting. Refering to our objectives for this trip and the nasty weather we had to deal with, simply put, we got lucky on this one.
---
---
Area Guide Books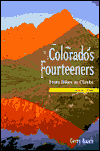 Colorado's Fourteeners: From Hikes to Climbs




Colorado's Fourteeners: Companion Map Package with Cdrom and Map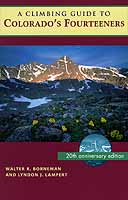 A Climbing Guide to Colorado's Fourteeners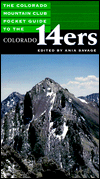 The Colorado Mountain Club Pocket Guide to the Colorado 14ers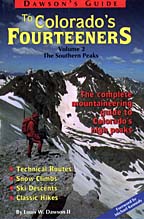 Dawson's Guide To Colorado's Fourteeners - Vol 2


---