Glacier Gorge - Spring

Initially, the plan was to climb one of the Colorado 14ers this last Saturday, 5/31/03, but with the weather forecast showing a 40% chance of afternoon thunderstorms, Suzy and I chose to stay below the peaks, and hike into Spearhead in the Glacier Gorge area of the Rocky Mountain National Park. This turned out to be an excellent choice, and the weather held out for a great day.
Our first stop, about 20 minutes up the Glacier Gorge trail, was at Alberta Falls. The flow rate was higher than I had seen for many years due to the current drought. With an unusually wet spring, including a so-called "100 year storm" back in March which they say dumped 5 to 8 feet of snow in the mountains, it was an impressive sight.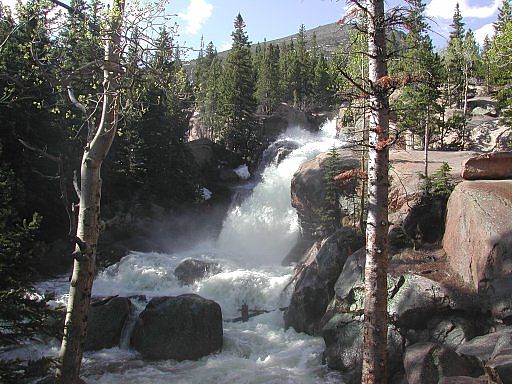 ---
About an hour up the trail, we arrived at Mills Lake: a popular destination for many hikers and tourist. From here Spearhead, peaking out from the right and back of this next shot, doesn't look that far away but would still take hours to reach.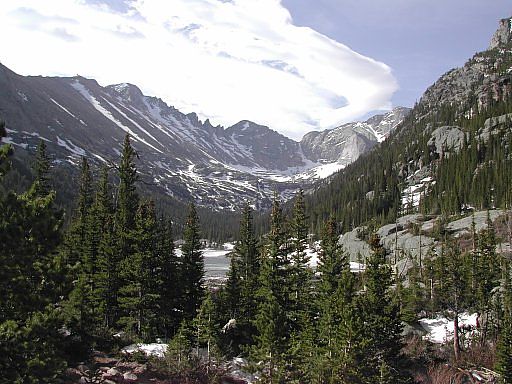 ---
Having taken an avalanche class this last winter, I was well aware of the danger, but I had no grasp as to how much raw power they posses until seeing all the damage caused by this year's big March storm. We passed a number of fresh avalanche damaged areas along this route.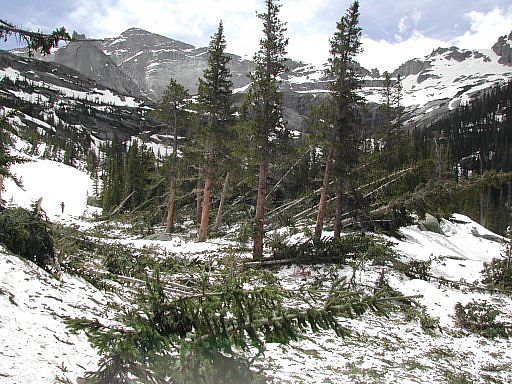 ---
Picking our way through yet another avalanche debris area between Mills and Black Lake.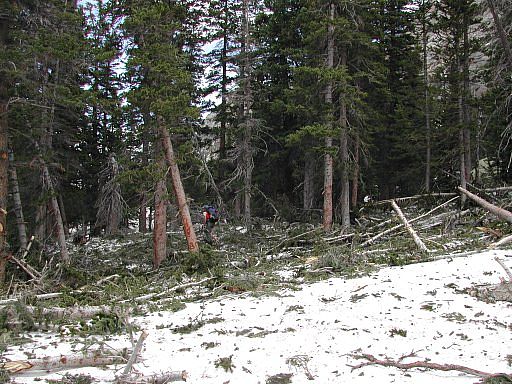 ---
We never made it to Spearhead; although, we were just under it having stopped at Black Lake. By not using any skis or snowshoes, the post holing slowed us down quite a bit. This last shot of Glacier Creek, down from Black lake, gives a good indication of how much snow still remains in the mountains, even below tree line.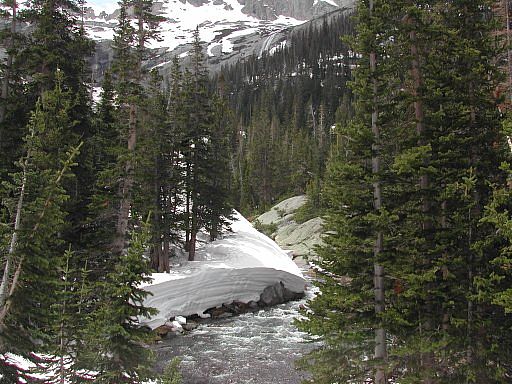 ---
---
Area Guide books

Rock and Ice Climbing Rocky Mountain National Park: The High Peaks




Rocky Mountain National Park The CLIMBER'S Guide Volume # 2: HIGH PEAKS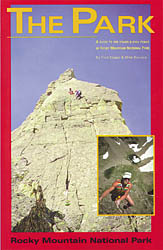 The Park: Rocky Mountain National Park


---