Fairchild Mountain Ascent

13,502 feet / 4,115 meters Elevation
After going up Mount Orton in the Wild Basin a couple weeks earlier, my decision to try an ascent on one of the peaks above Lawn and Crystal Lakes, Wednesday, August 3rd, 2016, was based mostly on the fact that there would be no bushwacking. I knew that this would be a long day though, so I started out shortly after 4:00 AM from the Lawn Lake Trailhead and hiked by headlamp for a couple hours until it was light enough to see. As I came around Lawn Lake, it was 7:15 AM when I heard two Ptarmigan just off the trail along the northeast side. The camouflage pattern in their feathers always seems to be an exact match of the granite rock patterns in their immediate area, making them extremely hard to spot without some movement or sound to give them away.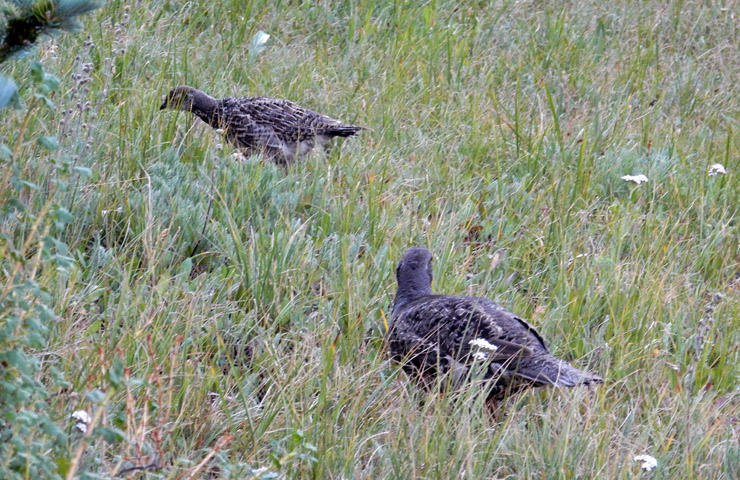 ---
Not long after leaving the ptarmigans, I took this shot with the morning sun on Fairchild Mountain. At this point I still had no idea whether I would be going up Fairchild, Hagues Peak, or Mummy Mountain. I planned to make that choice once I got to the saddle between Fairchild and Hagues with a better view of the final routes.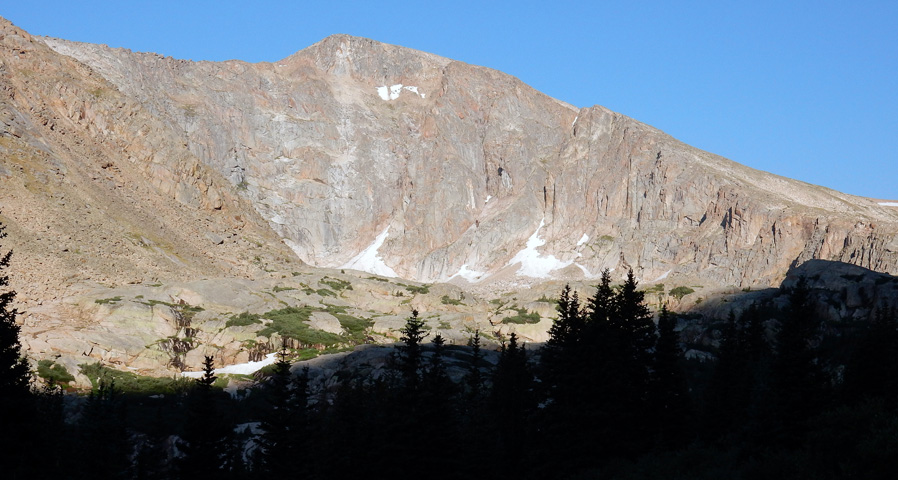 ---
I've been up to Lawn Lake two or three times and Crystal Lakes once, so the trail sign marking the fork for Crystal Lakes and the Saddle meant the start of new territory for me.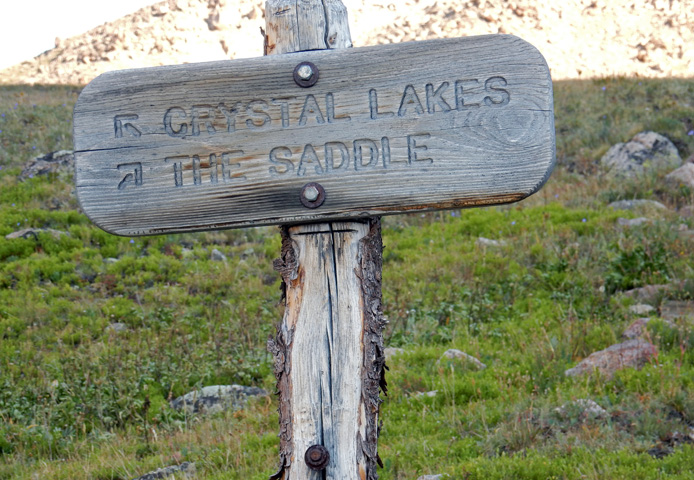 ---
I was still at the trail sign when I saw a doe roughly a hundred yards away, near the northwest corner of Mummy Mountain's SW face. After bracing the camera on my trekking poles (my make-shift bipod) and taking a couple shots, I sighted a buck grazing a little further to the left and took this shot of him.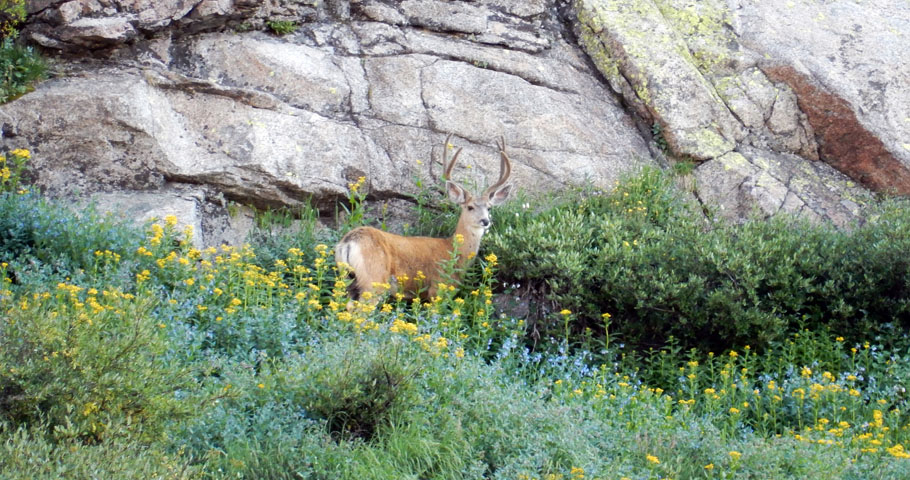 ---
As I shot the buck, with the camera, I noticed a second doe further to the left and started wondering if there might be a fawn around. Slowly walking up the trail a few yards, or meters, I spotted these two in the grass keeping a low profile.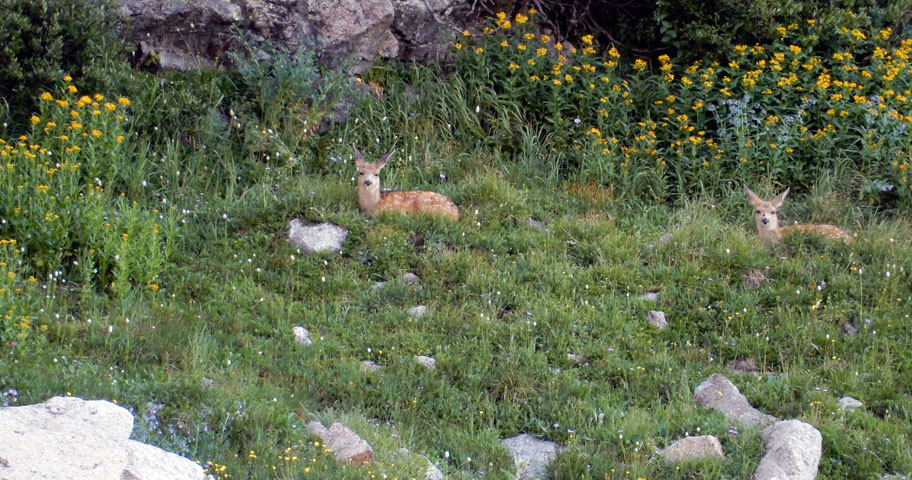 ---
I wasn't much further up the trail when I stopped one more time for a shot looking back down at Lawn Lake. Even from up here, I could still see the high water-mark scars from back before the Lawn Lake Dam breached and caused the Estes Park Flood 7-15-82 KWGN-TV. The damn was never rebuilt.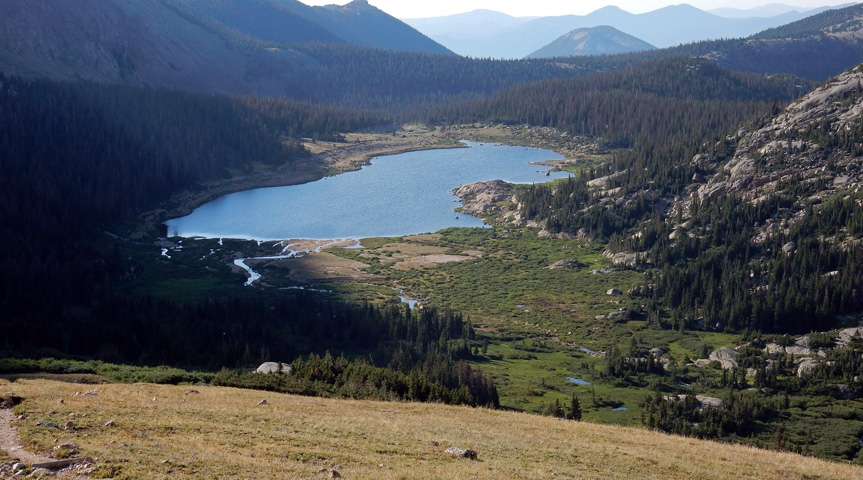 ---
I knew I had to get moving, but I also had to get this picture of Crystal Lakes below the east face of Fairchild Mountain. In my opinion, anyone hiking up to Lawn Lake who doesn't include the additional hump up to Crystal Lakes is really missing out.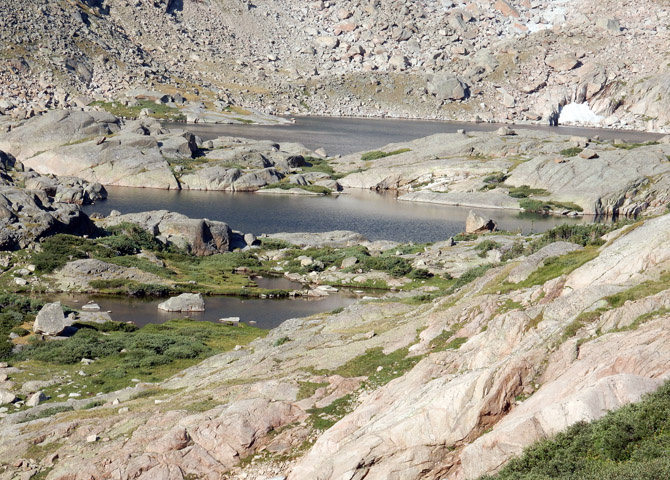 ---
I finally got up to the Saddle about 9:20 AM. I hadn't been up to 12,000 feet in eight months, and it was 10 months since I'd been up to 13,000 feet. So my plan was to pick the shortest and/or the easiest looking route of the three peaks around me, which I assumed would be Hagues: I hadn't done any research, I was just guessing. From the Saddle however, Hagues, in the photo below, didn't appear nearly as easy as it had looked from Lawn Lake, so I started looking closer at Fairchild.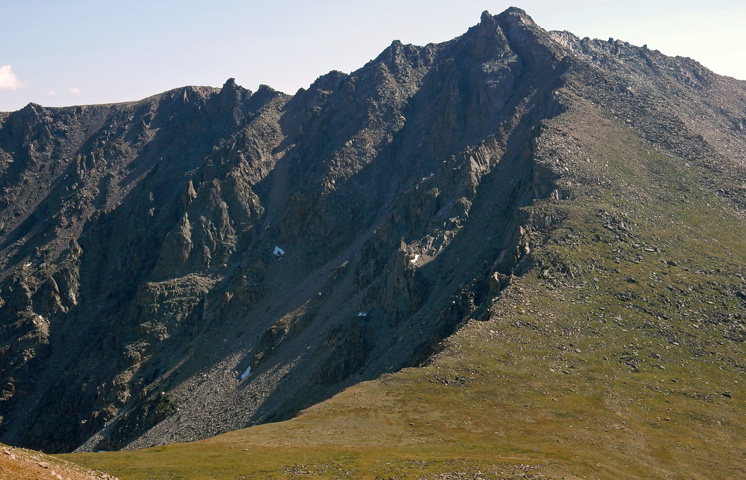 ---
It looked so much further away (whining sounds)! Going up Fairchild Mountain would add at least another mile to my round-trip distance, but I was feeling the altitude, and the rate of ascent was definitely lower, so off I went. I aimed for the right shoulder since it looked like the final approach would be easiest from the west.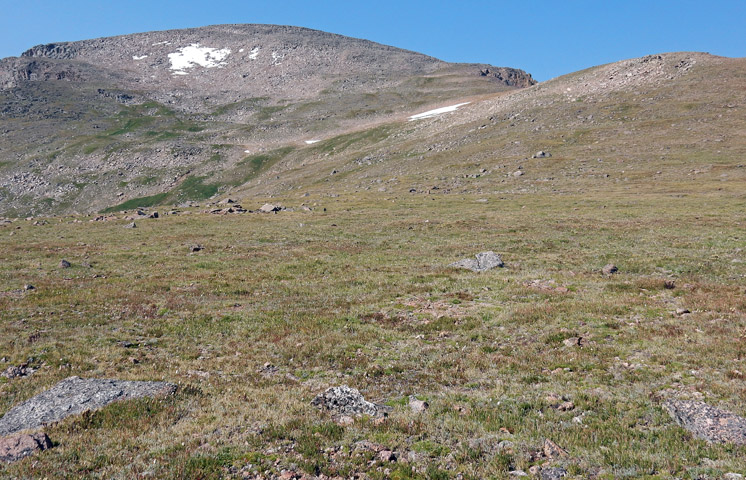 As I rounded the east side of the near hump in the photo above, I noticed someone coming down from Fairchild. When we passed, I asked the women (in her 20s ?) if she had summited, and was pretty blown away by her response. She had started out from the Chapin Pass Trailhead at 1:30 AM and had already summited Mount Chapin, Mount Chiquita, Ypsilon Mountain, and Fairchild, and was now heading for Hagues Peak. A little stunned, I had to confirm that she had crossed the ridge saddle between Ypsilon and Fairchild, since the year before I had looked at it, from Ypsilon, (

click the thumbnail, right, for a better view

) and decided that even if I crossed it, I didn't think I had it in me to re-cross it coming back. I assume she worked her way out to another trailhead after who knows how many more peaks - it was "

only

" 10 AM. I felt so wimpy now, still on my way up a single peak.


Update:

two or three weeks after writing this up, I read about the Mummy Kill (a.k.a. Mummy Mania)! This is a marathon peak bagging day-hike that includes Mount Chapin, Mount Chiquita, Ypsilon Mountain, Fairchild Mountain, Hagues Peak, and Mummy Mountain. I'm fairly sure now that this is what she was attempting.
---
I made it to the summit at about 11:15 AM and took this shot of the summit wind-brake with Ypsilon Mountain in the background. I sat down and dove into a sandwich with peanut butter and Suzy's homemade habanero peach jam - the best PBJ I've ever had! Of course, when she made the jam, we learned the hard way that in the house, in the middle of winter, is not the best time to be cooking with habanero peppers. With both of us going into a serious choking coughing fit, we quickly opened all windows and doors until the process was complete. Anyway, back to the summit...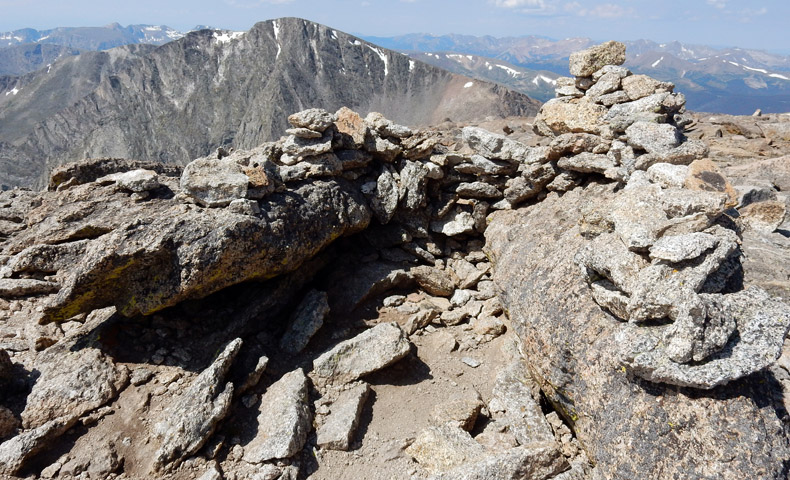 ---
There were a few marmots running around on the summit, and I managed to get a good shot of two with the SW face of Mummy Mountain in the background. I think when I die, if I come back as a marmot, I would be OK with that.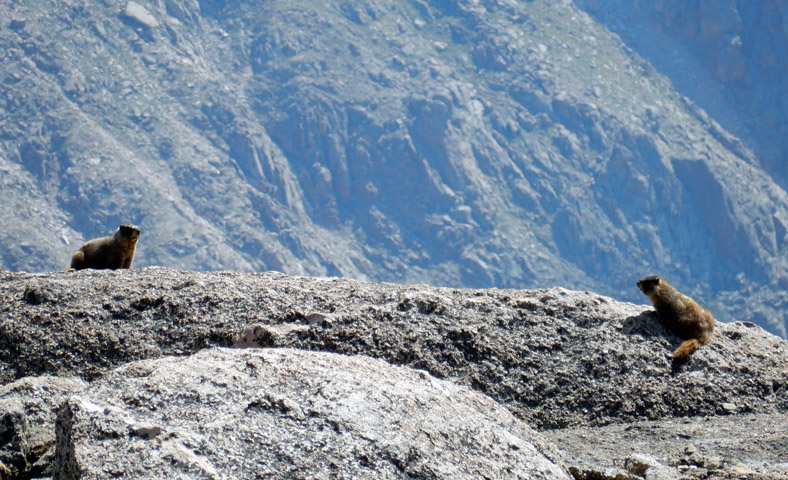 ---
I took another shot of Hagues, seeing that I now had a better view of the final section of the SW ridge to the summit. It looked like 4th class climbing, but looking it up at home, I was surprised to find that it could be done as class 2. I couldn't see it from here though.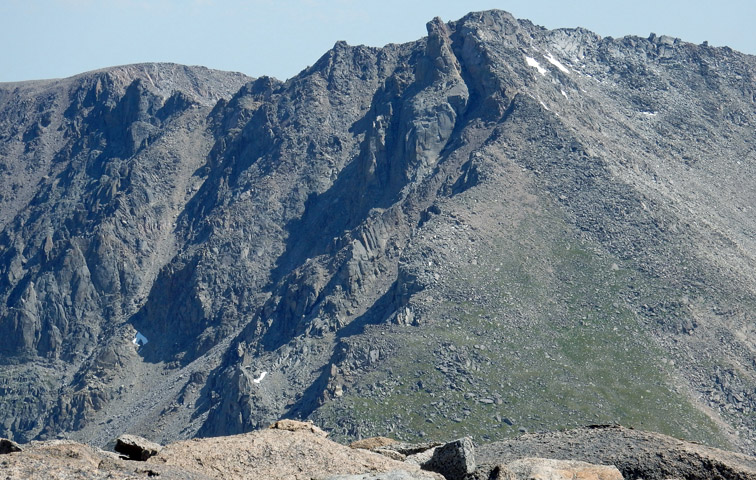 ---
I took some more photos, for beta sake, and this one shows Hagues Peak and the ridge connecting it to Mummy Mountain. I'm thinking of coming back some time and ascending Hagues via the SW Ridge and traversing over to Mummy Mountain and then descending Mummy via the SE Slopes. Of course I'll hope to be a little more trail-fit and acclimatized when I do that.

---
When I took this shot looking south, I thought I was seeing Longs Peak and the Glacier Gorge area, but with all the smoke from the forest fires burning this year, I was a little off. I believe this peak is Thatchtop Mountain.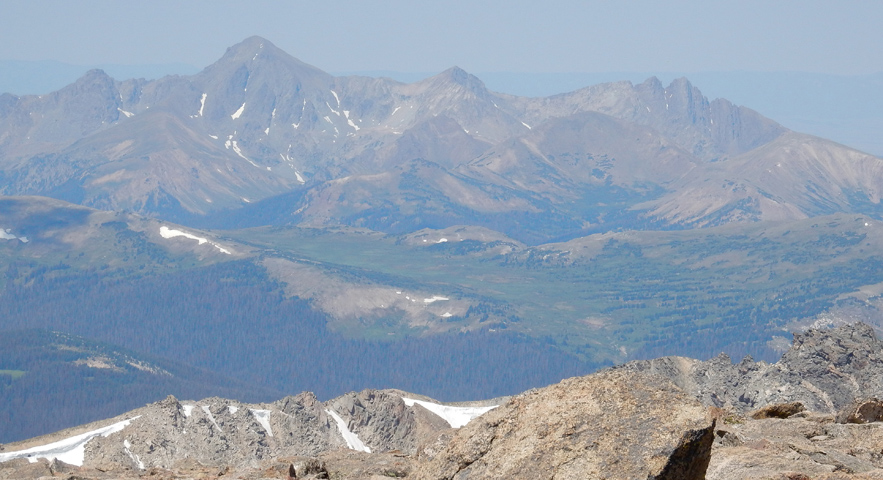 ---
Between the smoky haze and the angle of the sun, I had a really hard time getting any good shots of Mummy Maintain all day. As I came off Fairchild though, onto the lower angle slopes leading back to the Saddle, I got my best shot of the SW face with Lawn Lake below it.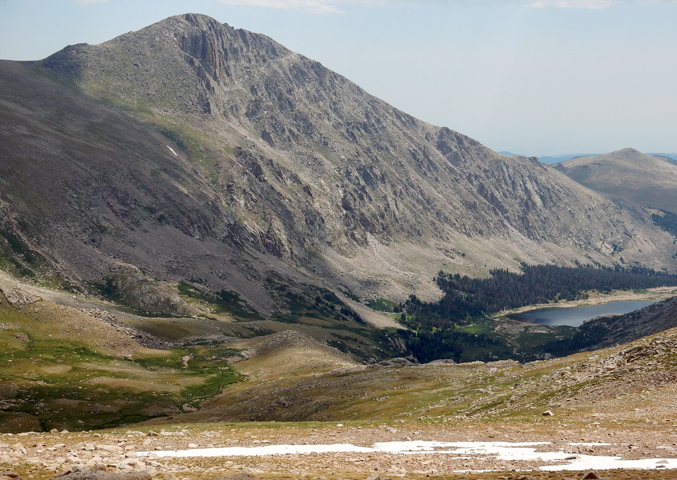 ---
Back under timberline, I saw a little waterfall up on the lower SW face of Mummy Mountain. Again with my trekking-pole bipod, I steadied the camera for my final shot of the day. It looks a little blurred, but oh well. I was back at the trailhead about 5:45 PM. The hike back down from Lawn Lake had been long, tiring, and down right unpleasant. The muscles in my hips were so sore. Simply doing a workout at the gym most mornings before work does not prepare one sufficiently for this kind of activity. It was ibuprofen time, again.
My total time out was 13 hours and 40 minutes, and the GPS declared a round trip distance of 19.37 miles, with a total elevation gain of 4,211 feet.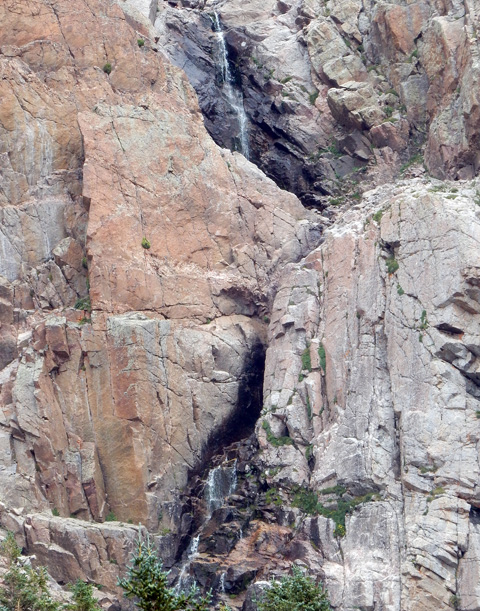 ---
---
RMNP Links
National Park Service - Climbing and Mountaineering in Rocky Mountain National Park

Rocky Mountain National Park: The High Peaks

U.S. National Parks Net - Rocky Mountain National Park Hiking Guide
---