Emmaline Lake

Our hike to Emmaline Lake, on Saturday, August 17th, 2013, would be our first hike this summer without stepping foot into Rocky Mountain National Park. However, the lake lies just north of the ridge that defines the northern border of the park, so we weren't far out. We started out 1/2 mile down the 4x4 road from the Emmaline Lake/Mummy Pass Trailhead at roughly 7:50 AM. After an hour of hiking up an old dirt road, we reached Cirque Meadows just after 9 AM where I stopped for this picture looking out towards the ridge running between Fall mountain and Comanche Peak - the park's north border.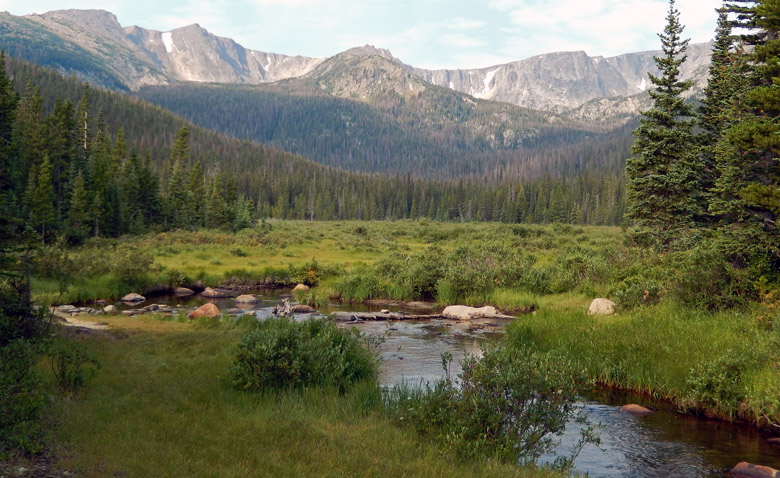 ---
Ten minutes after leaving Cirque Meadows, we were entering the Comanche Peak Wilderness in Roosevelt National Forest. I was amazed at all the tiny streams running down the slopes through this area. This was so different from our hike to Mirror Lake two days earlier: located just two mile west of Emmaline Lake, but inside Rocky Mountain National Park.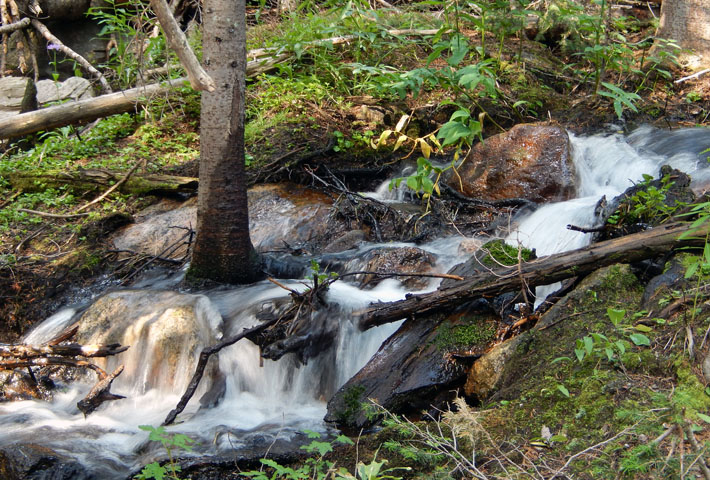 ---
It was 9:50 AM when we stopped at this little cascade on Fall Creek for a few pictures. Normally, I'm in a hurry to get up near timberline where the views are better, but not today.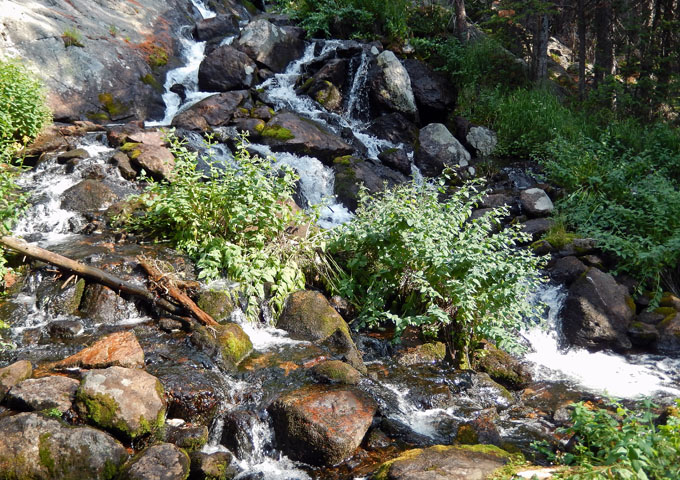 ---
After two and a half hours, we scrambled up a steeper rocky section just high enough to see through the tree tops and confirm that we were actually getting closer to our destination. We were still in the forest, but short rock scrambles and mountain views were becoming part of the mix now.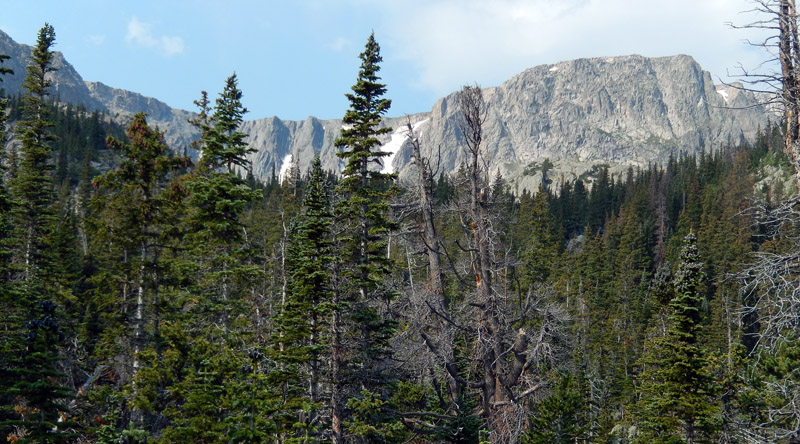 ---
Twenty five minutes later, and nearly at the lake now, we passed another little cascade on Fall Creek. Wildflowers were scattered all around the area.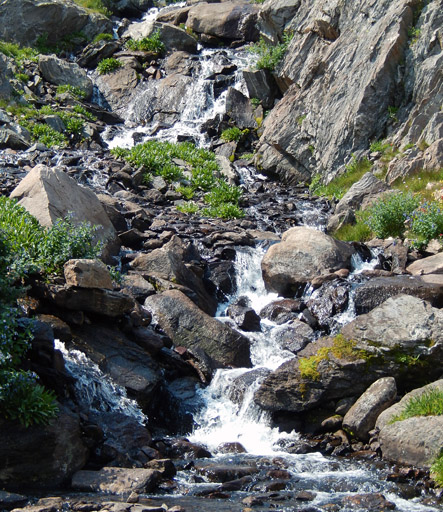 ---
When we stepped up for this view of Cirque Lake, with the ridge marking the northern border of Rocky Mountain National Park in the background, it was 11 AM. We couldn't see Emmaline lake yet, but it was just a short scramble up and north. As luck (or the lack of) would have it though, the clouds chose right then to start rolling in. Many of the photos I took as we explored the cirque were disappointingly dull. On the good side, it didn't rain.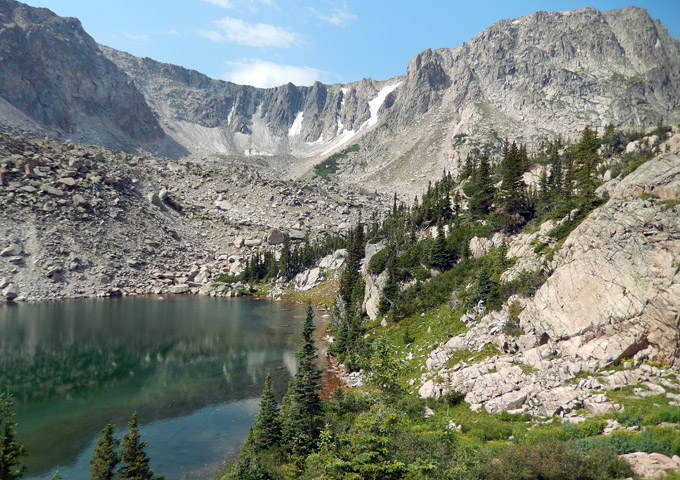 ---
Grabbing shots whenever the sun broke through cracks in the approaching overcast, I got this picture as we finally reached Emmaline Lake. Looking at the ridge leading northwest from the lake up to Comanche Peak, I wished there was time to follow it up and around into the park for the view looking back down into the cirque: one of many hundreds of daydreams I've had on these hikes.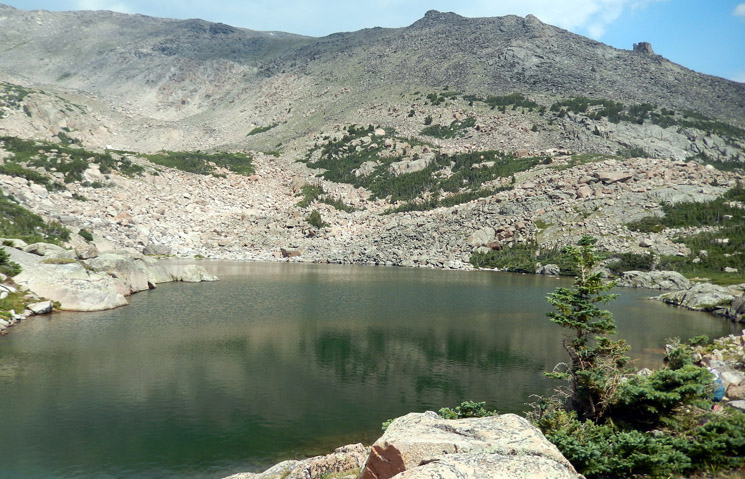 ---
This shot of the SE face of Comanche Peak was taken as we scrambled around in the cirque above the lakes. The scenery was beautiful.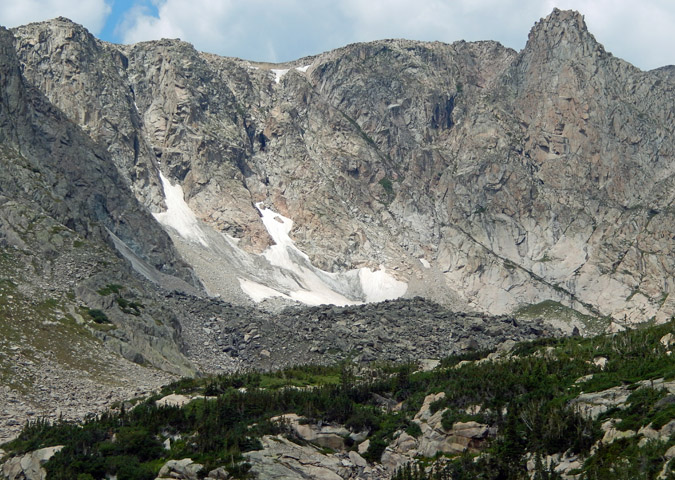 ---
As Suzy and I finished up our counter-clockwise circle around the cirque, I took one more shot looking down at Cirque Lake before we worked back down to the trail and started back out.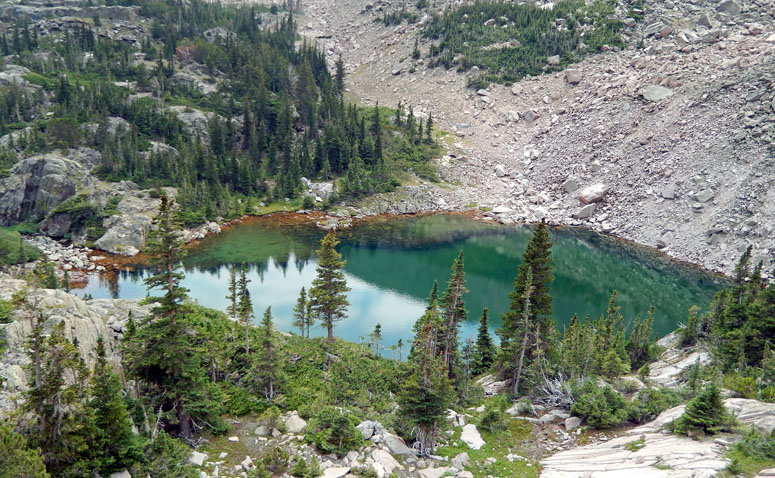 ---
Back at Cirque Meadows again, I noticed a couple large piles of old boards next to a patch of raspberries. Apparently, this used to be the site of an old logging mill in its day.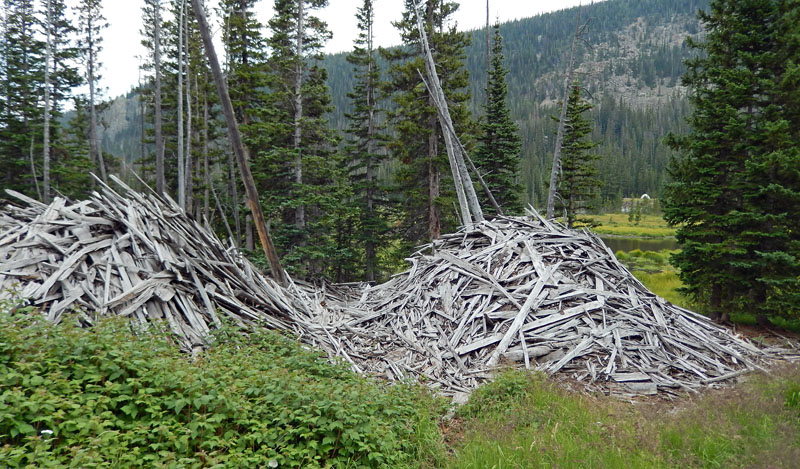 It was about 3:30 PM when we got back to the jeep, ending another great hike. The GPS stats showed a round trip time of 7 hours, 38 minutes; with a total distance of 11.72 miles; a total elevation gain of 2,107 feet; and a max elevation reached of 11,218 feet.
---
---
RMNP Links
National Park Service - Climbing and Mountaineering in Rocky Mountain National Park

Rocky Mountain National Park: The High Peaks

U.S. National Parks Net - Rocky Mountain National Park Hiking Guide
---