Crater Lake Area Camping

7/28/2010 @ 12:13pm Our eleven year old Grandson, Christopher Herrera, spent three weeks visiting us during the summer of 2010 (late July - early August), and a three day backpacking trip up to Crater Lake, in the Indians Peaks Wilderness Area, was one of the many cool things we did while he was here. My wife, Suzy, had to work, so it was just us two guys this time around. We had been on the trail about four hours when I took this picture of Christopher crossing Buchanan Creek. After getting up at 4 AM and driving three hours to get to the trail head, it seemed later than noon, and we still had nearly three hours of hiking to go. As a flatlander from Oklahoma, I don't think this hike "uphill" into the mountains will be considered one of the highlights of his visit.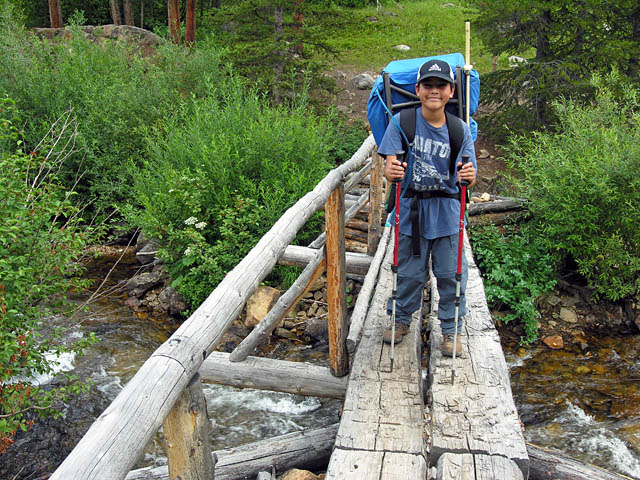 ---
7/29/2010 @ 9:11am Our first afternoon / evening camped up in the Crater Lake area was spent jumping in and out of the tent dodging some intense thunder storms, but by the next morning, the weather was looking pretty good again. A short hike from camp site #2 brought us up to Mirror Lake, where this reflective view of Lone Eagle Peak was awesome.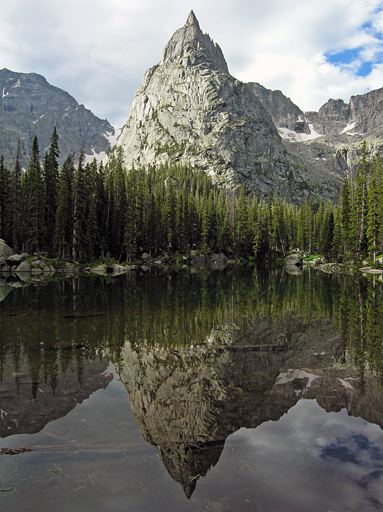 ---
7/29/2010 @ 11:22am We found that there was a light trail, if you kept you eyes open, just about all the way around Mirror and Crater Lakes. This waterfall was way back in the southwest end of the cirque. There were quite a few waterfalls scattered all up, down, and around the walls of the surrounding cirque. It was one of the most beautiful hikes I've been on, and Christopher was showing surprisingly good mountaineering instincts for his first summer in the mountains.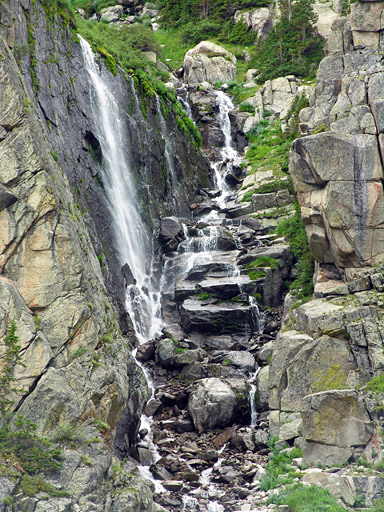 ---
7/29/2010 @ 12:10pm This photo of Christopher, surrounded by wildflowers, was taken after our lunch stop. We had flavored tuna, from packets, in tortillas, with granola bars for desert, which turned out to be a pretty good lunch.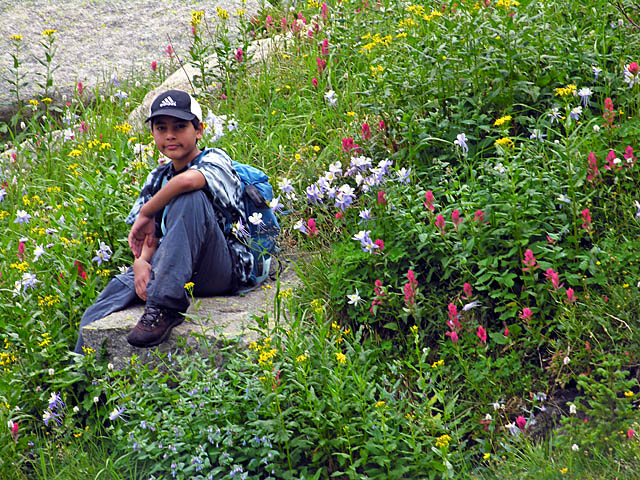 ---
7/29/2010 @ 12:42pm After nearly a four hour tour of the cirque containing Mirror and Crater Lakes, we were just about back to our camp site; however, we still had to cross the creek below Mirror Lake one more time. The single log bridges, of which there are a few along the trails, are a little spooky to cross.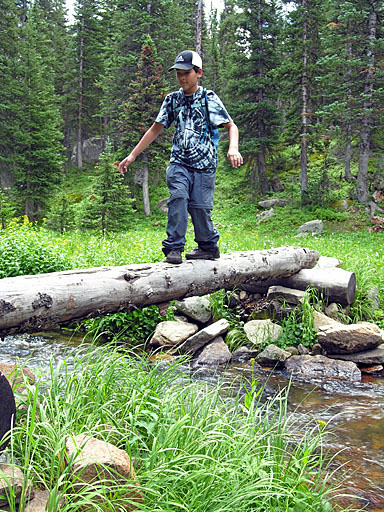 ---
7/29/2010 @ 3:50pm Knowing that we were going to have a lot of afternoon storms during our trip, we spent the afternoon close to camp, preferring to wait them out in the tent. Just minutes before retreating, yet again, to the tent, I took this shot of the clouds coming in over the continental divide east of us. I didn't notice until my wife pointed it out at home, but the rock formation seen clearly along the ridge, left of center is what's know as "Dickers Peck".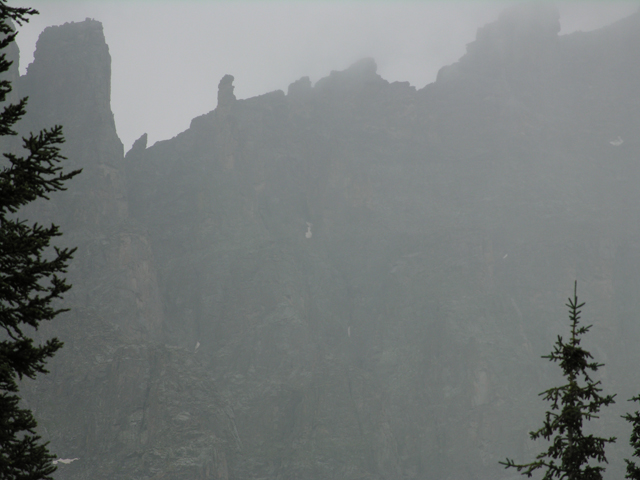 ---
7/29/2010 @ 5:38pm This moose wandered around in the camp area for most of the afternoon and evening. After dinner, Christopher and I were heading down to the river for some water, not knowing that it was lying behind some trees along the trail. At about 10 yards away, the moose got spooked and suddenly jumped up and out onto the trail in front of us. We stood frozen in panic for a few seconds, but eventually, I decided that if we cut right, straight to the river, we could get our water without threatening it any further, while the moose grazed with a watchful eye. This shot was taken a little later, still near camp, with the moose again lying down in the grass and wildflowers.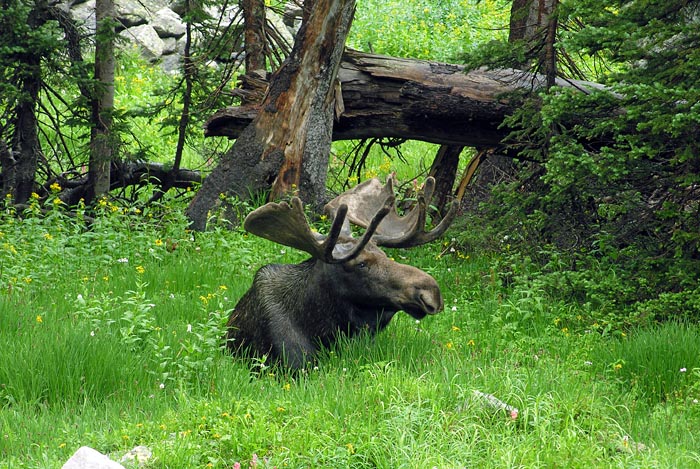 ---
7/29/2010 @ 5:42pm Unlike our first night, when it started raining just after dinner and continued through most of the night, it started clearing up this evening, and we were able to explore the area around camp a little more and get some evening shots. The snowfield in this zoomed-in picture is on the north side of Lone Eagle Peak.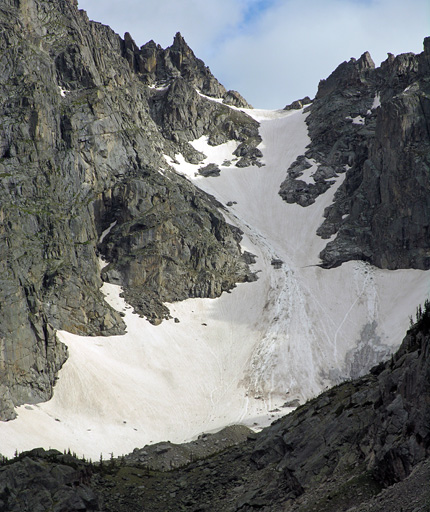 ---
7/29/2010 @ 6:00pm As the clouds continued to break up, slowly drifting away, I got this close up shot of Lone Eagle Peak and its knife edge ridge.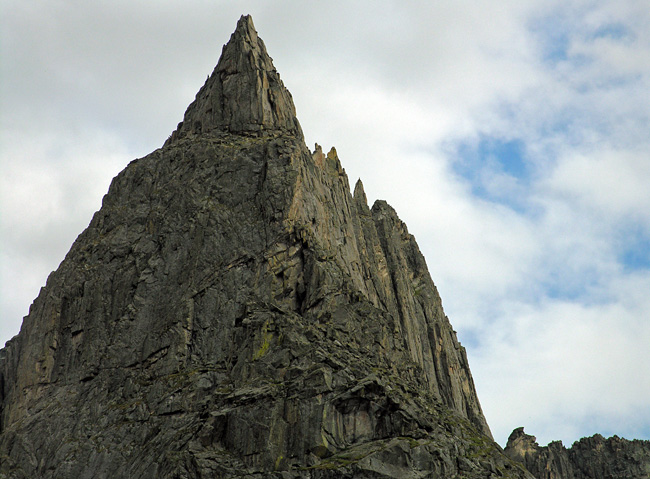 ---
7/29/2010 @ 6:10pm We spent nearly an hour scrambling around on the lower scree slopes around camp and watching the moose from a safe distance. Christopher was really hoping to see a bear on the trip, but I wasn't too upset over him missing that experience.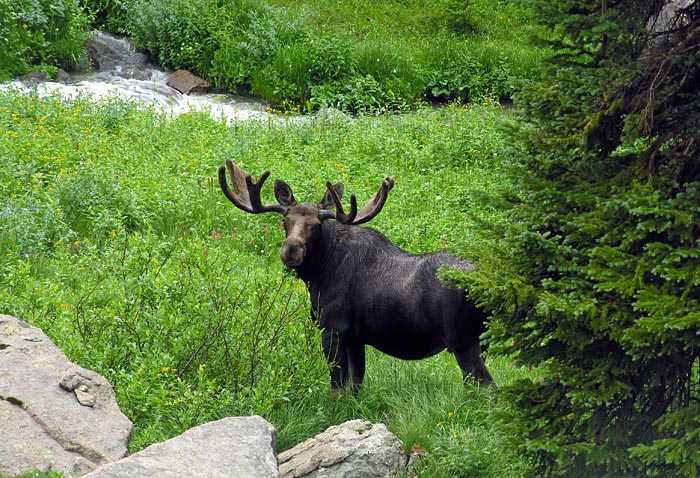 ---
7/29/2010 @ 6:41pm Our last good picture of the evening looked east to the Continental Divide, with Dickers Peck seen again alone the ridge line.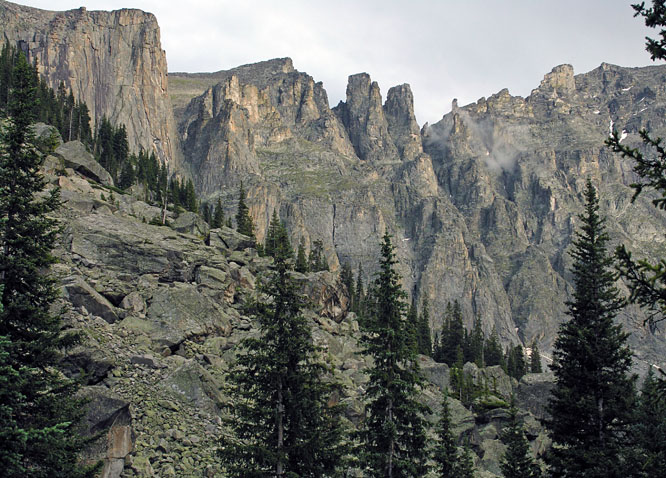 ---
7/30/2010 @ 11:37am After three days in the mountains, we had become hardened mountain men; and as such, we had no need for rest stops on the way out. However, we found that it was easier to take photos of the waterfalls, and other things along Cascade Creek, with our packs off - but we weren't resting.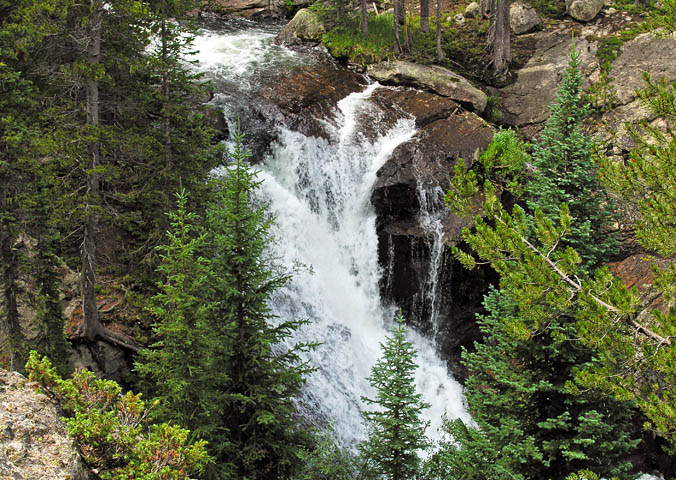 ---
7/30/2010 @ 11:50am In my opinion, this was the prettiest waterfall along the creek, but it might have just been the way the sunlight was hitting it. I think the heavy afternoon rains this last week had jacked up the water flow rate a little.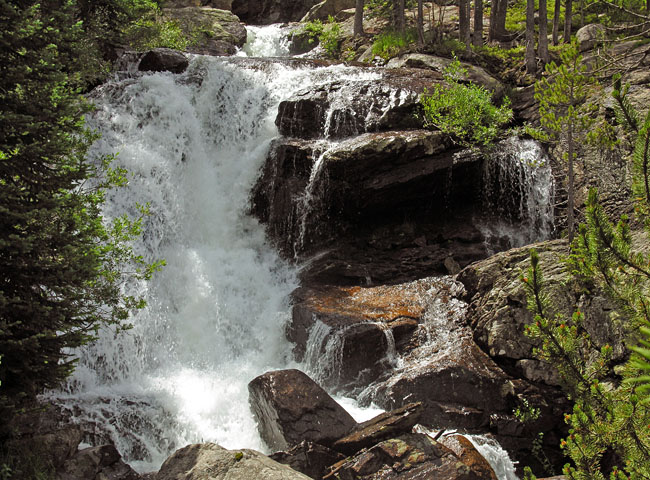 ---
7/30/2010 @ 12:16pm This is actually the top of the cascading waterfall in the next picture. There was good shade here, so we stopped for lunch - but we weren't resting.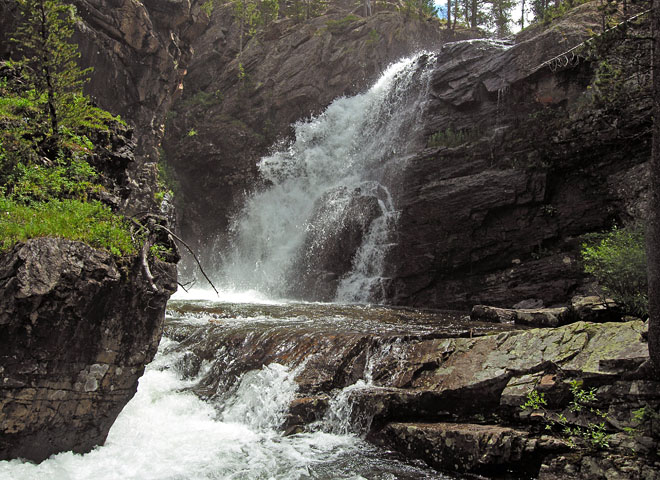 ---
7/30/2010 @ 12:38pm This was the last of our cool waterfall pictures, and a little further down the trail, Cascade Creek would merge with Buchanan Creek. A long two hours and thirty minutes later, about 3pm, we were back at the Jeep, at which point we had officially survived our adventure. Four days Later, recovered, Christopher summitted Flattop Mountain and Hallett Peak, and descended via Andrews Glacier, in Rocky Mountain National Park. I unfortunately left the camera in the Jeep that day though, so we have no pictures to show for it.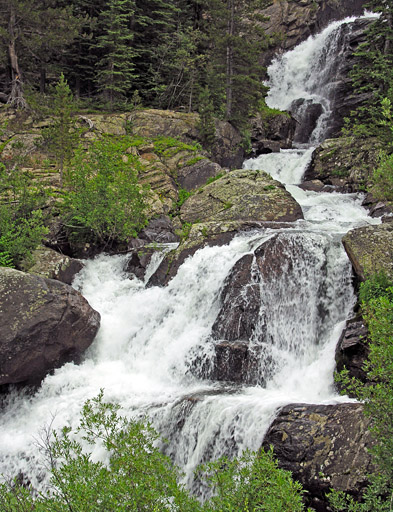 ---
Indian Peaks Wilderness @ SummintPost.org
---
Area Guide Books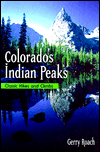 Colorado's Indian Peaks: Classic Hikes and Climbs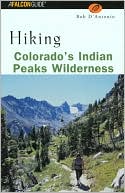 Hiking Colorado's Indian Peaks Wilderness
---