Cache la Poudre Wilderness Trail

This hike was different from most Suzy and I have done; it was the trail itself we were hiking here, with no specific destination - just a turn around point. It was July 21st, 2013, at about 7:00 AM when we started out from the trailhead on the west side of Rocky Mountain National Park. The photo I took of the trailhead signs just happens to have an elk in the background looking at me from behind a tree.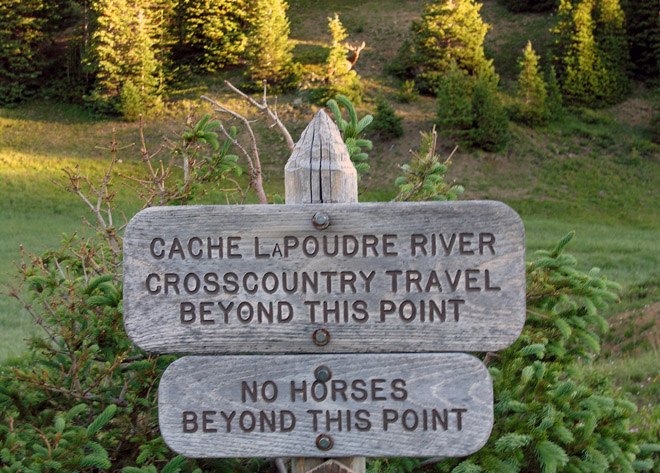 ---
We were moving slowly and taking lots of pictures most of the morning, so when I took this shot, at 8:00 AM, we probably hadn't gone more than 1.5 miles. The plush green scenery was beautiful in the morning light.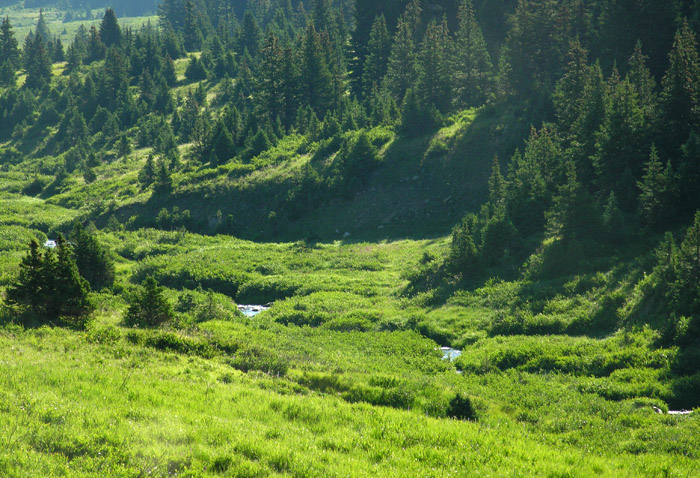 ---
About 2 miles down the trail, we spotted this deer down at the river, and we stopped to watch it as it started up the hill in our direction. We expected it to head off into the forest, but it stopped at the trail just 20 yards in front of us and started grazing. We had to get going, so we slowly walked forward a few steps until the deer walked off into the woods. Not five minutes further down the trail though, we saw another deer grazing between the trail and the forest, and then another a few minutes further down the trail. This went on for nearly a mile, with five or six sightings in all. We were sure it was the same deer playing with us - repeatedly running up ahead through the forest to watch us walk by, and getting surprisingly close (10 to 15 yards) the last time around. I've never seen a deer behave like this before; it was funny, but also a little weird.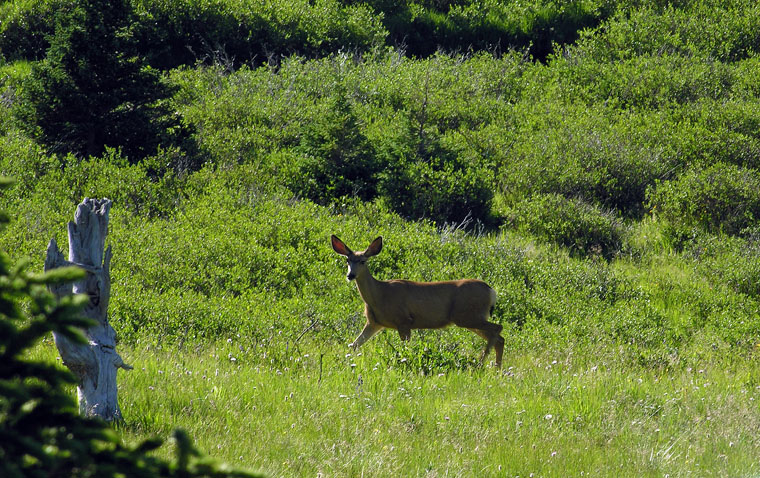 ---
At 11:00 AM, probably about 6 miles into the hike, I stopped for this shot looking up the river. There are many opportunities for scenic river shots on this hike, but I restrained myself from showing too many on this page.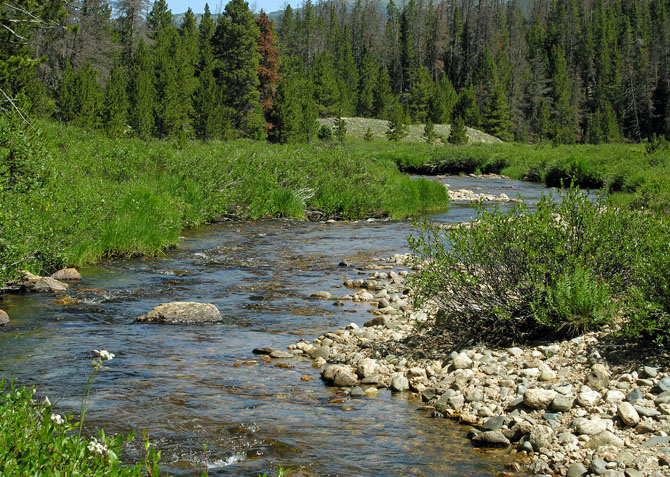 ---
By this time, 11:02 AM, I was feeling like this just wasn't our day for wildlife viewing. We had the encounter with the deer, but no elk or moose yet. I wouldn't call this exactly wildlife, but this Hesperis Fritillary - Speyeria hesperis butterfly on a wildflower was a start. Now, there are more than a few varieties of butterfly with similar wing color patterns, so if anyone knows for sure that I've misidentified it, let me know.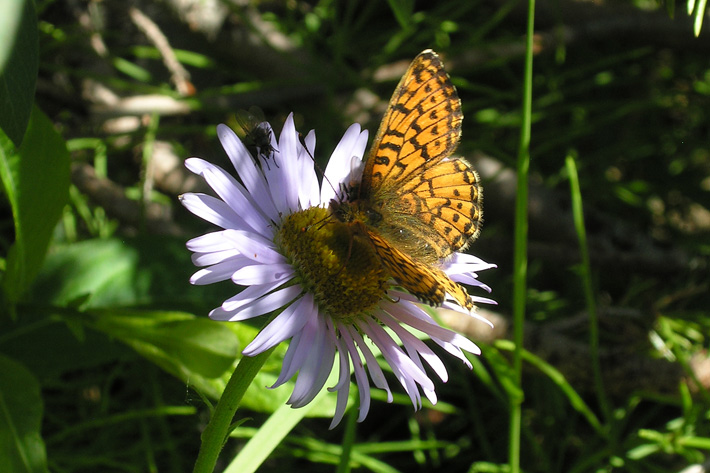 ---
Oh ya! Now we were seeing the big stuff. I almost missed this shot of a Douglas (Pine, or Chickaree) squirrel. I tried to get a few more as it scampered further up the tree, but they did not come out as good as the first shot.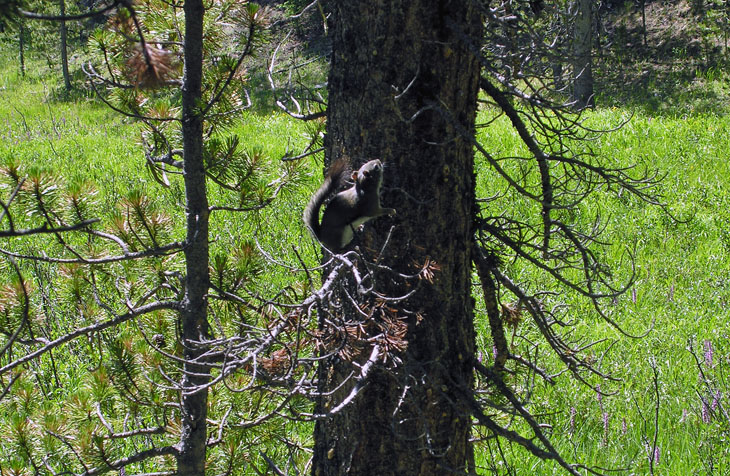 ---
About 12:45 PM, Suzy and I reached our turn around point, the bridge at the Mummy Pass Trail junction, 9.4 miles from the trailhead. We ate lunch and had a good rest before heading back. While we sat on the bridge, I was passing the time watching a bird that landed on a rock in the river. Suddenly, it dove in and a little later popped back up a few feet away. Now I was curious. We eventually figured out that this Water Ouzel (American Dipper) had a nest right under the bridge.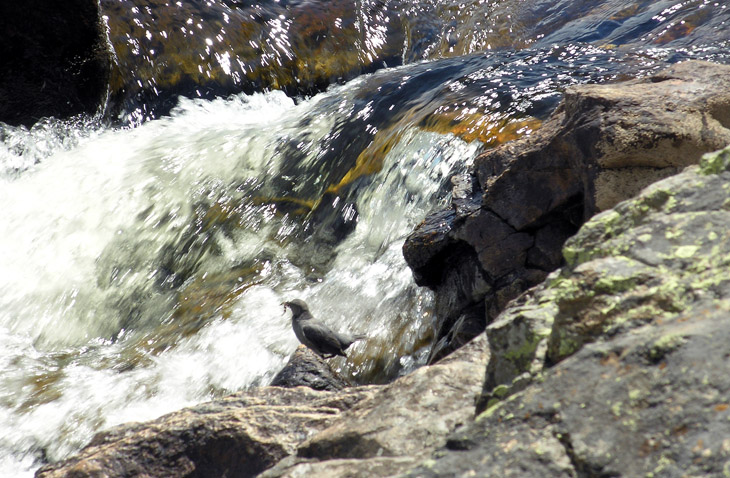 ---
Halfway back to the trailhead, about 3:50 PM, I sat down for a short break with a view looking up Chapin Creek. A few hundred yards, or meters, away, I thought I saw something moving through the brush, but it wasn't until we got out the binoculars that we could see it was a bull moose; this is what we were hoping for. Unfortunately, the distance made for a poor shot.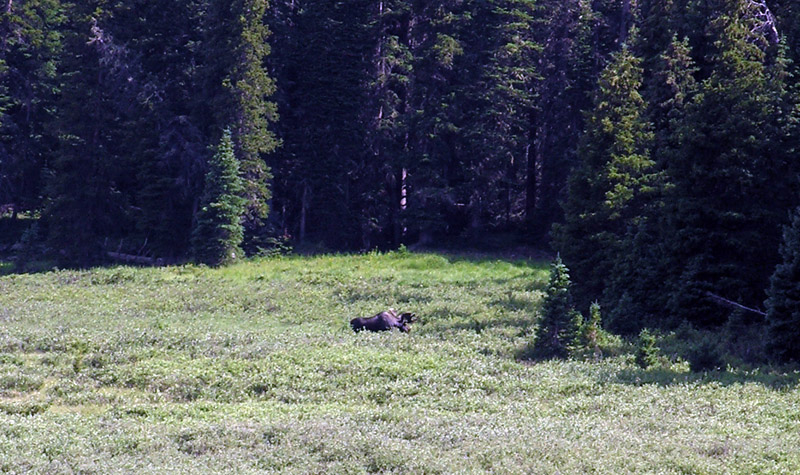 I was 6:50 PM when we finally got back to the trailhead - a total of 11 hours, 52 minutes round trip; 18.8 miles; with a total of 2,568 feet of elevation gain. There was nothing real strenuous about this hike, but the distance really wore us out. After breaking out the cooler with drinks and sandwiches, we chowed down before starting the drive home. This is a hike that goes to no place special - it's just a great continuous scenic adventure.
---
---
RMNP Links
National Park Service - Climbing and Mountaineering in Rocky Mountain National Park

Rocky Mountain National Park: The High Peaks

U.S. National Parks Net - Rocky Mountain National Park Hiking Guide
---