Bluebird Lake Hike

Wild Basin
I took the day off, Wednesday, July 17th, 2013, just because. The weather forecast was good, and Suzy and I just like getting out occasionally without the weekend traffic. Suzy wanted to hike to Bluebird Lake, in the Wild Basin, at the south end of Rocky Mountain National Park, and I was all for it. I have other photos similar to the Longs Peak and Mount Meeker shot below - taken on hikes to Sandbeach Lake, Lions Lake, and Mount Alice (all in the Wild Basin) - but the view was so clear, I took another about three miles or so up the trail.
---
I've wanted to climb Copeland Mountain for a few years now, and this hike gave me the opportunity to see what kind of bushwhacking it would entail with a north slopes approach. It looked worse than I expected, requiring a lot of scrambling over fallen trees, so I think I'll check out the south approach sometime before I decide on a route. As seen in this next picture though, above timberline, it looks like a real cardiovascular hump.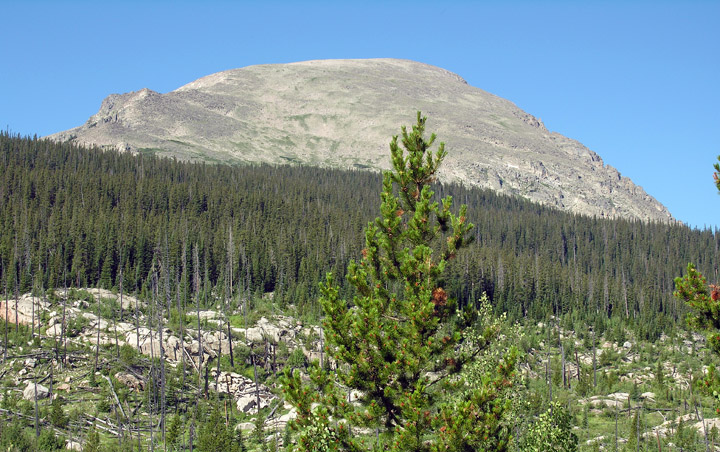 ---
Turning away from Copeland Mountain now, we got a shot looking out towards Ouzel Peak with the south side of Mahana Peak on the right. By our calculations, we were still roughly three miles from Bluebird Lake.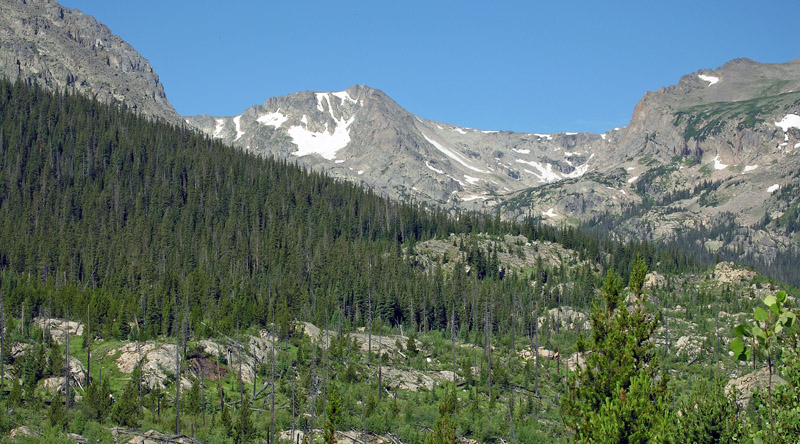 ---
Turning even further away from Copland Mountain, I took one more shot of Tanima Peak and Mount Alice. My mind was working overtime now with visions of mountain ascents and traverses.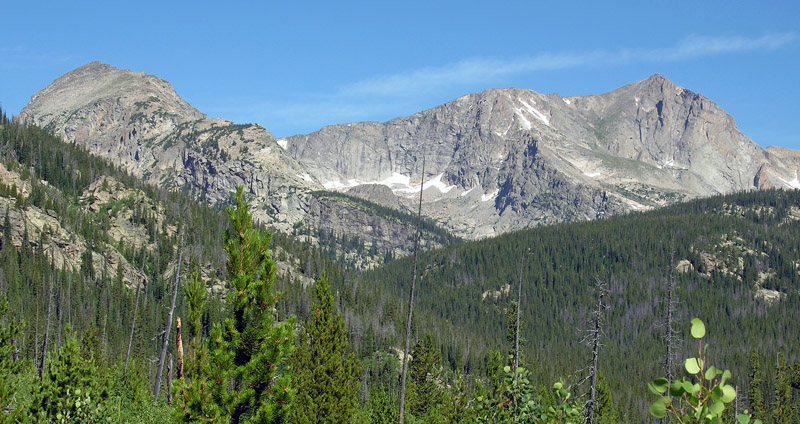 ---
Gaining altitude, the wildflowers appeared everywhere fed by the little creeks and streams flowing down the slopes of Mahana Peak. As we crossed Ouzel creek, below Bluebird Lake, I took a picture of this cool snow bridge at the bottom of a falls.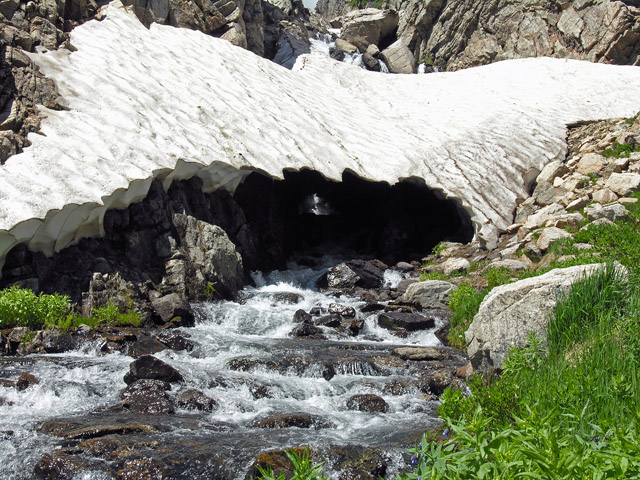 ---
It was about 11:20 AM when we arrive at Bluebird Lake, and I took this shot looking across at Ouzel Peak. The mosquitoes were having lunch (us) so we sat down and had some of our own before heading back down.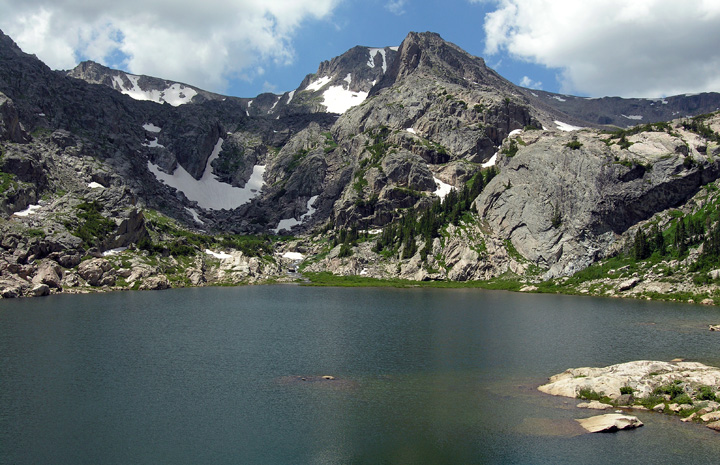 ---
A mile or two back down the trail, not far from the turn for Ouzel Lake, I was looking at the slope on the north side of the trail, which appeared to have suffered from a slab avalanche decades ago. As this picture shows, the area looked a little chaotic.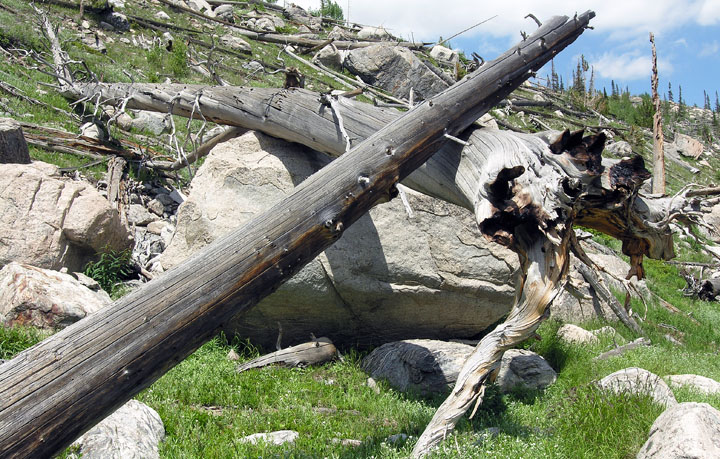 ---
Moving into the switchbacks, getting more in the forest now and still about 3.5 miles from the trailhead, we saw storm clouds coming over Mount Alice and the saddle between it and Chiefs Head Peak. While I took this picture we started hearing thunder, and we were sure it was going to hit us before we could get out. The storm seemed to have taken a turn though, and all we saw were some light sprinkles. Our focus was quickly shifting to the cooler of sandwiches and cold drinks in the jeep, and even with sore knees, I found myself picking up the pace. It was roughly 4:30 PM when we sat down to a great trailhead dinner before heading home.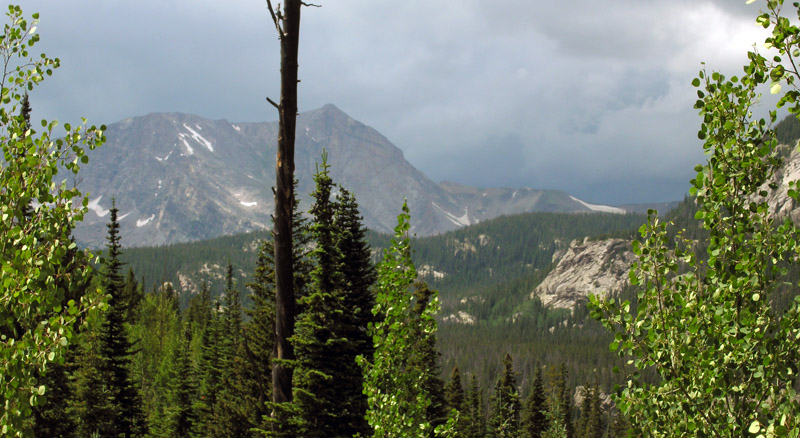 The GPS stats declared that the hike took 9 hours and 30 minutes, totaled 13.68 miles, gained a total of 2,525 feet in elevation, and reached a height of 11,016 feet above sea level.
---
Once again I'll put my pathetic botanist skills to work and post the wildflower pictures from this hike with my best guess as to their identity.
---
---
RMNP Links
National Park Service - Climbing and Mountaineering in Rocky Mountain National Park

Rocky Mountain National Park: The High Peaks

U.S. National Parks Net - Rocky Mountain National Park Hiking Guide
---