Mount Antero

With only two 14ers remaining that neither Suzy nor I have bagged yet close enough to summit in a two-day weekend, we started up the West Slopes Route of Mount Antero, Sunday, June 19th, 2005. Mostly 4x4 road, this route is technically one of the easiest I know; even so, with good scenery along the way, and a touch of exposure on the south ridge summit approach, it was an enjoyable season warm-up. I was having a hard time shooting east with the morning sun glare, so this shot of Mount Antero and the south ridge came out better than I expected (with a little color artificially added to the sky).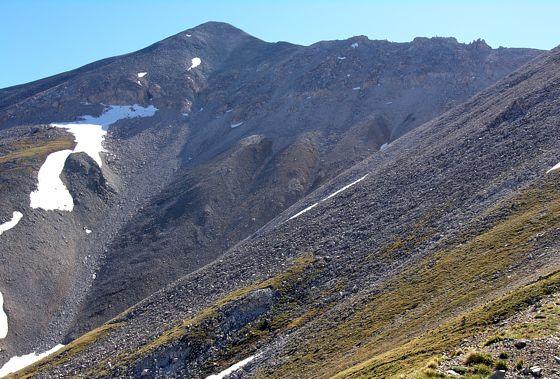 ---
Not far above timberline, before Antero came into view, North Carbonate, 13,870 feet, took the spotlight. It's snow streaked east face stood out beautifully in the morning light.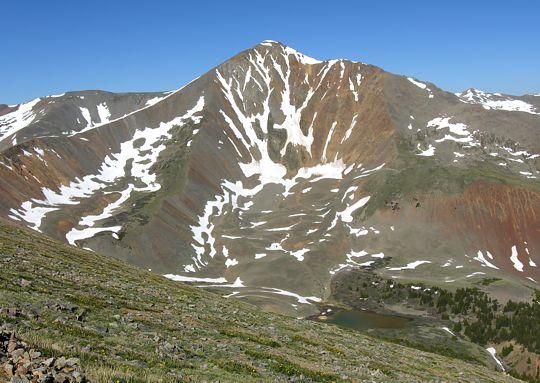 ---
After a quick stop for the shot above, I turned and took this one of Suzy patiently waiting for me. I think she just likes to see me suffer, trying to catch up. Note: while the road looks good in this shot, it's rough, and oncoming vehicle passing areas on this narrow road are few and far between: meaning one vehicle or the other better be willing to back up through what was probably spooky enough going forward.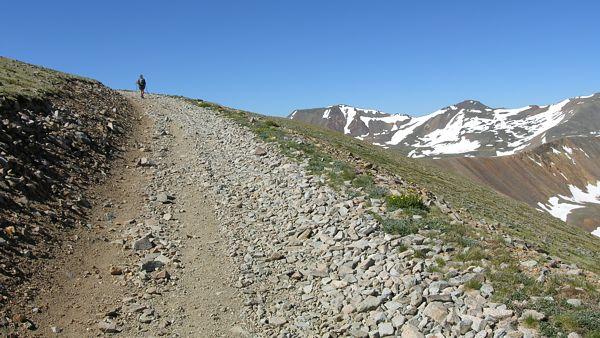 ---
After all the steep road switchbacks south of Antero, we finally came to the south ridge. About a half mile back, a group heading down without reaching the summit had told us the trail was impassible without crampons and / or ice axe. Since we had both neglected to bring these items, we were pleasantly surprised to find that the conditions were not nearly as bad as we had been lead to believe. We easily traversed the ridge with almost no contact with the snow at all.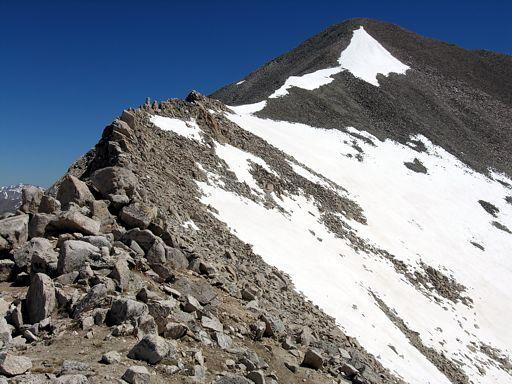 ---
As we stood on the summit looking down the cool North Ridge, I realized just how poorly organized I had been with our preparations; not only had we forgotten crampons and ice axe, which we luckily didn't need, I never even looked over the other possible route choices. While I know this route would have kicked my butt after a sluggish off season, I couldn't help thinking about the missed opportunity. Looking out beyond the ridge though, we had a great view of Mount Princeton just across the way.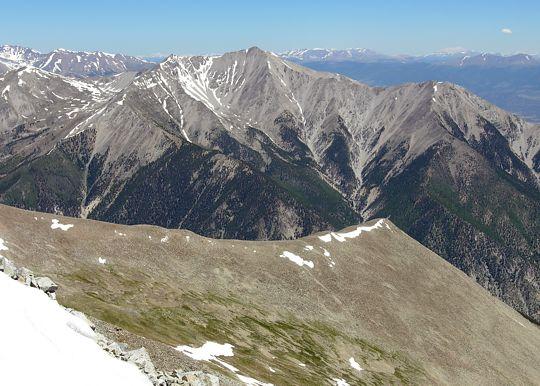 ---
Turning for a look south now, as seen in the shot below, Suzy and I strained for a glimpse of Mount Shavano and Tabeguache Peak. Thinking they were further away, I felt a little Foolish when we finally found them right in front of us.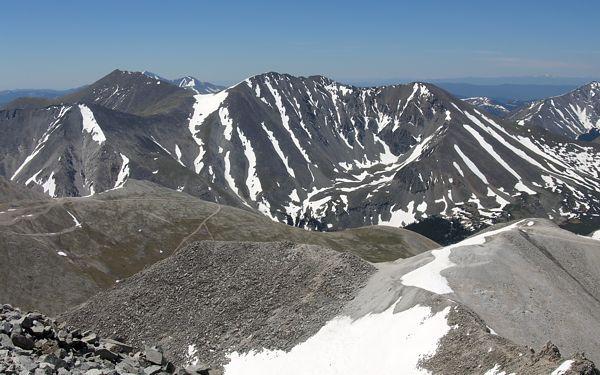 Mountain alpine weather normally brings in some daily afternoon storm activity, but today there was hardly a cloud in the sky. While we wore light jackets on the summit to hold off a stiff breeze, fours hours after starting our descent, we were driving down the road out of Buena Vista with the Jeep top down in the 90°F heat, and enjoying huge milkshakes from K's Dairy Delite. This wasn't our most adventurous trip, but we had a great time.
---
---
Area Guide Books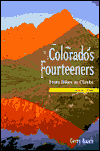 Colorado's Fourteeners: From Hikes to Climbs




Colorado's Fourteeners: Companion Map Package with Cdrom and Map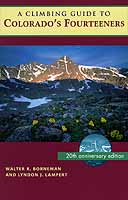 A Climbing Guide to Colorado's Fourteeners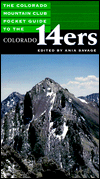 The Colorado Mountain Club Pocket Guide to the Colorado 14ers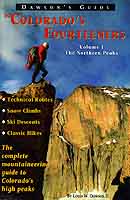 Dawson's Guide To Colorado's Fourteeners - Vol 1


---